What We Learned: CMO Colorado
Posted
1 year 10 months ago
WINDSOR, Colorado – They say better late than never. For once we fully agree with "they". In this tenth year of ELITE is EARNED Basketball's Check Me Out Showcase camp series, the event made its way to Colorado. Anchored by a fantastic group of in-state hoopers, it set the tone for an energetic and competitive lineup from Canada, California, South Dakota, Utah and of course Colorado.
Here's what we learned in the Rockies.
Leadership Is A Separator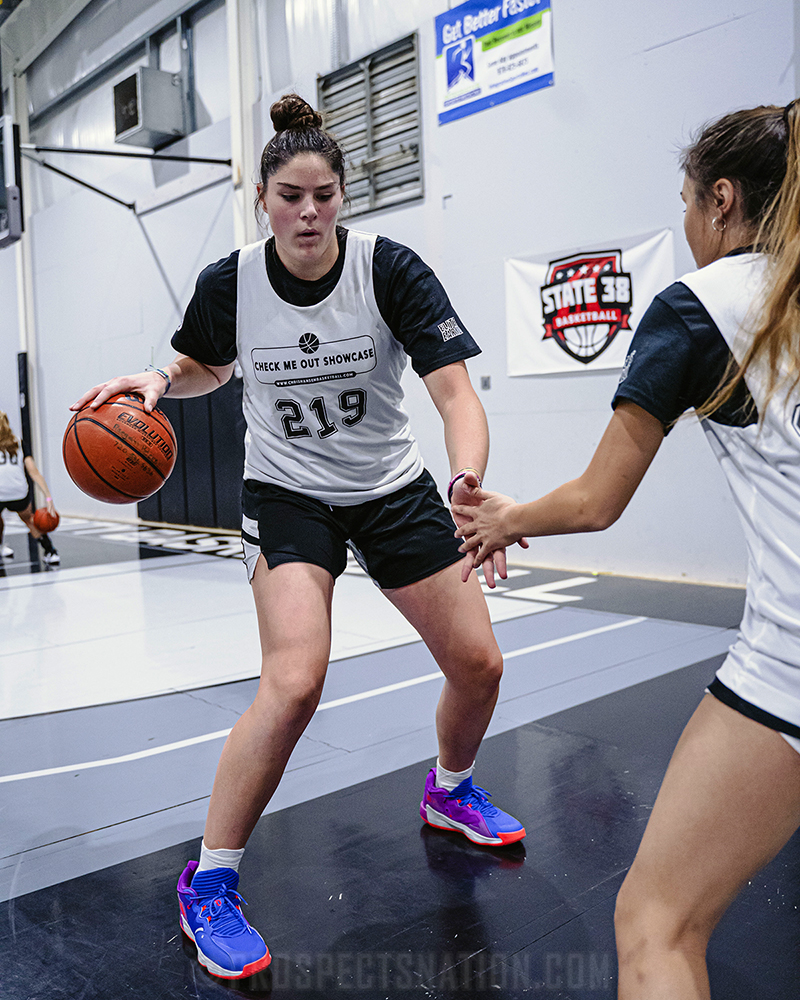 Raegan Beers is Oregon State bound next year.
*Photo by Eliteye Media.When you are a top 10 player the status can sometimes be a distraction from what got a player to that elite level. That's a non-issue for Oregon State bound post Raegan Beers of Highlands Ranch, Colorado. The 6-foot-3 prospect is an imposing athlete with her rare combination of size, agility and strength. What makes Beers truly special is her innate leadership. She has a natural energy on the court that draws other players into her orbit and elevates their play and communication.
On the court, seeing Beers excel in everything from deep post ups to dribble hand-off action as well as showing range to hit ball reversal or trail threes is a scary proposition for the Pac-12 to have to deal with next year. In the meantime she'll look at leading Valor Christian to a state championship this winter.
Sister Act
There's a sibling hooper thing going on in Colorado. The aforementioned Beers has a younger sister, Rylie, who is a freshman now so they'll get one high school season together. The 2022 class' No. 1 ranked player, Lauren Betts, has a freshman sibling to play with this season too in Sienna Betts. Rylie Beers will get to avoid the automatic comparisons as they are different positions. The younger beers is a feisty and tough perimeter player making her own name. Sienna Betts, on the other hand, won't be able to dodge the comparisons as she's already 6-3. The difference early on is how comfortable Sienna is facing the basket, utilizing her agility.
Then there's a trio of sisters whose older siblings are in college right now too.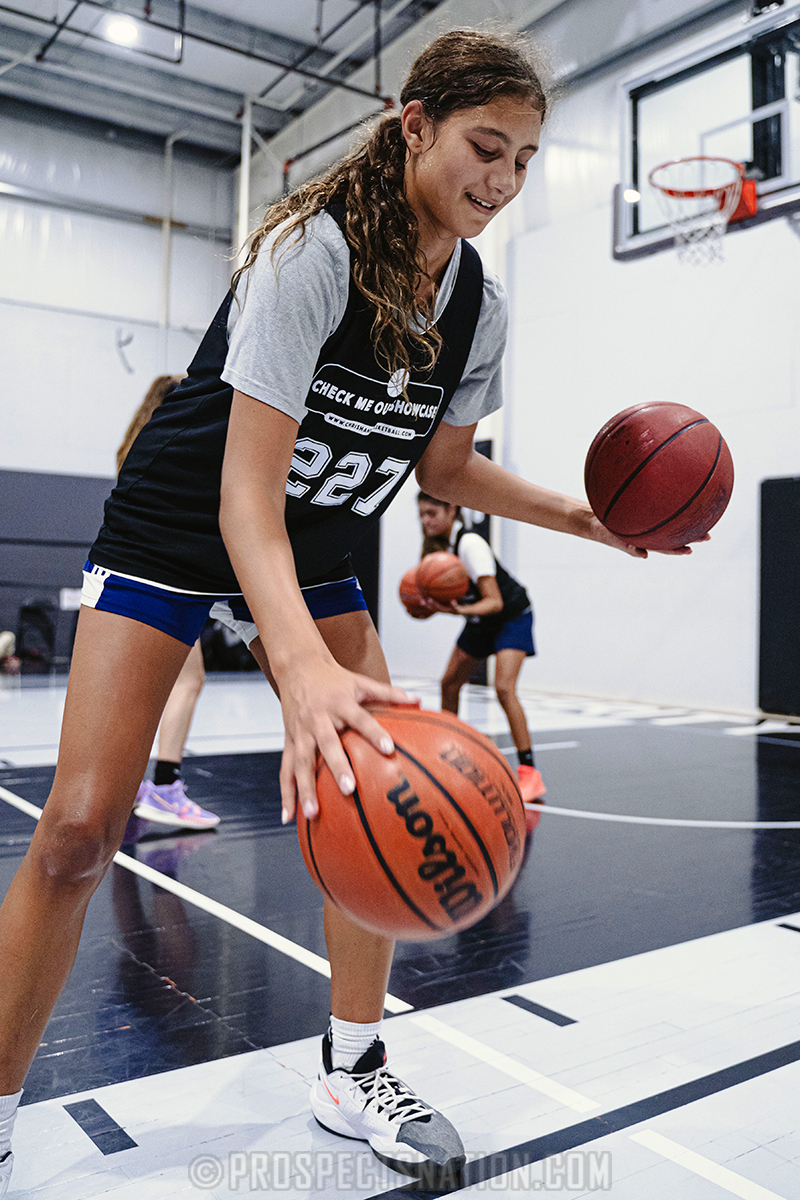 Sienna Betts of Centennial, Colorado.
*Photo by Eliteye Media.Montana frosh Haley Huard got to play last year with Macey Huard, a 2023 guard who staking claim to top shooter in the family. Don't forget their mom, Molly was a hooper at the University of Washington back in her day. Macey certainly make a great argument for herself this weekend and brough terrific energy to the floor as well.
Stanford junior Francesca Belibi has a youngers sister, Hana, who is following closely in her footsteps at Regis Jesuit High School. The 6-0 sophomore is a power wing who is tough to stop when she gets down hill on the drive. She's very disruptive on defense as well.
Washington freshman point guard Avery Vansickle didn't get a year of high school basketball with her younger sister Quinn, but we certainly got a terrific weekend of work with her. Quinn is as tough as they come and takes zero plays off, whether it's a drill or a competition. She's one of the most disruptive young defenders we've seen in the class. She's no slouch on offense either but her impact on defense stands out immediately.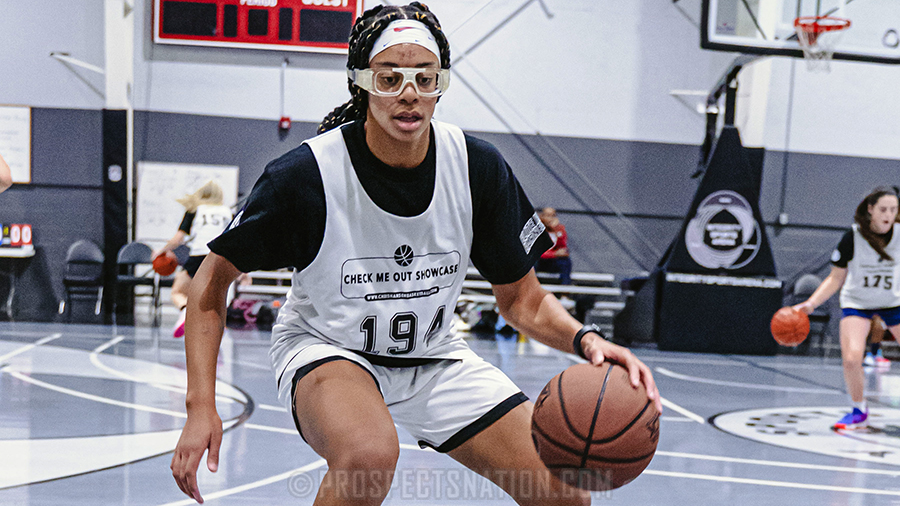 Hana Belibi of Cheery Hills Village, Colorado, is a matchups problem on the floor. *Photo by Elitye Media.

Committed… To The Grind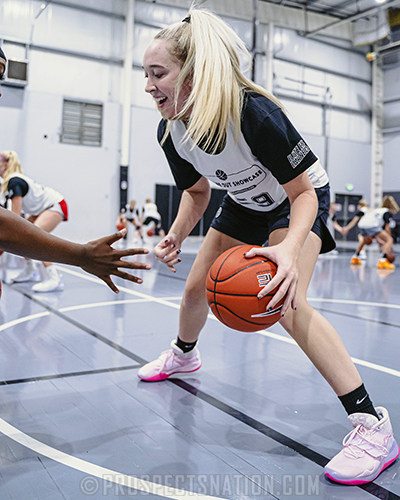 There was a trio of committed seniors in the gym this weekend. Beers, of course. She was joined by Santa Clara commit Marya Hudgins of Aurora, Colorado, and Ndjakalenga Mwenentanda, a Texas commit from Sioux Falls, South Dakota.
With their tickets punched already, what they demonstrated was the at the CMO platform is about competition and development first, with the exposure a natural add-on to the process. All three helped set the tone and establish a standard that they held the entire group to both days. Their commitment to their craft helped build a truly special weekend in the gym.
California Love
A duo of California underclassmen headed east to get work in. Class of 2024 guard Annika Jiwani of Buena Park, California, was joined by 2025 guard Addison Deal of Ladera Ranch, California.
Jiwani was a part of the late great Kobe Bryant's Mamba squad where she spent a year with a truly special mentor and coach. She has really good length on the perimeter, the ball skill to play either spot and a jumper that demands a strong closeout.
Deal is a dynamic big point guard with a natural playmaker feel to her game. She's smooth with the rock in either hand and has the ability to control pace and dictate to defenses. She elevated easily from range, scored off the bounce and distributed the ball well too. She definitely made the most of her trip.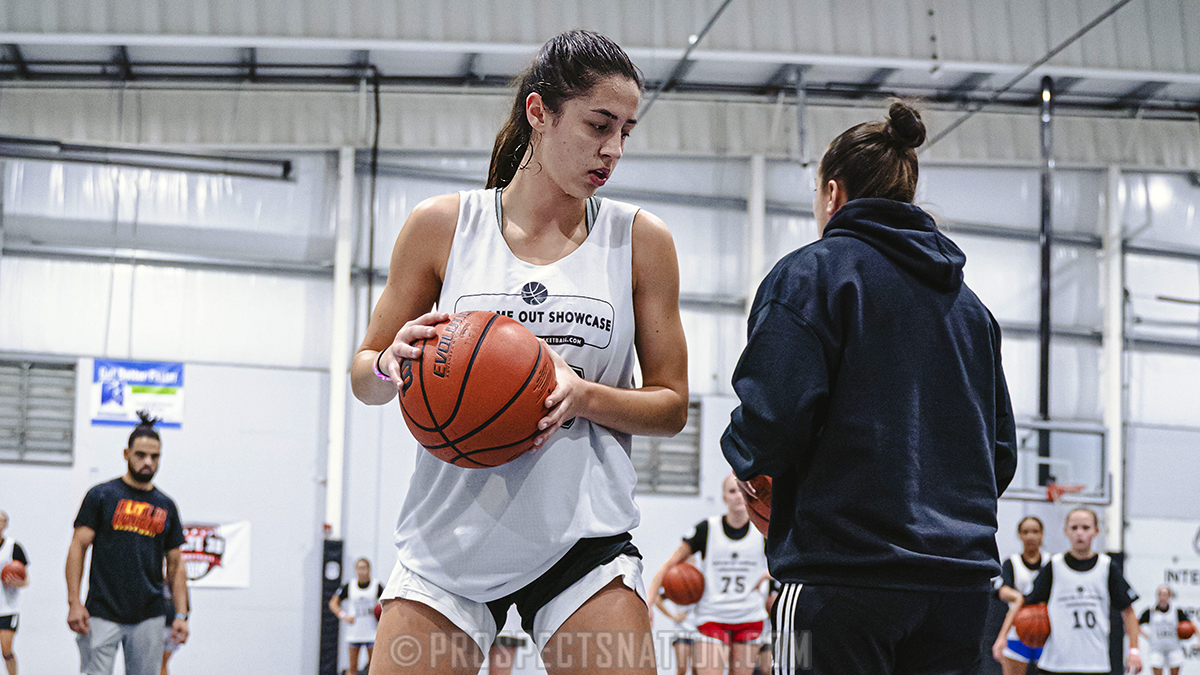 Addison Deal of Ladera Ranch, California, flew to the Rockies and got after it. *Photo by Eliteye Media.
The Young Guns
The underclass group had a terrific mix of talent, led by Grace Hall of Denver, Colorado. She had a swagger about her that infectious to her middle school group. Autumn Ritter of Morrison, Colorado, was one of the players that picked up on that energy and stayed vocal while Salem Sherman of Parker, Colorado, and Layla Loveland of Castle Rock, Colorado, showed they were ready to take a big step in their games.
QUICK HITTERS
Sydney Baller of Littleton, Colorado, has more than a fitting last name. This big 2023 combo guard was fantastic working of the jab all weekend.
Madeline Hartel of Erie, Colorado, stood out in a number of areas, especially as a playmaker.
Nia McKenzie of Aurora, Colorado, has terrific energy about her. Once she got her swagger going she was one of the most impressive performers at camp.
Sydney White of Centennial, Colorado, was locked in on Sunday. Her willingness to be a lock down defensively captured the staff's attention but more so earned her respect from the other players she competed with.
Tahlaya Biglow of Colorado Springs, Colorado, was fantastic at the point guard spot. She kept her defender on her heels and they never knew where she was going with the ball.
Kenlee Durrill of Brighton, Colorado, got into The Zone on Sunday. During game play she had a stretch of scoring and playmaking that was truly impressive.
Sierra Culbreath of Aurora, Colorado, was a floor general from the start and her swagger rubbed off on the players working with her.
Paetyn Lewis of Aurora, Colorado, is no stranger to our camp series and that experienc and confidence allowed her to compete and excel against older competition.
Shawnessy Nordstrom of Cedar Hills, Utah, was hooping all weekend. She showed off her shooting stroke and ran her squad from the point.
Elizabeth Gentry of Littleton, Colorado, is a matchup problem for her defender. Her size at 6-3 plus her mobility leads to mismatches galore.
Alyssa Faberowski of Lone Tree, Colorado, really pushes herself and leads her team in that way too. Her teammates really responded to her style of play.
Mariah Hillard of Highlands Ranch, Colorado, impressed with her ability to impact the game defensively the length of the floor and play with great energy on both ends of the floor.
Brooklyn Stewart of Colorado Springs, Colorado, is just a freshman but she did some great things this weekend, powered by her length and quick bounce.
Olivia Loveland of Castle Rock, Colorado, has a strong frame and a quick trigger on her jumper for which she used often.

Chris Hansen is managing editor of ProspectsNation.com and serves on the McDonald's All-American and Naismith Trophy selection committees. He was a co-founder of and the national director of scouting for ESPN HoopGurlz from 2005 until 2012 and is the director of the Check Me Out Showcase and ELITE is EARNED events. He can be reached at chris@prospectsnation.com.