What We Learned: Check Me Out SoCal
Posted
8 years 12 months ago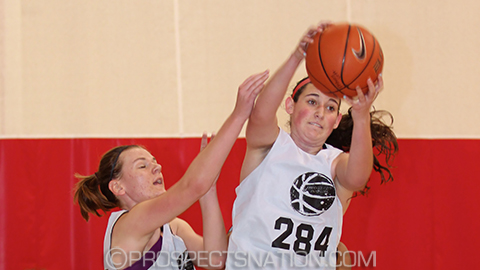 Ally Rosenblum is part of a 2016 class out west that is poised for a big summer. *Photo by Brian MacGregor Photography.
Tweet
LAKE FOREST, Calif. – The Check Me Out SoCal showcase took to Orange County with 87 players from nine states plus British Columbia working on elite skills while also getting quality competition time in the camp's game play. After two days of work in the Saddleback Valley Sports Center here are a few of the things we learned:
The class of 2016 out west is rising quickly
The 2014 class was one of the deepest pools of talent on the West Coast in recent memory, leaving a bit of a star-power hangover in 2015, and while there are plenty of 2015 kids that can play, it is the 2016 class this weekend that served notice that it could be another uniquely special group.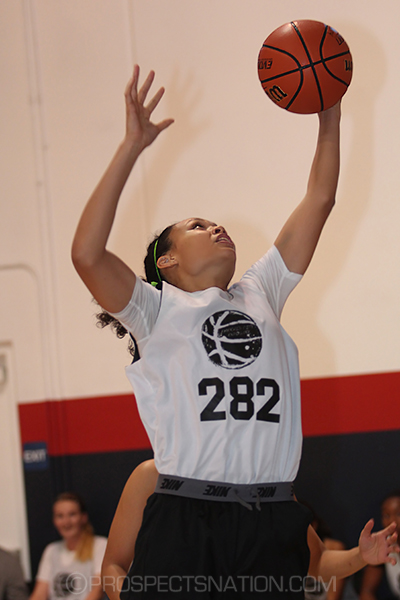 '16 Watch List Wing Mai-Loni Henson.
*Photo by Brian MacGregor Photography.
ProspectsNation.com director of scouting, Keil Moore, wrote about a pair of stars in the sophomore class, Celeste West and Destiny Slocum in his first day recap of the SoCal showcase, but the impressive play didn't stop there. La Jolla Country Day's 6-foot wing Mai-Loni Henson had a breakout performance this weekend. She really showed her development as a true perimeter player after being a bit of a tweener early in her career. Her consistency throughout the event shows she is poised to have a great club season with the Wiggins Waves.
Aislinn Konig of Langley, B.C., came to Check Me Out SoCal straight from Edmonton, Canada, and the Canada Basketball cadet evaluation camp. Despite a lot of miles in the air and in the gym in the last week, Konig has proven she can play with elite players. Moore made the best comparison of the weekend about her game, saying she was very similar to UCLA's Kari Korver at the same age but a little stronger physically. Ironically enough Korver was one of the camp's coaches and she got to coach the Canadian standout.
This was the second Check Me Out Showcase for the Mater Dei (Santa Ana, Calif.) duo of Ally Rosenblum and Jayde Woods and both proved they used their sophomore year in a Monarchs uniform to take the next step in their play. Both demonstrated they can be contributors on NCAA tournament-caliber teams and expectations should be high for both this spring and summer with the Cal Swish.
Torrey Pines sophomore Sierra Campisona is another 2016 in California that should be drawing major attention. Her ability to stretch the floor at the forward position while still making sure she produces in the post was impressive. She can play in an up-tempo system with her ability to run and over the two days she was impressive.
The 2016 class has depth beyond the big names too with Alyx Fast coming back from ACL surgery and showing her range, Genessa Bedoya setting up teammates with her shifty handle, and Saraya Smith using her length and quickness to get to the rim, the class is loaded.
Talent from unfamiliar places
Alaska, Idaho, Montana and Nevada are not exactly regarded as basketball hotbeds but all three states had players on hand this weekend that showed real talent and potential. There are kids in all three states that will reward the coaches that break away from the mainstream. While the aforementioned Slocum is a big name in the Boise area, with her ELITE 25 ranking, her high school teammates, Kayla Anderson also impressed with her playmaking ability. Kids in these states were hurt the most by the NCAA's adjacent state rule and opportunities like this allow those states without the depth of competition to get a taste and see where they stand.
Texas Preview
A pair of players from the DFW program came out to the left coast to get in on the action and brought a Texas flavor to the event. Both juniors, Tana Driver and Najala Howell, brought a genuine enthusiasm for the game on top of their respective talent. Driver may have the quickest double crossover in the country and Howell continues to build on her physical tools, showing improvement even from just a week ago at March Fest. Follow @ChrisHansenPSB

Hansen is managing editor of ProspectsNation.com and a McDonald's All-American selection committee member. He was the national director of scouting for ESPN HoopGurlz from 2005 until 2012. He can be reached at chris@prospectsnation.com.