What We Learned: Check Me Out 14's
Posted
9 years 3 months ago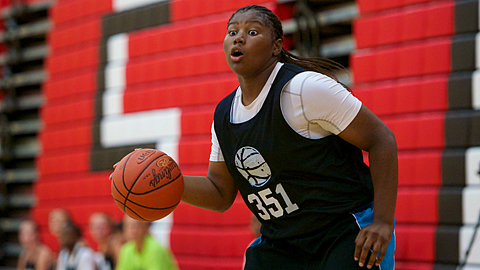 Amy Okonkwo, the 2014 forward from Southern California, had a fantastic weekend at the Check Me Out Showcase. *Photo by Glenn Nelson.
Tweet
SNOHOMISH, Wash. -- The Check Me Out Showcase offered the rising senior class one last chance to battle other elite players outside of the high school season. This lens allowed us to learn something about the 2014's that was different from what we see when they are with their club teams.
Cowling Is Really, Really Good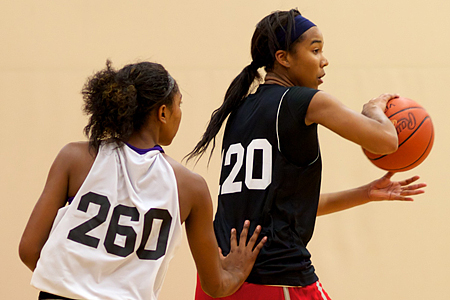 Mikayla Cowling is guarded by Kelli Hayes.
*Photo by Glenn Nelson.
So it doesn't take a genius to make such a claim about a player already ranked in the top half of the ELITE 100, but 2014 Cal commit Mikayla Cowling was exceptional in this setting. With each team having basically equal rosters, the 6-foot-1 swing player showed she could be a dominant player on both sides of the court. While her perimeter shooting is still the one area for improvement, when her release point was high she was able to knock down the long jumper. Her length and athleticism allowed her to guard taller players and she was arguably the best shot blocker in the gym as well.
Okonkwo Is The Sleeper Pick Of 2014
With Fantasy Football drafts across the country in full swing it's hard not to look for the women's recruiting sleeper pick. Amy Okonkwo, the 6-1 forward is a tough player to match up with because of her rare combination of size, agility and ability to shoot the three. She isn't the prototypical player but she is highly effective and proved this weekend she belonged in the gym with the ranked players.
McPhee's Game Translates
Much of what separates the nation's best players when it comes to rating and ranking kids is the competition you compete against, more so than statistics you post against unknown opposition. Stanford commit Brittany McPhee, a 6-0 wing from Normandie Park, Wash., was scoring like we've seen against the local high school competition on Saturday, and against many of her highly ranked peers. While her exact position may not fit a prototype, she provides the production that gets players on the court at the next level.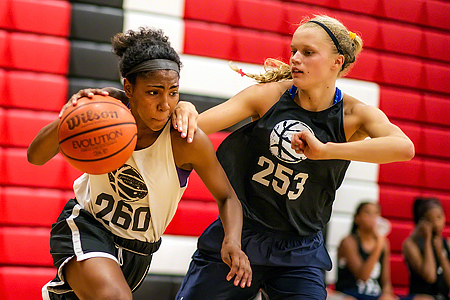 Kelli Hayes and Brittany McPhee going head-to-head
provided a preview of the future UCLA-Stanford matchup.
*Photo by Glenn Nelson.
AROUND THE RIM
♦ Kelli Hayes, the UCLA pledge from San Jose, Calif., showed progress in creating scoring for herself in the halfcourt. We already know she's a handful in transition and a terrific defender but knocking down the mid-range jumper will unlock her game in the Pac-12 and it's nice to see that piece coming along.
♦ There is just something entertaining about the way Recee' Caldwell scores the ball. The UCLA-commit entertained the spectators with her long-range and her floater coming off her left-handed drive.
♦ There is an art to playing with elite, scoring-minded players and GeAnna Summers-Luaulu has mastered that. Be it playing with Kelli Hayes and Mariya Moore with the Cal Stars or blending with Destiny Slocum and Kristen Simon at the showcase, the Pacific verbal commit was efficient and picked her spots to make an impact.
♦ Loli Gomez of Huntington Beach, Calif., showed her ability to score the ball in a variety of ways. She has more size than her older sister Geena, who is a freshman at Saint Joe's, and a more scoring-minded game. She rebounds well from the perimeter and has a knack for fading to create angles to score over taller players.
♦ Kristen Simon of Los Angeles, Calif., showed a new side of her game that wasn't regularly seen with her Cal Sparks club team and that was a deadly face-up repertoire. The 6-2 forward-post hit both contested and uncontested jumpers both in the mid-post off of reverse pivots as well as 3-pointers on step outs. Follow @ChrisHansenPSB

Hansen is managing editor of ProspectsNation.com and a McDonald's All-American selection committee member. He was the national director of scouting for ESPN HoopGurlz from 2005 until 2012. He can be reached at chris@prospectsnation.com.