What We Learned: 2014 March Fest
Posted
8 years 4 months ago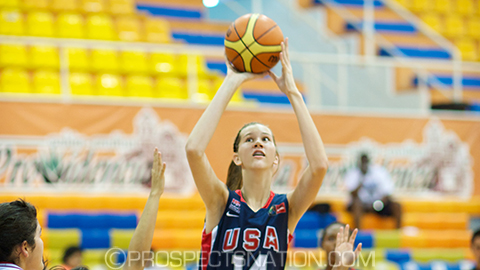 Nancy Mulkey is part of a Cy-Fair roster that could challenge to repeat as Nike Nationals champs in 2014. *Photo by Haley Weit.
Tweet
What We From DFW March Fest:
♦ Cy-Fair is very good: Last summer Cy-Fair was able to win the Nike Nationals championship and lay the claim as the best team on the Nike circuit. This season however is no rebuilding year for the Houston-based summer basketball program. ELITE 60 prospects LaShann Higgs of Round Rock, Texas, and Kennedy Leonard of Southlake, Texas, return this year to defend their title and will be joined by ELITE 60 forward Jordan Hosey of Pearland, Texas. With 6-foot-7 sophomore post Nancy Mulkey, a member of the USA Basketball U16 gold medal national team, patrolling the middle, look for Cy-Fair to be a force to be reckoned with again this summer.
♦ 2016 is Strong in Texas: The 2016 class for the state of Texas is shaping up to be one of, if not the, strongest statewide collections of talent in recent memory. The No. 1 overall prospect in the ELITE 25 for the class of 2016 is Lauren Cox who lives in Flower Mound, Texas. After Cox, prospects such as Joyner Holmes, Mulkey, and Amber Ramirez all shape up to rank inside the top 12 prospects in the country. While the top of the class in Texas is clearly strong, there also is depth. Players like Calveion Landrum and Ciera Johnson who played with DFW this weekend and Mikayla Christian and Kianna Ray who played with Texas United this weekend give the class quality depth.
♦ Under the radar but ready to shine: With the April evaluation period right around the corner, a few prospects this weekend showed that they were poised to make a statement. Former Arkansas verbal commitment Gabrielle Stanton of Kingwood, Texas, ran the point effectively and showed a level of poise and consistency that is sure to have schools interested in her services. Sophomore (2016) wing Grayson Bright of Ft. Worth, Texas, showed well this weekend. She managed to score the ball at all three levels. Bright is a wing with good size who shoots the ball consistently. Lastly, athletic guard Najala Howell of Desoto, Texas, made plays with her athleticism and energy all weekend. Howell has the ability to be a nice two-way player at the next level as she can defend all perimeter positions while also getting to the rim and scoring in traffic.
♦ Committed prospects ready to shine: Some of the committed prospects in the gym this weekend did a lot to make their future schools proud. Players like the aforementioned Leonard who is headed to Colorado. Leonard played both backcourt spots this weekend and made plays in both spots. She is a skilled guard who can really stretch the floor with her perimeter shooting. In addition to Leonard, the duo of Texas verbal commitments, Higgs and Hosey, shined as they showed both a high level of athleticism and skill. Meanwhile Texas Christian verbal commit Mackenzie Ellis of Tulsa, Oklahoma, fared very well for the Horned Frogs. Ellis is a combo forward with good length and a versatile skill set. Follow @KeilMoorePSB

Moore is the Director of Scouting for the JumpOffPlus.com National Scouting Report and international scouting report. He has been a member if the women's basketball community for more than six years as a trainer and evaluator. He can be reached at keil@prospectsnation.com.