What We Learned: 2014 KMB Showcase
Posted
10 years 1 month ago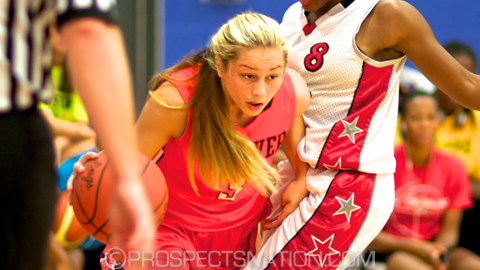 Adrianna Hahn of Team Takeover showed her stuff at the KMB Fall Showcase. *Photo by Chris Hansen.
This weekend 81 high school and middle school prospects from 10 states and the District of Columbia made their way to Bryn Mawr, Pa., to showcase their talents one more time before the official kick off of the high school season at the KMB Showcase. With a handful of committed prospects such as Connecticut verbal Sadie Edwards, Georgia Tech verbal Erin Garner, and Temple verbal Alliyah Butts, on hand as well some of the region's top underclass prospects it was unique opportunity to get in the gym and get better. Here is a quick look at some of the insight we gained from our time in the gym.
NJ Has Talent in the Pipeline
In the 2014 class the State of New Jersey has 12 players in the ELITE 150 that play high school basketball in the Garden State (Edwards of Meriden, Conn., attends Blair Academy in New Jersey). For one of the smaller states in the country size wise, the state has done a solid job cranking out ELITE 150 caliber talent in recent years.
While the class of 2015 will take a step back from the 2014 class in terms of depth, there are still a number of noteworthy names coming out of the state. This weekend we had the chance to see Rutgers verbal commit Aliyah Jeune of West Ampton, N.J., and 6-foot-6 post Theresa Ekhelar of Woodbridge, N.J., compete against some of the best prospects in the region.
Jeune, who was a USA Basketball U16 invite last spring, has the ability to be one of the best scorers in the class of 2015. She has a mix of the skill set and physical tools to be a tough one-on-one match up. Continuing to mature and learn how to use her offensive ability will be vital but all of the talent is there.
Ehkelar is an impressive talent as well. She has the size and athleticism that you just don't find very often but has spent a considerable amount of time working and developing her game. We have seen her make a leap in the last 12 months and if she can keep improving she will continue to establish herself among the elite players in her class.
Villanova Has Offense on the Way
This weekend we got an up close sample of the one-two punch that will be arriving on campus at Villanova in a few years. Alex Louin, a 2014 prospect from Doylestown, Pa., and 2015 guard Adrianna Hahn of Wilmington, Del., are both headed to Philadelphia's "Main Line" to play their college basketball. But before officially arriving on campus they stopped in and spent time in the gym with us. Louin is a guard with a knack for scoring the ball and as she has developed physically and gained strength her ability to score the ball in a variety of ways has only developed more. At 5-10 she can handle the ball well enough to create her on shot and can be physically imposing for smaller guards to defend.
Like Louin, Hahn is one of the better shooters in her class. She has the ability to play major minutes on or off the ball and is good enough to create her own shot in one-on-one situations.
Villanova will get Louin on campus next fall and then Hahn the fall after that and for the three years they have them together they shouldn't have any problems creating offense.
Underclass Talent Turned Heads
The underclass group at camp also managed to turn heads and get us excited about the future. Amira Collins scored the ball in the post and showed that her offensive package will just continue to expand as she progresses through the prep basketball ranks.
Like Collins, Sayawni Lassiter had her offense on full display this weekend. Lassiter has the ability to get to the rim and make a play and was aggressive attacking and showing her offensive tools.
Point guards Dena Jarrells and Aryanna Hutcherson showed developed floor games and the ability to create offense as well as make open shots when they are there. Follow @KeilMoorePSB

Moore is the Director of Scouting for the JumpOffPlus.com National Scouting Report and international scouting report. He has been a member if the women's basketball community for more than six years as a trainer and evaluator. He can be reached at keil@prospectsnation.com.