Posted
9 years 3 days ago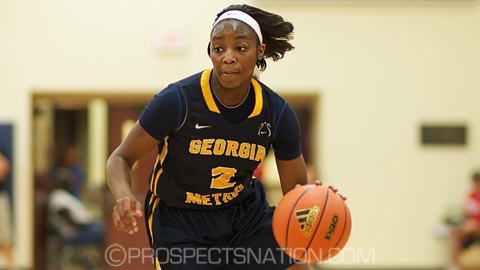 Amber Campbell's commitment helped push Wake Forest into the top 25 of the class rankings. *Photo by Chris Hansen.
Tweet
Wake Forest, Georgia Rise In Rankings
Since Connecticut cut the nets down in New Orleans last spring, Wake Forest coach Jen Hoover and her staff have been hard at work on the recruiting trail, scoring six verbal commitments in the last few months going into this past weekend.
Early in the summer the ACC school scored three four-star caliber recruits when it landed No. 28 Ariel Stephenson of Richmond, Va., No. 46 Destini Walker of Richmond, Va., and Kortni Simmons of Spotsylvania, Va., as early 2015 verbal commitments.
Since then, the Demon Deacons have scored three talented four-star 2014 prospects, No. 73 Taylor Gordon of Powder Springs, Ga., No. 88 Amber Campbell of Charleston, S.C., and No. 70 Nicole Floyd of Manassas, Va., giving them a solid core nucleus in the next two recruiting classes.
There is certainly a ton to be happy about in Winston Salem as the Deacs make a jump into our top 25 recruiting classes nationally. But the question is, with their talented additions to their roster, has Wake Forest risen in to a level of national recruiting prominence that second year coach Jen Hoover can capitalize on long term?
With a handful of talented recruits already pledged to the ACC school Hoover and her staff now have the ability to focus in on a few choice prospects and add players that make an immediate impact on the program or fill an immediate need. This recruiting flexibility should allow Wake Forest to take full advantage of the overall success the ACC conference has had on the recruiting trail and continue to raise the women's basketball profile of the school.
Another program that has made a major rise in this weeks recruiting class rankings is the Georgia Bulldogs who added No. 37 Nasheema Oliver of Tifton, Ga., to their roster. Oliver gives coach Andy Landers and his staff a true post player to play through around the basket. With Oliver joining No. 38 Mackenzie Engram and No. 128 Jasmine Carter in addition to four star guard Haley Clark, Georgia's 2014 class is shaping up to be one of the elite groups in the country.
Kentucky Scores Two
It was a big week for Wildcat Nation this week as they were able to score to four-star recruits in two different classes. First Kentucky was able to land a top in-state prospect in the 2015 class in Macy Morris of Pineville, Ky., and then later in the week it was able to dip into Alabama and score a 2014 post with the addition of Alexis Jennings of Madison, Ala., to their 2014 class.
Morris, a 6-foot wing, will give coach Mathew Mitchell and his staff a skilled prospect with the ability to knockdown open perimeter shots in addition to creating scoring opportunities of her own. Jennings will be able to come in and give the SEC school immediate help in the frontcourt. She is a very good athlete with good size for a post player. She should be able to bring rebounding and defense very early in her career in Lexington. All in all it was a very good week for Mitchell and his staff.
Utah Lands ELITE 150 Forward
Utah added an important piece to their 2014 recruiting class this week as they were able to score Jada Matthews of Paramount, Calif. Matthews is a talented forward who can play around the rim and has shown the potential to be able to face the rim and work as well, earning her the No. 132 spot in the ELITE 150.
Utah has been successful recruiting out of state, a necessity to compete in the Pac-12. Anthony Levrets and his staff have been able to score two prospects from California in Williams and fellow ELITE 150 prospect Josetta Fatuesi of Presentation, Calif., as well as two prospects from Texas, Gabbi Bowie and Tanaeya Boclair, both from San Antonio.
Seton Hall Scores Two
Seton Hall picked up two verbal commitments this week as they scored a post player of out west in Jordan Molyneaux from Denver, Colo., and sharpshooting forward Claire Lundberg of Minneapolis, Minn., Molyneaux , a four-star prospect who stand 6-4, will give Seton Hall a big body to build with in the post while Lundberg, a three-star prospect, should be able to stretch the floor and knockdown the long ball while bringing length to the wing standing 6-0.
AROUND THE RIM
♦ 4-Star Jones to Fordham: Fordham scored a big verbal commitment from a local prospect when guard Aaliyah Jones of New York, N.Y., decided to make a pledge to the Atlantic-10 school. Jones, a 5-11 wing player, was the New York State player of the year last high school season and should be able to come in and compete on day one.
♦ Williams to Florida Atlantic: Florida Atlantic added a talented combo guard to its 2014 class with the addition of Lauren Williams of North Babylon, N.Y. Williams has the ability to give the Owls quality minutes at both guard positions as she is a smart floor general with a rapidly improving jump shot.
♦ Printz to Toledo: Toledo coach Trisha Cullop continues her success on the recruiting trail this week with the addition of Halee Printz of Dayton, Ohio. Printz is a multidimensional combo guard who should be able to play on and off the ball for Cullop and her staff. Printz can score the ball, run a team, and create offense. That combination makes her an impact caliber recruit for one of the best mid major programs in the country. Printz joins 6-0 forward Michaela Rasmussen of Chaska, Minn., as the second player in Toledo's class. Follow @KeilMoorePSB

Moore is the Director of Scouting for the JumpOffPlus.com National Scouting Report and international scouting report. He has been a member if the women's basketball community for more than six years as a trainer and evaluator. He can be reached at keil@prospectsnation.com.