Week In Review--Chidom, Dahlman
Posted
11 years 1 month ago
This week gave the recruiting world two headline worthy verbal commitments, as we saw both Rebekah Dahlman of Braham, Minn., and Oderah Chidom of Oakland, Calif., make college decisions.
Early in the week Dahlman decided to make Vanderbilt her school of choice, becoming a part of one of the SEC programs best recruiting classes in recent years.  Yesterday, Oderah Chidom, the No. 10 ranked prospect in the country, decided that Duke would be the fit for her giving the Blue Devils two top ten recruits for the class of 2013. As of today, the only other program with two top 10 prospects is North Carolina, with Diamond DeSheilds and Allisha Gray, making the future battles on Tobacco Road even more exciting.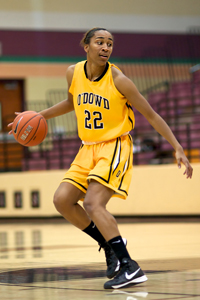 '13 ELITE 100 forward Oderah
Chidom. *Photo by Chris Hansen.
Chidom's decision to pick Duke over other finalists, California, UCLA, and Washington, gives the ACC school a true replacement for their lone senior, 6-foot-5 center Allison Vernerey in addition to more athleticism across the frontline.  It is not out of the question to see Chidom playing all three front court positions, small forward, power forward, and center, during her career at Duke.
With two top 20 prospects making decisions this week we were able to see a couple of the remaining puzzle pieces move into place.  As we approach signing day let's look forward to seeing the whole puzzle finally put together.
No. 40 EMMONNIE HENDERSON NARROWS LIST
This weekend class of 2013 forward Emmonnie Henderson of Edwardsville, Ill., was on campus at Tennessee for her official visit at the SEC school.  Going into the weekend Henderson had made visits to Miami and Purdue and included both schools in addition to Louisville as her final list of four.  Coming out of the weekend, the uber-strong power forward decided that Tennessee and Louisville would be the two schools she would ultimately decide from.  Henderson is due to make an official visit to Louisville next weekend and will be joined by No. 1 Mercedes Russell of Springfield, Ore., and No. 42 Jordan Reynolds of Portland, Ore., at the Big East school.
HOOSIER HYSTERIA HYPE
New Indiana coach Curt Miller and his staff made use of the opening night for Indiana basketball, which they call "Hoosier Hysteria" in Bloomington.  It had a large contingent of underclassman on campus this weekend. Among others, Miller and his staff hosted Kia Nurse of Ontario, Can., Ali Patberg of Columbus, Ind., Brittany Ward of Indianapolis, Ind., and Darby Foresman of Indianapolis, Ind.  More and more we are seeing women's basketball staffs use the start of practice as a chance to showcase their programs and lure top recruits on campus.  This is just another great example of how the midnight madness event can be used effectively.
AROUND THE RIM
♦4-Star Breanna Hayden to Baylor: When Breanna Hayden of Dallas, Texas, decided to pick Baylor over Oklahoma State and Florida State, it wasn't a huge surprise.  Hayden's sister, Kimetria, is a senior at the Big 12 school and has already won a national championship in Waco.  With the younger sister headed to campus, the Bears have gained an athletic and active forward that will give them energy on both sides of the ball.
♦3-Star Amadi Brooks to Eastern Kentucky: When 5-11 wing Amadi Brooks of Atlanta, Ga., made her verbal pledge to Eastern Kentucky, the Ohio Valley Conference school picked up prospect with a lot of upside.  Brooks is a long, wiry athlete who can put the ball on the floor and attack the basket in space.
Follow @KeilMoorePSB