Week In Review: August 26
Posted
9 years 3 months ago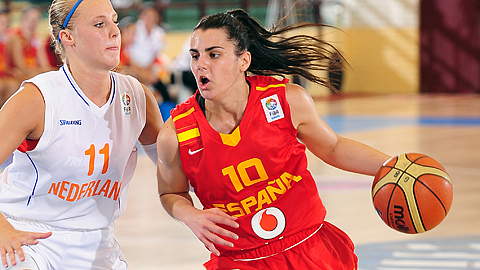 Spain's Leticia Romero was key in her country winning a FIBA U18 European Championship gold medal. *Photo courtesy of FIBA.
Tweet
With ProspectsNation.com staff working both at home and in Europe this month, the Week In Review takes an international feel.
Spain Takes Gold
For most of the month ProspectsNation.com has been in Europe covering the FIBA U18 European Championships. With a number of top European prospects headed to the States this fall to start their careers on a college campus, it was a nice opportunity to get a preview of the best prospects across the pond. With the event over and the Spanish national team, which was led by 2013 Kansas State point guard Leticia Romero, taking the gold medal in a 60-46 win over France, look for ProspectsNation.com to introduce you to a few of the standouts from the European U18 national championships later in the week.
Te'a Cooper back on the Board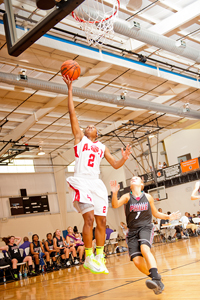 '15 ELITE 60 guard Te'a Cooper.
*Photo by Ty Freeman.
As first reported on the Platinum Nation Blog, class of 2015 point guard Te'a Cooper, the No. 3 ranked player in the ELITE 60, has decided to reopen her recruitment. Cooper is the No. 1 overall point guard prospect in the class of 2015 and has the ability to make an immediate impact at a college program. We will keep you posted on the Powder Springs, Ga., prospect's recruitment moving forward.
Waterman to Ohio State
We talked about class of 2014 forward Makayla Waterman's decision to pick Ohio State over Purdue earlier in the week in Chris Hansen's Platinum piece. Catch up on the No. 42 prospect in the ELITE 100 and her decision to stay in-state and pick Ohio State.
Jackson to NC State
Like Waterman we talked about Chloe Jackson's college decision earlier in the week with a piece from Brandon Clay. Catch up on the No. 59 player in the ELITE 100 and what her college decision means for NC State.
A ProspectsNation podcast on the Week In Review:
AROUND THE RIM
Three-star Williams to Memphis: Memphis picked up 6-foot-5 post, Angelina Williams of Sercy, Ark. Williams, a three-star prospect will give coach Melissa McFerrin and her staff a true post player to anchor the middle.
Three-star Brown to Drexel: Class of 2015 forward Aubree Brown of Philadelphia, Pa., has shutdown her recruitment early and decided to stay close to home and attend Drexel University. Brown is a versatile prospect who has played a national level schedule as a prep prospect, playing at Archbishop Wood, one of the best programs in the northeast, in addition to summer basketball with the Philly Belles.
Hooper to UCF for Volleyball: A 6-5 post, Cheyenne Hooper of Knoxville, Tenn., was a young prospect who showed a lot of promise on the basketball court. She has legit size for the post positions and was making progress with her development on the floor. Although she had a bright future on the hardwood, her future with will require a different form of net as Hooper has decided to play volleyball in college and not basketball. The class of 2015 prospect will go to Central Florida and join the volleyball team.
Cassell to Murray State: In the last calendar year, Lexi Cassell of Atlanta, Ga., has done a lot to elevate herself from a two-star prospect to prospect on the fringe of a third star. The class of 2014 post player has developed her offensive game and become a consistent threat on the offensive and defensive glass as of late. Her decision to play her college basketball at Murray State gives the OVC program a true post player who has shown the effort and ability to improve her game.
Three-Star Timpton to Charlotte: Charlotte was able to keep an in-state talent home this week when the staff secured a verbal commitment from Saadia Timpton of Charlotte, N.C. Timpton is an athletic wing who should be able to make an impact on the defensive side of the ball early in her career. Follow @KeilMoorePSB

Moore is the Director of Scouting for the JumpOffPlus.com International Scouting Report. He has been a member if the women's basketball community for more than six years as a trainer and evaluator. He can be reached at keil@prospectsnation.com.