Week In Review: August 19
Posted
10 years 1 month ago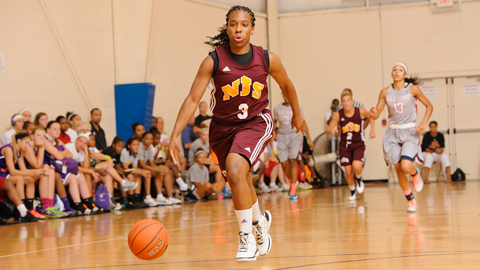 Imani Tilford joins a Yellow Jacket class which already had two ELITE 100 players. *Photo by Ty Freeman.
Tweet
The second to last week of the official summer is in the books and impact players continue to come off the board across the country.
Tilford to Georgia Tech
Last week when class of 2014 point guard Imani Tilford of White Plains, N.Y., gave her verbal pledge the coach Machelle Joseph and her Georgia Tech program, the ACC school landed their point guard of the future. Tilford, a 5-foot-7 point guard, is an excellent fit for coach Joseph as she is a playmaker who will get after it defensively and control the tempo offensively. Tilford has the ability to both score the ball and create offense for others and her ability to bring a dynamic range of strengths to the Georgia Tech backcourt is sure to be a welcome addition.
The addition of Tilford to Tech's 2014 class gives it a third ELITE 100 recruit as the point guard joins forward Zaire O'Neal of Newark, N.J., and post Erin Garner of Trenton, N.J., as members of the recruiting class. Tilford's addition brings additional recruiting interest as the New York prospect is close friends and summer teammates with the No. 13 prospect in the ELITE 100, Myisha Hines-Allen of Montclair, N.J. Hines-Allen has taken an unofficial visit to the ACC school and is still one of its top targets. The added benefit of playing the next four years with her friend may help the Yellow Jackets land the elite forward.
A ProspectsNation podcast take on the Week In Review:
AROUND THE RIM
Allen to Indiana: Class of 2015 post Jenna Allen is a great pick up for coach Curt Miller and his staff. The 6-3 post is one of the top in-state recruits for the State of Indiana. Allen is a true post player who should immediately bolster the Big Ten schools frontline and five them an anchor on the defensive side of the ball.
Bowie to Utah: Texas guard Gabbie Bowie is a nice addition for Utah, a program that landed her club teammate Tanaeya Boclair in June. Bowie is an athletic guard who brings a competitive nature to the floor with her whenever she plays.
Cooper to Purdue: In recent years the Purdue Boilermakers have done an excellent job of keeping to Indiana talent at home. In the 2015 class the program now has two of the better prospects in the state as Lamina Cooper of Indianapolis, Ind., joins Dominique McBryde of Indianapolis, Ind., as the second member of the BigTen schools 2015 recruiting class. Follow @KeilMoorePSB

Moore is the Director of Scouting for the JumpOffPlus.com National Scouting Report and international scouting report. He has been a member if the women's basketball community for more than six years as a trainer and evaluator. He can be reached at keil@prospectsnation.com.