Posted
6 years 9 months ago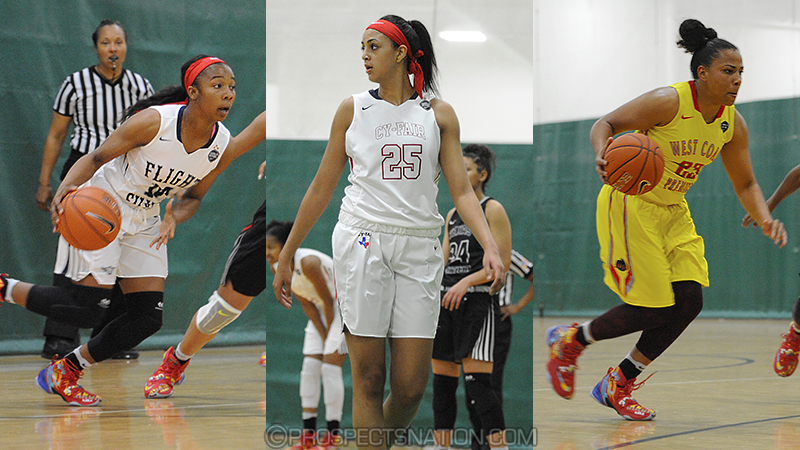 From L to R: Anastasia Hayes, Jade Williams and Destiny Littleton. *Photos by Chris Hansen.
Visitation Nation: 1st week of September
College football started this weekend and with the kick off of college football comes the return of official visits to our recruiting landscape. While official visits no longer start in the fall, the bulk of the player movement in this realm comes during the Fall. Let's take a look throughout the country at the first week of September's official visits.
Michigan's Trio
Michigan coach Kim Barnes Arico and her staff came out of the gates swinging for their first home football game of the year. With the Wolverines announcing their new apparel contract with Jordan Brand this was the perfect weekend for them to host some of their prime recruiting targets. On campus, in Ann Arbor, this weekend is Destiny Littleton, Deja Church, and Sidney Cooks. Both Littleton and Church have the potential to be impact scoring threats for the Big Ten school while Cooks is a post that likes to play on the perimeter.
Texas Tech Hosts Three
It is a big weekend in Lubbock as the Red Raiders prepare to host three elite 2017 prospects on official visits. Two local products, Jade Williams and Kianna Williams, are making the trek to West Texas to spend the weekend while Shalexxus Aaron is coming from the pacific northwest. Having a trio of top prospects on campus is a great opportunity for Texas Tech as a 2017 class led by any combination of these three players would certainly help them take the next step in building the Red Raider program.

Around the Rim
Anastasia Hayes visits South Carolina
Our Take: Hayes is one of the elite players nationally, and the third-ranked point guard in the class of 2017. She will be a major addition for any school that lands her as she shown that she has a feel for the balance between scoring and creating for others
Chelsie Hall Visits Vanderbilt
Our Take: Hall is an elite point guard prospect and would be a great compliment to current Vanderbilt commit Autumn Newby as they could potentially pair as an impactful inside-outside duo.
N'Dea Jones to Texas A&M
Our Take: Jones is a post player with good athletic upside. In the last two years, she has gone from an unknown name to one of the more sought after recruits in the 2017 class. Texas A&M has done well with athletes like Jones in the past, and her game fits well with their style of play.
Sydne Wiggins Visits Rice
Our Take: Wiggins could easily be considered a diamond in the rough for the 2017 class. She is an elite shot maker with athletic upside. She has to get stronger and round out her skill set, but this would be an excellent pick up for Rice.
Abigayle Jackson to Auburn
Our Take: Jackson ended up committing to Auburn this weekend. She is a long, rangy power forward who can move over and give you mobility at the center position if you want to play small. For Auburn, Jackson gives them much needed size in the paint.