Posted
4 years 9 months ago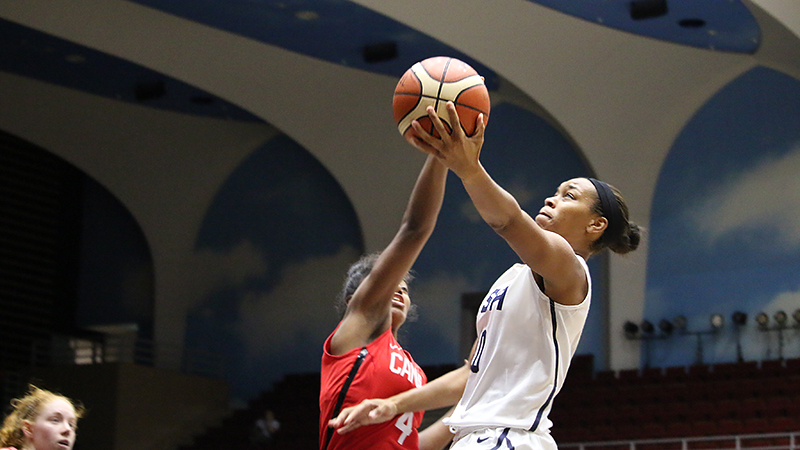 Asia Durr attacks the basketb agianst Canada for the USA U23 national team. *Photo courtesy of USA Basketball
COLORADO SPRINGS, Colo. – With 33 of the nation's top college prospects competing for a spot at the USA Basketball 23-and-under trials, the matchups were telling.
This elite setting provides our staff with a jumpstart on potential candidates for the Naismith Trophy Player of the Year voting.
Here is the second of our takeaways from the gameplay of the guards in the building:
Jordin Canada | Sr. | PG | UCLA
Since arriving on campus in Westwood, Canada has been a dynamic force at the point guard position for Cori Close. Here in Colorado, Close actually had the challenge of coaching against her. Canada was fantastic especially in the open floor showing why the Bruins made a deep run into the NCAA Tournament last March. The Los Angeles native had a fantastic statistical season as well posting averages of 17.5 points, 6.7 assists and 5.4 rebounds per contest.
Asia Durr | Jr. | PG / SG | Louisville
Durr is a legitimate option scoring the basketball. She has the size to play off the ball at the WNBA level and can flat fill it up. In Colorado, Durr played both the point and on the wing. Given her penchant for scoring, I envision Durr as an elite bucket getter like she is for the Cardinals. She averaged 18.3 points and just shy of 2 assists per game in 2016-17.
Rebecca Greenwell | RS Sr. | SF | Duke
There aren't many perimeter players in the country capable of outshooting Greenwell. Like Durr, Greenwell has good length and size on the wing. She's hit over 40 percent from beyond the arc in each of the past two seasons while averaging at least two three-pointers made per game in all three of her campaigns to date. Greenwell's Redshirt Junior season was a mirror of what she displayed here as she put together 17.2 points, 6.4 rebounds and 2.5 assists each time out.
Tynice Martin | Jr. | SF | West Virginia
Unlike the three players mentioned above, Martin was not rated in the Elite 25 coming out of Southwest Dekalb. She has flourished under Mountaineers coach Mike Carey and become one of the Big 12's most dominant players in the process. Martin's effort and energy on both ends of the hardwood allowed her to have one of the most productive seasons in West Virginia history posting 17.8 points, 4.3 rebounds and 2.4 assists nightly in 2016-17.

Brandon Clay serves as the WNBA Director of Scouting for ProspectsNation.com and owns The JumpOffPlus.com International Report, which is picked up by more than 150 colleges and universities nationwide. He serves as the Executive Camp Director for the Elite Basketball Academy Camps. He serves on the Naismith Trophy Men's / Women's College Player of the Year Academy and is chairman of the HS Boys / Girls Board of Selectors and is on the McDonald's All-American Selection Committee. He also is the publisher of PSBPopCulture.com.