Posted
8 years 4 months ago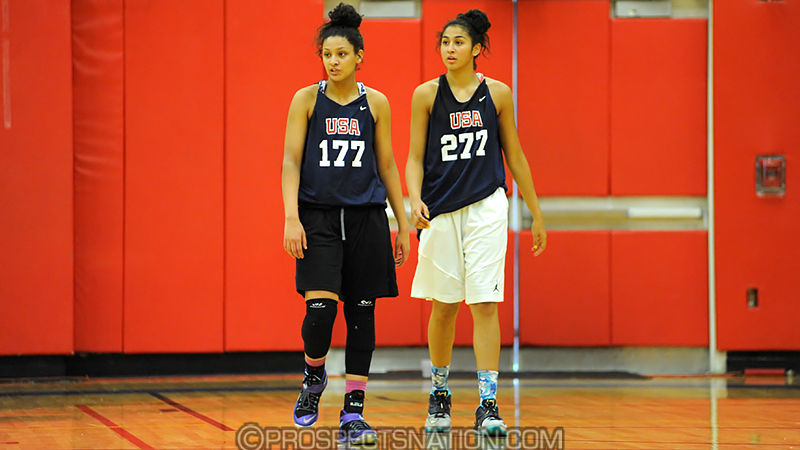 Lexi Gordon (177) and Taya Corosdale (277) have made loud statements that they belong among the elite in the 2017 class with their play at USA U16 trials. *Photo by Chris Hansen.
COLORADO SPRINGS, Colo., -- The USA Basketball U16 trials are well underway and as we get closer to a final roster of 12, players are starting to fight for their names to be in discussion for a potential roster spot. Yesterday we previewed each position giving you a clear look at the headliners at each spot. Today we are going to take a look at some kids who have impressed with their energy, effort, and consistency and could potentially earn their way on a team with a sustained level of play.
Class of 2017 wing Lexi Gordon of Fort Worth, Texas, has impressed early and often this weekend with her both her ability to knockdown the perimeter jumper with consistency as well as her energy level. Gordon has made numerous effort plays and as a result she has stood out among the crowd.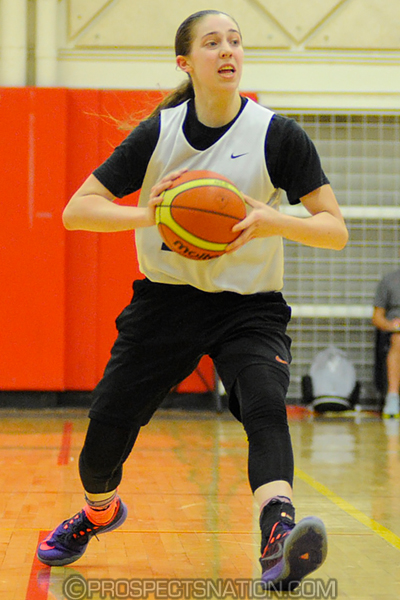 With her flair off the bounce Taylor Mikesell of Massillon, Ohio has made noise so far this weekend, but it has been her consistent effort and attention to detail that might just earn her a spot on the team. Mikesell is a combo guard who can score, create offense and pressure the basketball. One quality that has really helped her this weekend is her willingness to compete and give extra effort.
Session to session consistency is key. The ability to come out early, set a standard for your play and continuously meet that standard is tough in a setting like this. Taya Corosdale of Bothell, Wash., has done that this weekend. The class of 2017 post has the ability to knockdown the perimeter jumper and has done so all weekend long. What has even been more impressive about Corosdale's play has been the versatility she has shown as a defender. She has been effective guarding around the rim as well as on the perimeter for stretches.
Length, athleticism and effort are always a good attributes as a combination and Maya Dodson of Atlanta, Ga., brings all of these to the table. Dodson is a physically gifted prospect who has learned to bring energy and effort to the floor every time she plays.
With her strength and athleticism, Taya Robinson of Richmond, Va., has been effective this weekend. Offensively, Robinson is at her best when attacking the rim and slashing towards the basket. Her strength and athleticism allow her to do this effectively. Robinson can guard any perimeter position and this versatility makes her an attractive option for the U16 team.
Around The Rim
► Jade Williams of The Colony, Texas has been the most consistent post player in the gym this weekend. The 6-foot-4 post has shown a high basketball IQ to go along with her obvious physical tools.
► Class of 2018 wing Madison Johnson of Irvine, Calif., plays with as much energy and effort as anyone in the gym this weekend. Johnson's motor has allowed her to standout.
► One player who has really impressed this weekend is class of 2017 guard Téa Adams of Juanita, Wash., Adams has been effective running the floor and attacking the rim in transition.

Moore is the Director of Scouting for the JumpOffPlus.com National Scouting Report and international scouting report. He serves on the Naismith Trophy Board of Selectors and has been a member of the women's basketball community for more than six years as a trainer and evaluator. He can be reached at keil@prospectsnation.com.