USA U16's: Interior Players
Posted
8 years 6 months ago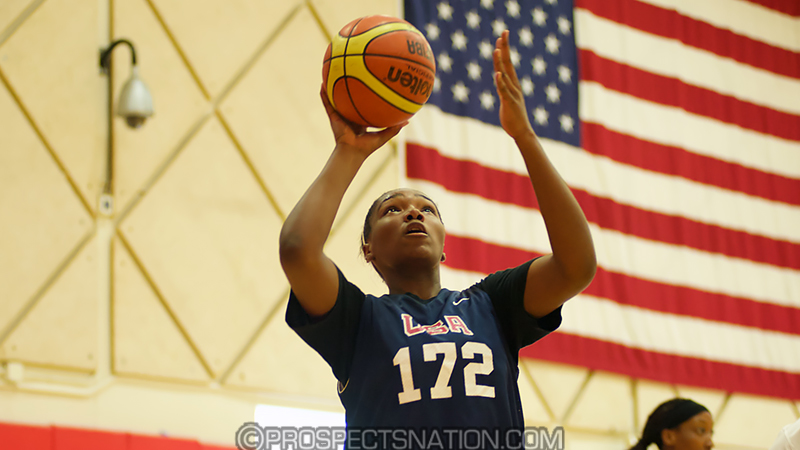 Lauren Miller of Kirkwood, Mos., is a versatile front court player with a lot of upside. *Photo by Chris Hansen
COLORADO SPRINGS, Colo. -- Anyone who has watched FIBA Americas or FIBA World Championships in the U16 through U18 cycles knows the importance of post play. In the 2010 FIBA U17 Worlds in Rodez and Toulouse, France it was the duo of Elizabeth Williams and Bashaara Graves and Breanna Stewart. In the 2012 Worlds in Amsterdam it was Taya Reimer, Brianna Turner and Mercedes Russell leading the charge. The 2014 gold medal winning USA team in Pilsen, Czech Republic, included the trio of Kristine Anigwe, Lauren Cox and Joyner Holmes in the paint.
The start for the next crop of dynamite post players is the FIBA Americas Championships in Merida, Mexico this June. The theme for this group of post players vying for a spot on the 12-player roster is versatility.
Kasiyahna Kushkituah of Austell, Ga., falls in the style of a true post player. She does most of her damage inside of 10 feet, can play through contact. She is a solid defender that doesn't try to block too many shots and she doesn't force any action on the offensive end.
Jade Williams of The Colony, Texas, had a terrific start to the trials. Her versatility and length maker her a real problem, especially on the offensive end. She can step out and shoot, score on the face up and is a strong interior passer for a front court player.
Aquira DeCosta of Stockton, Calif., is as explosive of an athlete as you can find in the paint. She's athletic enough to run with the wings in transition if you need her to but despite not having a power post frame, she is an amazing rebounder.
Lauren Miller of Kirkwood, Mo., can play in a lot of different positions from 18 feet an in. In a lot of ways she is similar to a young Morgan Tuck at this age in that she can be highly effective in a post isolation but her production is not tied to those touches.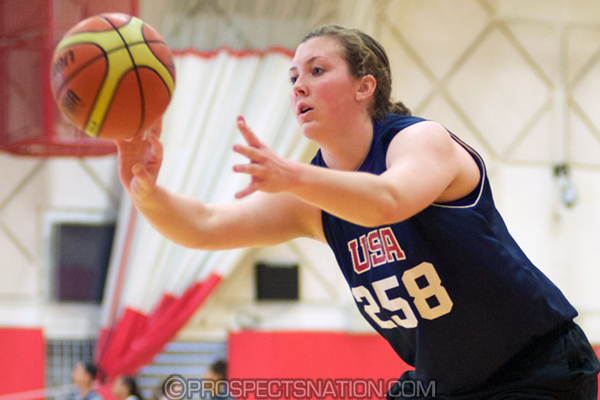 Posts that can shoot the three can change the game and that is something Madison Treece of Columbia, Mo., brings to the court. She possesses the frame to defend true posts, has the strength and hands to do some work inside but a slow closeout could result in three points with her consistent touch from long range.
Similar to Williams and Miller, Amirah Collins of White Plains, Md., is a front court player who is just as effective facing up as with her play on the blocks. She's a shot changer with her length and lateral quickness and a player that poses a lot of matchup problems.
Somewhere between Shakayla Thomas and Zaire O'Neill is Rellah Boothe of Jacksonville, Fla. She is the most impressive athlete of the bigs and she has the power and speed to overpower defenders on the drive as well as in the paint.
Charlie Collier of Baytown, Texas, has a long and lean build but also has a smoothness about her game. She's fluid from the pinch and high post areas, can run the court for early post position and put pressure on the transition defense.
In prior cycles the team has kept one of the taller posts who have promise that just need some time to adjust to the physicality. Players like Imani Stafford in the first U16/U17 cycle, Kai James in the second and Nancy Mulkey in the third draw some comparison to Sedona Prince of Liberty Hill, Texas. She has some tools and just needs time in settings like this with so much length and competition to push her.

Hansen is managing editor of ProspectsNation.com and serves on the McDonald's All-American and Naismith Trophy selection committees. He was the national director of scouting for ESPN HoopGurlz from 2005 until 2012. He can be reached at chris@prospectsnation.com.