USA Trials: Focus On Guards
Posted
5 years 6 months ago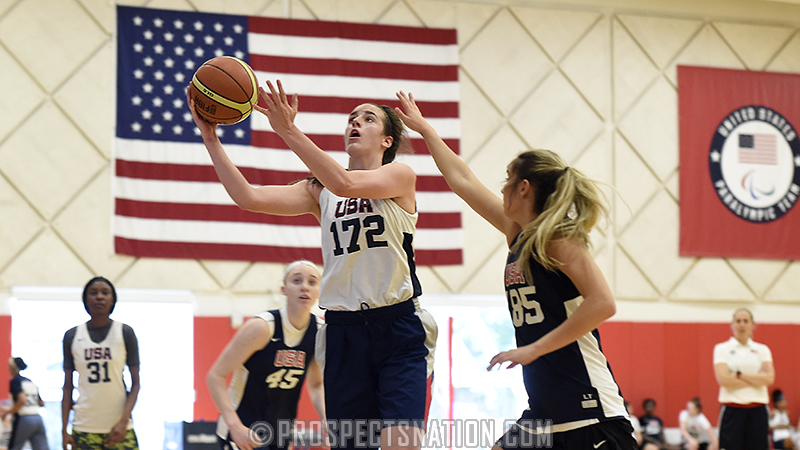 Caitlin Clark, an Iowa-native, showed her poised and heady game throughout the USA U17 national team trials. *Photo by Chris Hansen.
COLORADO SPRINGS, Colo. -- This cycle of the USA Basketball youth national team trials has exciting and interesting with players making huge leaps from a year ago and some new faces. We take a look at some standouts, regardless of their selection status, by position this week – guards, swing players, inside players.
Guards
Andrews continued her steady poised play here. She's one of those point guards that brings calm to her teammates with her control in the half court.
Briggs showed all the physical tools to be a heck of a swing player. Late in the event she went from a transition and defensive specialist to looking for more offense.
Bueckers continued her bar-raising play. The terrific passing and growth defensively has put her on another plain with the best guards in the country regardless of class. (Read More: Paige Turning To Next Chapter)
Even with a busted up finger Clark found ways to make plays. She is as savvy as they come and her ability to make lead passes in transition as matched by few.
Cooke was cookin' this weekend. She's a scoring point guard who can create that bucket when a team is struggling to score. There's a toughness about her game too that her teammates feed off of.
Darius was fantastic here. Her command and ability to play the point and off guard positions while staying aggressive was impressive. She seemed explosive with good control and understanding in the halfcourt.
It's almost unfair with Fudd because exceptional play has become the norm. What we learned here is that she is un-phased by the hype surrounding her game. She brings
Horston adding an automatic jumper makes her nearly unguardable. She hit the three, mid-range range and got to the rim. Add to that she doesn't take plays off on defense and you have a heck of a player.
Osborne came is known as a prolific scorer and what she demonstrated was some edge defensively. She picked up the length of the floor often, showcased her speed on both ends and hit shots.
This youngster sure showed she is fearless. From her regional style that screams New York-New Jersey to her energetic play, Miles made it known she is a standout in 2021.
This was a bit of a come up for Van Gytenbeek. She's obviously good enough for Stanford to offer a scholarship but her wiggle and ability to handle pressure against elite athletes stood out.
In her first trials Van Lith confirmed what she has shown on the club circuit, she competes on every possession. This explosive lefty is afraid of nothing.

Chris Hansen is managing editor of ProspectsNation.com and serves on the McDonald's All-American and Naismith Trophy selection committees. He was a co-founder of and the national director of scouting for ESPN HoopGurlz from 2005 until 2012 and is the director of the Check Me Out Showcase and ELITE is EARNEDevents. He can be reached at chris@prospectsnation.com.