USA Trials: Adapting On The Fly
Posted
4 months 1 day ago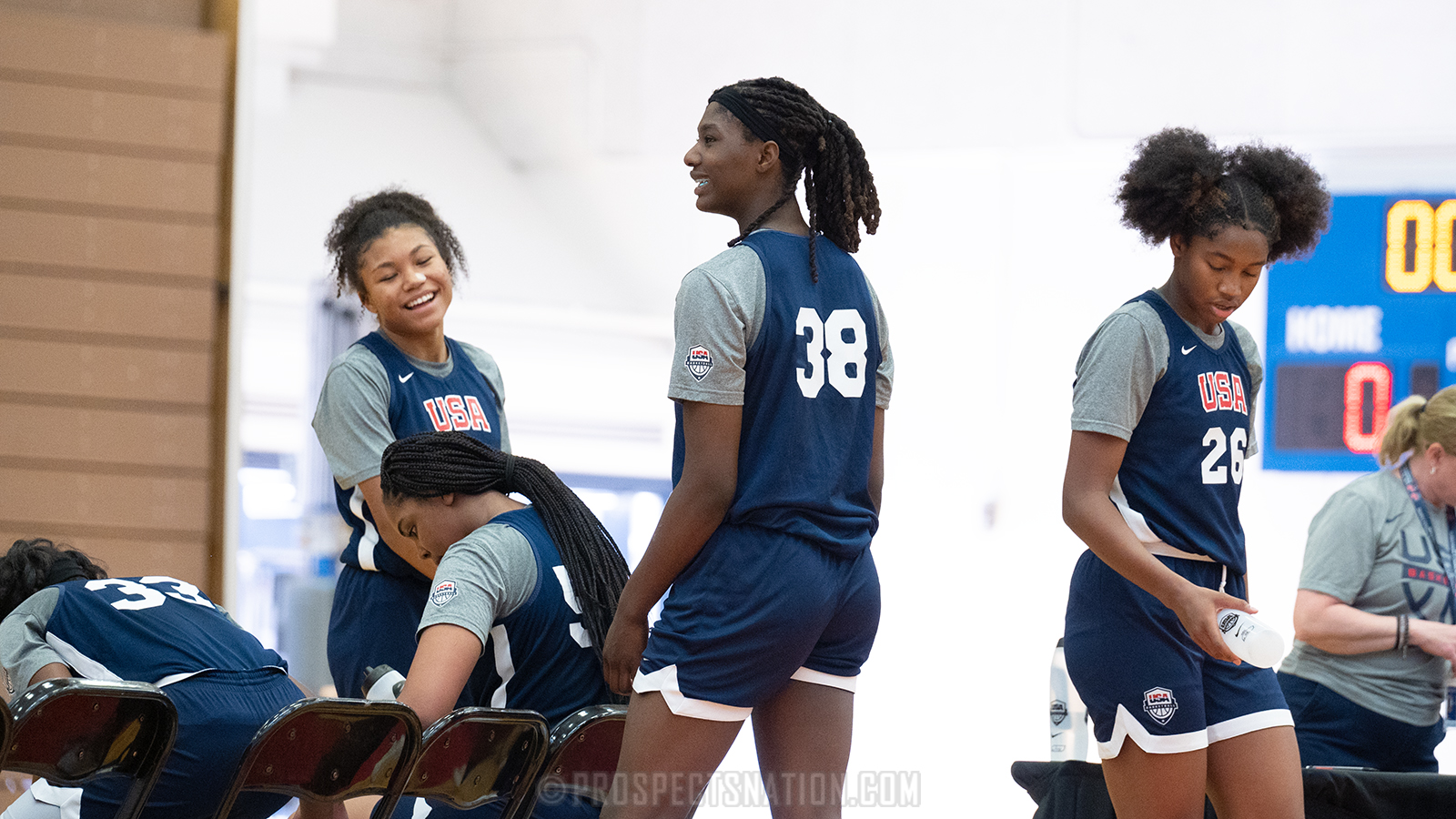 Oliviyah Edwards of Tacoma, Washington, has a laugh with Keziah Lofton of Yukon, Oklahoma, during Saturday's USA U16 Trials. * Photo by Chris Hansen.
COLORADO SPRINGS, Colorado – The USA Basketball U16 women's national team trials are rolling with 55 players competing for 12 roster spots over Memorial Day Weekend. While making the team is the ultimate goal for these players, there's a bigger thing in play here with the unmatched ability to get better because of the level of competition at every position.
Players with the right mindset to this whole experience have a chance to come away with more than a roster spot. The key is adjustment on the fly and keeping a growth mindset.

Hailee Swain of Marietta, Georgia. *Photo by
Chris Hansen.Hailee Swain, the class of 2025 Stanford commit from Marietta, Georgia, caught the ball on the right wing on the move. The lefty point guard probed the defense to the right, crossed to her left and attempted to get down hill but was cut off. She hesitated and crossed back to the right and tried another change of pace move. There was nowhere to go. Swain would get rid of the ball, swinging to a teammate at the top of the key.
Not a minute later she got another touch on the wing. She waited for the closeout from the same defender and went right by to her strong hand, finding the paint with both feet before elevating for a bucket before the help could stop her.
"I did adjust a little bit because I figured sometimes you don't need all the dribbling," Swain said. "You just got to go past somebody off their hip and get to the rim. So that's what I did today."
A few possessions later she caught the ball on the left wing and with a quick rip got into the lane, drew help defense and found a teammate ducking in behind the help side.
This was all on the first day of trials and the adjustment, seemingly subtle, changed Swain's effectiveness immediately.
For players whose strengths are rarely taken away during school and club ball this reality is perhaps the hardest but most beneficial part of this setting.

McKenna Woliczko blocks out Alexandra
Eschmeyer. *Photo by Chris Hansen.Take McKenna Woliczko, a standout 2026 from Archbishop Mitty High School. Both playing for Mitty head coach Sue Phillips and with her Bay City 3SSB club team, Woliczko gets no shortage of isolated touches on both the block and the high post area. In this setting, being adaptable was essential.
"In high school I was mainly in the post," Woliczko said. "Here, I'm a rim runner. But then also I'm trying to expand five, four, three, because that's what's going to help me make the team."
The willingness to accept the uncomfortable challenge, be 'out of position' and compete within each opportunity is the ultimate growth mindset.
"The first day I was in the guard group, so obviously that was hard for me," Woliczko added. "I've never been in those types of groups so it was definitely different trying to lock down on defense but its good because it's going to get me ready for the future."
Olivia Edwards, a 2026 forward from Tacoma, Washington, had a similar epiphany early on in the trials. At home she's a forward who plays on the perimeter, the high post, and is one whose versatility gives her endless potential. But here she had one major advantage and she was able to pounce on it to the point she's is a favorite to make the team.
"Just follow directions," Edwards said of the advice she got from college coaches coming in. "Because most people come in and they expect to be a different position. My goal was just to follow directions the best that I could."
Edwards being willing to take a weakness and turn it into a strength has been a major storyline at the trials.
"These girls really know how to move their body weight around," Edwards said. "I'm still new to that. Where I'm from I play more of the four, the three or four, so moving their body weight around I want to learn to do that."
And Edwards did just that. She is one of the most imposing players here, physically. Her focus on being more assertive and aggressive in and around the basket made a huge difference.
While Edwards and Woliczko are experiencing different challenges, their willingness to embrace where they are in the moment is huge.
"In the post there's obviously bigger, stronger girls, Wolizco said. "(At home) I've always been known as the tallest or strongest an so I'm really happy I've been able to work with these awesome girls in the post to help challenge me for the future."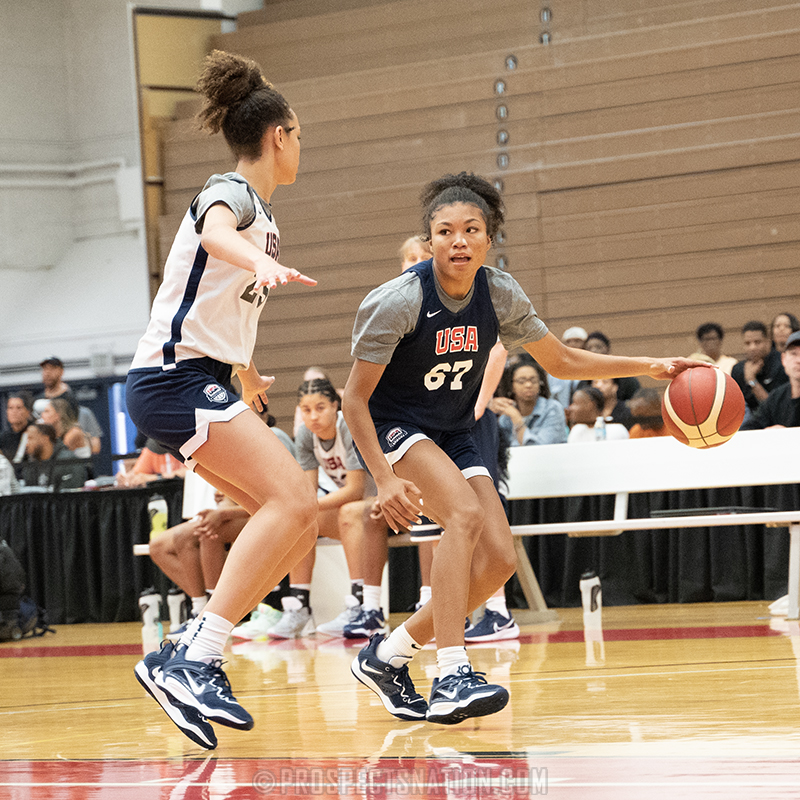 Keziah Lofton of Yukon, Oklahoma. Photo by
Chris Hansen.The battle for the point guard spot has included a couple of bigger guards who may not be pure point guards on their other teams. And where versatility is a boost for front court players. The rules for making it at the point are different.
"I play point guard most of the time but I can also play other positions but (head coach Dan Rolfes) wants, if you want to be a point guard, you need to stay with the point guards." Keziah Lofton, a 5-10 guard from Yukon, Oklahoma, said.
Lofton, an Oklahoma commit, and fellow 2025 prospect Lanie Grant, a 5-9 guard from Midlothian, Virginia, committed to North Carolina, both found themselves in the point guard group. Instead of worrying about what they weren't being asked to do they doubled down on challenge at hand.
If either or both of them made the team, it wouldn't be a shock. But regardless of the team chosen, the right mindset makes this entire experience a catalyst to better things and these five players were on the right track.
OTHER USAB TRIALS INFO
Finalists Announced (USA Basketball)
FIBA Americas Schedule (USA Basketball)
U16 Trials Participants (USA Basketball)

Chris Hansen is managing editor of ProspectsNation.com and serves on the McDonald's All-American and Naismith Trophy selection committees. He was a co-founder of and the national director of scouting for ESPN HoopGurlz from 2005 until 2012 and is the director of the Check Me Out Showcase and ELITE is EARNED events. He can be reached at chris@chrishansenbasketball.com.