Posted
7 years 4 weeks ago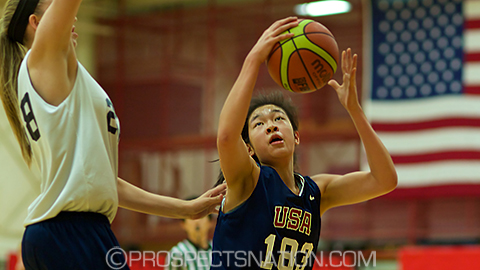 Natalie Chou put on a clinic for long stretches on Saturday, earning her a spot in the Top 10 performers list. *Photo by Chris Hansen.
Tweet
COLORADO SPRINGS, Colo. – Saturday proved to be the pressure cooker for players at the USA Basketball U17 and U18 national team trials. For the younger group cuts began and the fatigue of playing long hours at altitude since Thursday night was evident. With such great competition and a lot on the line, the value of performing on Saturday could not be understated and we off our Saturday's Hot Lists.
TOP 10 PERFORMERS
We'll leave the selection of the 12-player team to the folks on the USA Basketball selection committee. But this top 10 list includes the players we felt performed best on Saturday throughout all three sessions of play. There is no attempt to balance the list out as one might a team.
Natalie Chou (Plano, Texas), 6-1 G – 2016
Lauren Cox (Flower Mound, Texas), 6-3 P – 2016
Crystal Dangerfield (Murfreesboro, Tenn.), 5-6 PG – 2016
Asia Durr (Douglasville, Ga.), 5-11 G – 2015
Sabrina Ionescu (Walnut Creek, Calif.), 5-11 G – 2016
Tori McCoy (Champaign, Ill.), 6-4 P – 2016
Nancy Mulkey (Cypress, Texas), 6-9 P – 2016
Taylor Murray (Odenton, Md.), 5-6 PG – 2015
Arike Ogunbowale (Milwaukee, Wisc.), 5-9 G – 2015
Katie Lou Samuelson (Huntington Beach, Calif.), 6-3 W – 2015 (Connecticut)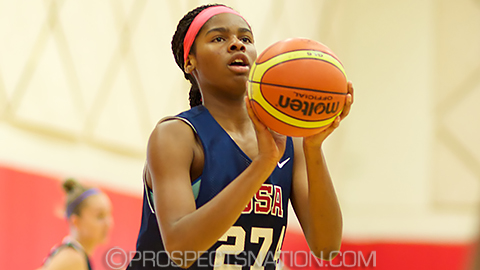 Ruthy Hebard came all the way from Fairbanks, Alaska to see how she stacked up against the nation's best players. *Photo by Chris Hansen.
TOP 5 SURPRISES
Just about every player left playing all three sessions on Saturday was a real talent, but several players definitely exceeded expectations, rising the occasion. Here are Saturday's top five surprise performances:
Ruthy Hebard (Fairbanks, Alaska), 6-3 F – 2016
Calveion Landrum(Waco, Texas), 5-11 G – 2016
Evina Westbrook (Salem, Ore.), 6-0 G – 2017
Kylee Shook (Colorado Springs, Colo.), 6-4 P – 2016
Faith Suggs (Flossmoor, Ill.), 6-1 W – 2015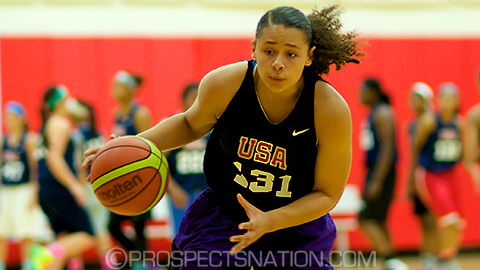 Sabrina Haines has elevated her game to a new level and the ELITE 100 prospect showed she was up for the challenge of USA Basketball trials. *Photo by Chris Hansen.
TOP 5 COMMITTED AND WITH IT
There are a number of players committed to schools already on the trials rosters and here are our top five players who have made their decisions that proved on Saturday they are ready to make an early impact at the next level.
Kristine Anigwe (Phoenix, Ariz.), 6-4 P – 2015 (CAL)
Lindsey Corsaro (Indianapolis, Ind.), 6-0 W – 2016 (Kentucky)
Sabrina Haines (Phoenix, Ariz.), 5-9 G – 2015 (Arizona State)
Ali Patberg (Columbus, Ind.), 5-9 PG – 2015 (Notre Dame)
Jessica Shepard (Lincoln, Neb.), 6-2 F – 2015 (Nebraska)
Follow @ChrisHansenPSB

Hansen is managing editor of ProspectsNation.com and a McDonald's All-American selection committee member. He was the national director of scouting for ESPN HoopGurlz from 2005 until 2012. He can be reached at chris@prospectsnation.com.
Follow @KeilMoorePSB

Moore is the Director of Scouting for the JumpOffPlus.com National Scouting Report and international scouting report. He has been a member if the women's basketball community for more than six years as a trainer and evaluator. He can be reached at keil@prospectsnation.com.