USA Junior National Teams
Posted
7 years 10 months ago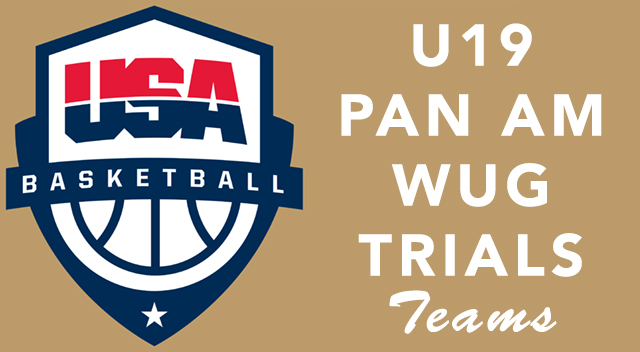 COLORADO SPRINGS, Colo. -- With the USA trials in the books. Here is a look at some of the key standouts and storylines.
MEET THE TEAMS
World University Games
Jordin Canada (UCLA) – 5-6 G
Nina Davis (Baylor) – 5-11 F
Diamond DeShields (Tennessee) – 6-1 G
Rebecca Greenwell (Duke) – 6-1 G
Chanise Jenkins (DePaul) – 5-5 G
Brionna Jones (Maryland) – 6-3 C
Erica McCall 6-3 (Stanford) – 6-3 F
Aerial Powers (Michigan State) – 6-0 G
Courtney Range (Cal) – 6-3 F
Mercedes Russell (Tennessee) – 6-6 C
Sydney Wiese (Oregon State) – 6-0 G
Courtney M. Williams (South Florida) – 5-8 G
Pan American Games
Sophie Brunner (Arizona State) – 6-1 F
Alaina Coates (South Carolina) – 6-4 C
Caroline Coyer (Villanova) – 5-10 G
Linnae Harper (Kentucky) – 5-8 G
Moriah Jefferson (Connecticut) – 5-7 G
Stephanie Mavunga (North Carolina) – 6-3 F
Tiffany Mitchell (South Carolina) – 5-9 G
Kelsey Plum (Washington) – 5-8 G
Taya Reimer (Notre Dame) – 6-3 F
Breanna Stewart (Connecticut) – 6-4 F
Shatori Walker-Kimbrough (Maryland) – 5-11 G
Courtney B. Williams (Texas A&M) – 6-1 F
U19
Kristine Anigwe (Cal signee) – 6-4 C
Napeesa Collier (Connecticut signee) – 6-1 F
Lauren Cox (Flower Mound HS) – 6-4 F
Crystal Dangerfield (Connecticut signee) – 5-6 G
Asia Durr (Louisville signee) – 5-11 G
Katie Lou Samuelson (Connecticut signee) – 6-3 F
Mariya Moore (Louisville) – 6-0 G
Gabbi Ortiz (Oklahoma) – 5-9 G
Ali Patberg (Notre Dame signee) – 5-11 G**
Azura Stevens (Duke) – 6-5 F
Shakayla Thomas (Florida State) – 5-11 F
Chatrice White (Illinois) – 6-3 C
A'ja Wilson (South Carolina) – 6-3 F
** denotes alternate
Spotlight Players
World University/ Pan Am Game Trials
Alexis Jones (Baylor) – Despite not making the team, Jones was very effective scoring the basketball and looks to be back to her pre knee injury form. Her ability to create her own shot ranks towards the top of players in college basketball and she showcased that ability here. After a strong weekend here in Colorado, look for Jones to have a big year in Waco as she is surely motivated by not being apart of either roster.
U19 Trials
Crystal Dangerfield (Connecticut signee) – Dangerfield was one of the youngest players in the gym this weekend as a true high school aged prospect, but she was very effective with her play. The 5-foot-6 point guard is a tough one-on-one cover and is capable of setting up teammates for easy baskets. Dangerfield's play this weekend earned her a spot on the USA U19 team.
Stock Risers
Connecticut forward Breanna Stewart had a strong weekend. Her comfort level on either side of the ball is second to none and her ability to take and make quality shots allowed her to stand out here.
Dijonae Carrington of San Diego, Calif., had a strong showing this weekend. Carrington is putting together the skills to become a quality wing option in the 2016 class. If she can continue to improve her ballhandling and perimeter shot-making she could really elevate her stock.
Despite not being dominate offensively, Lauren Cox of Flower Mound, Texas, continues to show shines of her potential. The next step for Cox will be focusing on using her size to play with her back to the basket and picking spots as to when to float on the perimeter.
Aliyyah Handford of St. John's has been electric with her play. Handford is a high level athlete who likes to push the tempo. She has a lot of confidence in her mid-range game and it showed throughout the first session.
Harper of Kentucky is a professional pickpocket on the defensive side of the ball. She is an elite defender who can guard all three perimeter positions.
Around The Rim
► Class of 2015 guard Asia Durr of Douglasville, Ga., did not participate in the trials while recovering from a groin injury.
► Class of 2015 wing Katie Lou Samuelson was not here for the first session but made her presence felt from second session on.
► Texas post Imani Stafford has elected not to participate in trials. Stafford will have surgery later this month.
► Class of 2016 guard Sabrina Ionescu, who won gold with both the U16 and U17 national teams the past two years, elected not to participate in the trials this year.

Moore is the Director of Scouting for the JumpOffPlus.com National Scouting Report and international scouting report. He serves on the Naismith Trophy Board of Selectors and has been a member of the women's basketball community for more than six years as a trainer and evaluator. He can be reached at keil@prospectsnation.com.