Posted
8 years 2 weeks ago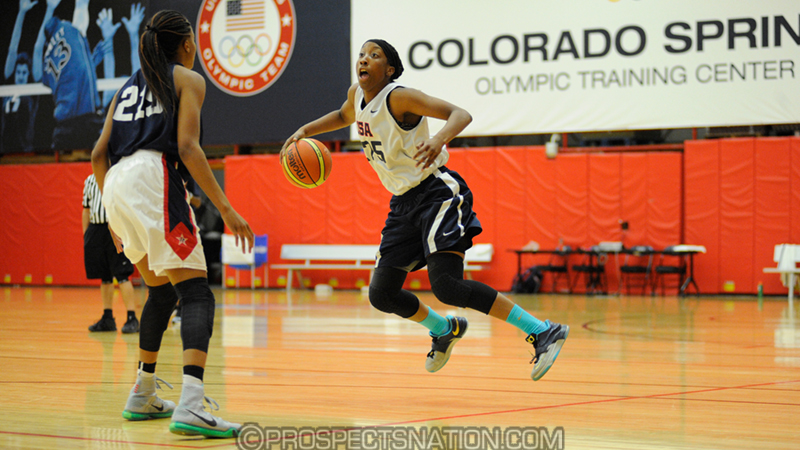 Aquira DeCosta was one of the most electric players this weekend at USA U16 trials. *Photo by Chris Hansen.
COLORADO SPRINGS, Colo. – On the eve of the final announcement of the USA Basketball U16 women's national team selections, ProspectsNation.com staffers Chris Hansen and Keil Moore decided to draft two teams from the final grouping that competed Sunday afternoon and evening.
The two alternated picks in a serpentine style to field a 12-player roster. Despite seeing most of these players prior to the trials, the teams were selected based on the players' performances at the US Olympic Training Center. Because FIBA Americas typically offers minimal resistance to Team USA, the emphasis was on drafting players who could be molded into a World Championship team for next summer.
TEAM HANSEN

Head shots courtesy of Garrett Ellwood/USA Basketball.
P Sedona Prince This 6-7 post blocks shots and finishes well inside of 10 feet, brining a different element to the team with a chance to develop into a feature player in the next year.
P Madison Treece The way we are going to play having a post who can defend the paint and knock down the deep three on the other end is exactly the type of mismatches we want to exploit.
F Aquira Decosta As one of the most dynamic and versatile swing players, DeCosta is going to be a matchup nightmare who can clean the glass or put a frontcourt defender on skates from the perimeter.
F Lauryn Miller All our forwards need to excel in the face-up game and Miller can do that and score with her back to the basket.
F Taya Corosdale Corosdale showed good hands in the paint, effective rebounding and the ability to hit step-back threes so she fits right in to the style of play.
W Alexis Gordon Gordon is as productive of a player on the offensive end as there was at the trials with a knack for finding open spaces in defenses and consistently finishing open shots.
W Christyn Williams This electric guard will push tempo instantly and is a player that is just scratching the surface of her talent.
G Alexis Morris Explosive is the best way to describe Morris who is also a go-to scoring option at the end of the shot clock.
G Jenna Brown With a balanced skill set and the ability to play on and off the ball Brown will get major minutes.
G Christiana Carr In Carr we get a guard who can shoot it and play some time at the point while defending multiple positions.
PG Chloe Chapman Tormenting ballhandlers the length of the floor is just the beginning for Chapman whose quickness is also a threat in dribble drive situations.
PG Desiree Caldwell Every team needs a leader and having a vocal leader is just as important as the passing and scoring skills she brings to this team.
Hansen on his team: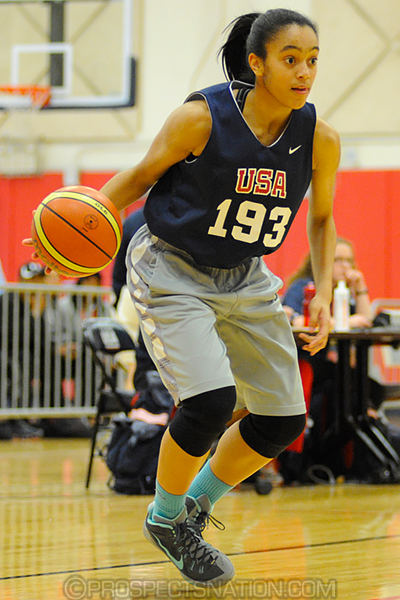 As in all fantasy style drafts the plan was ever evolving. With a premium on versatility and players at all five positions that can shoot, this team will play a spread offense. With the speed both in the backcourt and at the forward positions, expect a lot of press looks defensively. We're not the biggest team by any stretch but all three of our forwards can play minutes at all three front court positions and really put pressure on teams to close out. With help defenders needing to stay closer to home, Alexis Morris, Jenna Brown (left), Christyn Williams and Aquira DeCosta should be able to put the ball on the floor and cut the gaps with ease. The pick and roll and some horn sets will be featured with this group as Madison Treece, Taya Corosdale and Lexi Gordon are all capable of popping off the ball screen as well as rolling to finish inside. With Desiree Caldwell proving it is a bad idea to go under on the ball screen, expect her to work those sets to perfection. Where we may struggle to rebound against larger frontlines we'll look to make it up by causing turnovers and knocking down some long balls.
Moore on Hansen's team:
I love the guard duo of Brown and Morris. Playing those two athletes together could create problems for opposing guards on either side of the ball. DeCosta was excellent all weekend long and will be a centerpiece for this team. Don't count out Taya Corosdale and Alexis Gordon, both players have proven to be shot makers.
TEAM MOORE


Head shots courtesy of Garrett Ellwood/USA Basketball.
P Jade Williams Williams gives us a versatile post with a great feel for how to play the game.
P Kasiyahna Kushkituah Kushkatuah is an athletic post who will give us rim protection on defense and an interior scoring threat on offense.
P Charli Collier Collier is a skilled post who will be able to make shots on the perimeter and score with her back to the basket.
F Amira Collins Collins athleticism will allow her to be an excellent two-way play by guarding the post or switch out late in a shot clock and guard a smaller player.
W Rellah Boothe Boothe is a proven scorer and has the ability to carry us for stretches offensively.
W Deauzya Richards Richards gives us length, size, and athleticism on the wing, she could be an excellent perimeter defender.
W Madison Johnson We love Johnson's energy and effort as she is the ultimate glue player.
G Taylor Mikesell Mikesell can be used at either guard position and is an elite perimeter shooter.
G Taya Robinson Robinson is a versatile guard who can play all three perimeter positions on either side of the ball.
G Destanni Henderson Henderson gives us a scoring punch at the lead guard positions.
PG Honesty Scott-Grayson Scott-Grayson gives us size and playmaking ability at the lead guard position.
PG Mykasa Robinson Robinson has the ability to run a team, defend the point guard position, and score the basketball.
Moore on his team: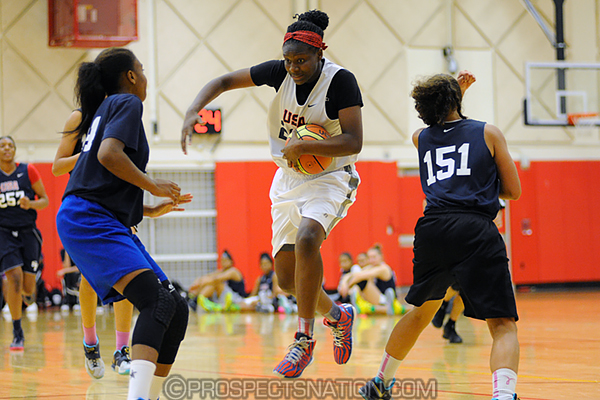 We built the team around dominate post play and were able to add depth in later rounds. Kasi Kushkatuah, Jade Williams, Amira Collins and Charli Collier give us a rotation of post play that will force defenses to collapse and double team in the paint. With that in mind we had to address the need for quality perimeter shooters, we were able to address that with the additions of Taylor Mikesell and Mykasa Robinson to our roster. On the wing, Rellah Boothe (right), and DiDi Richards give us athleticism and playmaking ability while Honesty Scott-Grayson and Destanni Henderson have the ability to give our team individual playmakers in the backcourt.
Hansen on Moore's team:
Moore's squad is long and powerful across every position. They will be hard to guard in the paint with the low box physicality of Kushkatuah and the face up skills of Collier, Collins, Booth and Richards. Robinson and Mikesell are good from long range and crafty with the ball as well. Both are smart enough to punish teams that focus too much on the inside game. With this group you'll definitely be picking your poison.

Hansen is managing editor of ProspectsNation.com and serves on the McDonald's All-American and Naismith Trophy selection committees. He was the national director of scouting for ESPN HoopGurlz from 2005 until 2012. He can be reached at chris@prospectsnation.com.

Moore is the Director of Scouting for the JumpOffPlus.com National Scouting Report and international scouting report. He serves on the Naismith Trophy Board of Selectors and has been a member of the women's basketball community for more than six years as a trainer and evaluator. He can be reached at keil@prospectsnation.com.