Posted
8 years 1 month ago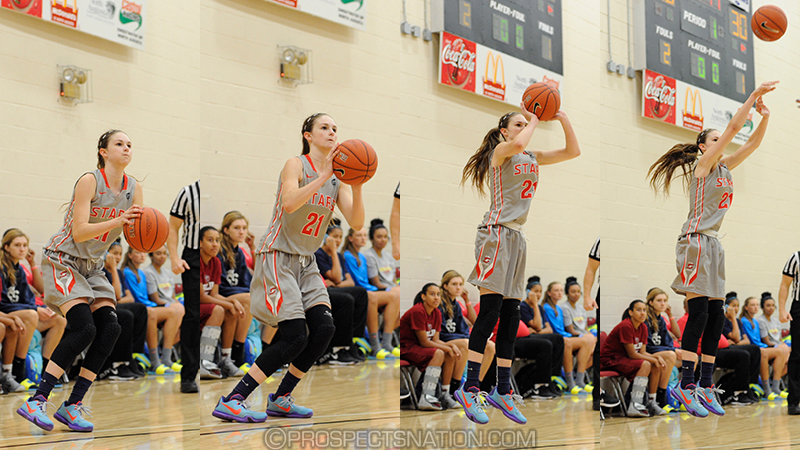 For Kat Tudor of Woodbridge, Calif., an open look from 3-point range is nearly a layup. *Photos by Chris Hansen.
Sunday was a good day to be a Beaver as Katharine "Kat" Tudor gave the program her verbal commitment. The 5-foot-10 guard from Woodbridge, Calif., chose Oregon State over finalists Cal, Georgia, Gonzaga, South Carolina and Utah.
Tudor is the top long-range shooter in the class 2016. She has great length and a very quick release, allowing her to punish defenders for being even half a second late. She's also a better athlete than she gets credit for and she can really sprint out and get ahead on the break, putting a lot of pressure on defenses in bad numbers situations; stop the ball or give Kat a three.
The addition of Tudor is important not only for her talent but because the class graduating the spring before her arrival includes much of the core that elevated the Beavers to a top 10 national ranking. Ruth Hamblin, Deven Hunter and Jamie Weisner are all going into their senior seasons this fall.
Tudor will help replace the 13.1 points per game scoring average Weisner has posted in her career to date. Weisner has produced a career 3-point shooting percentage just below 40-percent, a number easily projectable for Tudor.
Tudor shot 42.3-percent from behind the arc in eight games at Nike Nationals, helping her team win its first championship in the EYBL.
Tudor is the second player to commit to Scott Rueck's program in 2016. She joins 6-0 forward Janessa Thropay of Chino, Calif., a player who draws comparisons to Hunter.
Rueck and his staff aren't likely done in the 2016 class as the team has 14 on its roster for the upcoming season and graduates five players, which should allow them to sign as many as six in total for 2016.

Chris Hansen is managing editor of ProspectsNation.com and serves on the McDonald's All-American and Naismith Trophy selection committees. He was the national director of scouting for ESPN HoopGurlz from 2005 until 2012 and is the director of the Check Me Out Showcase. He can be reached at chris@prospectsnation.com.