Top Spaniard Durham Bound
Posted
8 years 4 months ago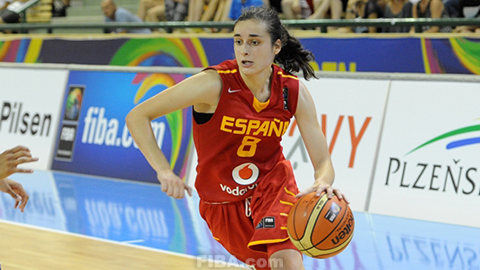 Angela Salvadores put herself on the recruiting map in a big way scoring 40 points against Team USA. *Courtesy of FIBA.com.
Tweet
It's not a regular occurrence that there is a five-star caliber recruit walking the streets of Bacelona, but it's also uncommon for players to score 40 points on a United States national team, even if it's the U17 squad. There are a lot of words you can use to describe the newest Duke Blue Devil, but regular and common just aren't words that describe 5-foot-10 guard Angela Salvadores of Barcelona, Spain.
Salvadores is the embodiment of something that is rarely found on the recruiting trail, an elite perimeter scoring option with size and a competitive drive. She has the ability to be effective scoring the ball at all three levels, behind the arc, in the midrange, and at the rim, while also bringing her own flair to the floor. She can play with the ball as a primary ballhandler or play on the wing and attack coming off screens. She's also proficient using ball screens. In addition to being able to score the ball at a high level, Salvadores is also a high level playmaker as she is a willing passer with the ability to operate soundly in the pick and roll or throw the occasional highlight pass in traffic.
While her talent is undeniable, it is her competitiveness and desire that separate her and make her special. Salvadores is a big game player. She is one of those kids that just has that magical it. She understands that some moments are more important than others and those are the moments where she seems to thrive the most. If you're down one at the end of a game, you want the ball in her hands.
With her decision to pick Duke over her other three finalists Kentucky, Louisville, and Purdue, Duke is now attaining instant help at the backcourt positions. The transfer of Alexis Jones to Baylor left a void in Duke's roster as Jones gave the ACC school a dynamic playmaker in the backcourt. Since Jones' decision to leave Durham, Duke coach JoAnne P. McCallie and her staff have added depth to their backcourt in the form of point guard Kyra Lambert of Cibolo, Texas, guard Haley Gorecki of Palatine, Ill., and wing Faith Suggs of Plainfield, Ill., three quality four-star prospects in the 2015 class. In adding Salvadores, Duke is now adding a five-star recruit who can replace Jones and give them elite depth on the perimeter. Follow @KeilMoorePSB

Moore is the Director of Scouting for the JumpOffPlus.com National Scouting Report and international scouting report. He has been a member if the women's basketball community for more than six years as a trainer and evaluator. He can be reached at keil@prospectsnation.com.