Top 50 Early Signing Classes - '15
Posted
8 years 9 months ago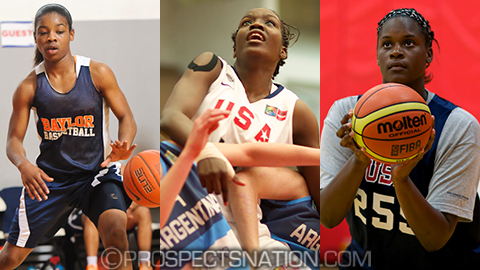 Khadaizha Sanders, Beatrice Mompremier and Kalani Brown all announced their commitments during the early signing period, shaking up the class rankings. *Photos by Ty Freeman and Chris Hansen.
With the close of the early signing period for the 2015 recruiting class, ProspectsNation.com staff has updated the Recruiting Class Rankings. While nine of the top 10 classes remain from the rankings leading into the signing period, there are several changes as well as an expansion to a top 50.
Baylor scored not one, but two top 10 posts during signing week and moved its five-player class up to No. 5 in the country. Baylor added No. 9 Kalani Brown and No. 10 Beatrice Mompremier, a pair of 6-foot-4 post players to a class that already had commitments from 6-4 post Justis Szczepanski-Beavers of Aledo, Texas, 5-8 guard Alexandria Gulley of Dallas, Texas, and 5-7 guard Alyssa Dry of Fort Worth, Texas.
Rutgers also made a late splash in the class, signing No. 38 Khadaizha Sanders of Pembroke Township, Ill., a dynamite point guard. With the addition of Sanders the Scarlet Lady Knights class, the class moves to No. 21 in the rankings. Sanders joins a pair of players ranked in the top 100 of the ELITE 150 – No. 62 Aliyah Jeune of West Ampton, N.J., a 6-0 wing-guard, and No. 97 Victoria Harris of Snellville, Ga., a 6-3 post.
There are still numerous international players and a few impact players in the U.S. that could shake up the class rankings this spring.