Tip-Off Classic: Competition Brings Looks
Posted
5 years 1 week ago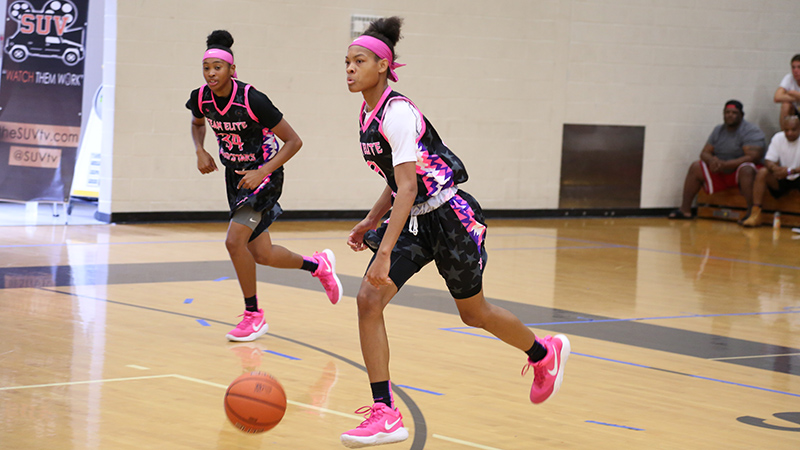 Latrice Perkins helped the Team Elite Georgia Hoopstars squad show well at the PSB Tip-Off Classic. *Photo by Ty Freeman.
LAWRENCEVILLE, Georgia, -- College coaches used last weekend as an opportunity to evaluate and recruit prospects. The PSB Tip-Off Classic featured 80 teams from around the Southeast and featured several high-end prospects for coaches to watch. SEC head coaches such as Kristy Curry from Alabama and Cameron Newbauer from Florida were in attendance to take in the action. Here is a look at some of the new and familiar faces that our team of evaluators identified over the course of the three-day weekend.
PSB Team of the Day:
Team Elite Hoopstars
State: Georgia
Coach: JD Davis
The Georgia Hoopstars have transitioned under the Team Elite umbrella, but the flashy uniforms and hard-nosed attitudes are here to stay. We got our first good look at coach Davis' 2017 group this weekend. There are several familiar faces which include class of 2018 College of Charleston commit Latrice Perkins and class of 2019 guard Kimia Carter of Chattanooga, Tennessee. Even 6-foot wing-forward Audrey Weiner of Buford, Georgia, is back this year to knock down 3-pointers for coach Davis' team.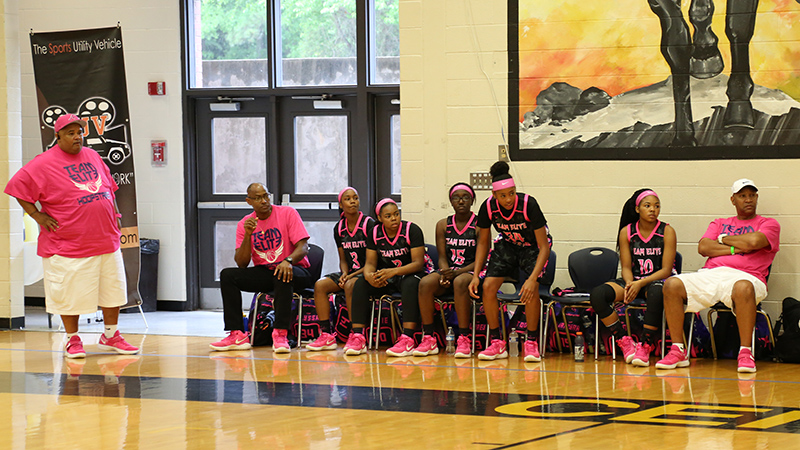 Coach Davis welcomes several new faces to his top team this year, which includes point guards Lexie Sengkhammee of Braselton, Georgia, and Kassidy Broussard of Stone Mountain, Georgia. Look for this team to have plenty of depth with the additions of class of 2018 Mary Walters of Buford, Georgia and Alyssa Smith of Powder Springs, Georgia. Keep a close eye on Alina Shoemake of Stone Mountain, Georgia, who provided a valuable spark of energy for coach Davis' group this weekend.
With plenty of ball handlers and perimeter defenders, expect the Team Elite Hoopstars to continue to make noise on the travel circuit this year. You will be able to catch them once again at PSB Tip-Off Classic Session II this weekend.
Watch them in action on @SUVtv in the championship of game of the #PSBNationals Bracket
Featured Performers
Pro Vision Elite caught our eye with plenty of youthful talent. They made the championship game on Sunday afternoon after a couple of impressive wins on Saturday. Class of 2021 guard Jordyn Dorsey of Augusta, Georgia, led the way with exceptional ball handling and scoring moves. She earned her invite to #EBASuper64 Camp with the weekend's performance.
#PSBTipOffClassic
'21 Jordyn Dorsey is making a name w/ Pro Vision Elite
Made Plays
Got Buckets
time tomorrow

https://t.co/q9remyDH74 pic.twitter.com/J8gtqgCm1L

— Jonathan Hemingway (@JLHemingwayPSB) April 23, 2017
A class of 2020 player who is already a hot name within the Team Elite organization is Olivia Cochran of Columbus, Georgia. The 6-3 post player showed exceptional post up and sealing skills to go along with finishing ability.
#PSBTipOffClassic
'20 Olivia Cochran (GA) of Team Elite J Woods goes on the @BrandonClayPSB watch-list

COACHES https://t.co/mS3qfJpqDf pic.twitter.com/0E9uqjFcsX

— Jonathan Hemingway (@JLHemingwayPSB) April 23, 2017
The South Georgia Storm 9th grade team showed a world of potential on Saturday afternoon. They have size, shooters and athleticism that gave them a nice opening round win. Class of 2020 point guard Lacy Robins of Statesboro, Georgia, earned watch-list status after this game. At 5-9 she has exceptional length for the back court and showed a consistent 3-point shot.
#PSBTipOffClassic
South Georgia Storm (Fr) w/ a nice W. An array of talent - they earn #EBASuper64 invites

June 3/4 https://t.co/beNE2X7S7w pic.twitter.com/yHFjRLvgbY

— Jonathan Hemingway (@JLHemingwayPSB) April 22, 2017
The Georgia Pearls UA 2021 Elite team is proving to be a special group of players. We had a chance to see the likes of Sania Feagin, Sydney Bowles and Naja Reeves in February at the #EBAFab5 Middle School Showcase. They proved that they are more than just a group of talented individuals. They are good teammates that help lead their team to championship on Sunday afternoon in the @BrandonClayPSB bracket.
#PSBTipOffClassic
GA Pearls '21 w/ a convincing W to advance to the 'ship of the @BrandonClayPSB bracket

RECAP https://t.co/q9remyDH74 pic.twitter.com/Yf4RPLAk9C

— Jonathan Hemingway (@JLHemingwayPSB) April 22, 2017
Quick Hitters
Keep an eye on Cierra Scott of Louisville, Kentucky, from Sky Diggs Elite Sullivan. She is a versatile wing-forward that produces both inside and out.
Class of 2019 point guard Morgan Beacham of Winter Garden, Florida, lit up the scoreboards for Blue Star Florida 2019. She is quick, efficient and can make many plays with the ball in her hands. She became one of the biggest stock-risers after the weekend.
Class of 2019 wing Makayla Phillips of Albertville, Alabama, made a mark for herself while playing Alabama Southern Starz 2019 Veal. Her size and soft touch are valuable both in the half court and in transition.
Another player from the Alabama Southern Starz, class of 2020 Alaina Taylor of Athens, Alabama, had a great day at the Tip-Off Classic. The lefty guard hit multiple 3-pointers in a Saturday afternoon game. Her shooting ability is a big asset for coach Veal's 2020 team.
One of the most polished guards we saw on Sunday morning was Alyssa Fisher of Baton Rouge, Louisiana. While playing with the Louisiana's Finest she made plays while playing either on the wing or at the point position. There may not have been a smoother jump shot release at the tourney this weekend.
Class of 2019 wing Taylor Hosendove of Atlanta, Georgia, should be a highly-recruited player in the next 12 months. Her size, athleticism, and the ability to face the basket are truly unique in this space.

Jonathan Hemingway is the Assistant Director of Scouting for the JumpOffPlus.com National Scouting Report, is on the Naismith Trophy Board of Selectors and owns CoachHemi.com, the go-to source for coaches for X's and O's. He is the floor director of #TeamEBA camps, a site director for #TeamPSB tournaments and can be reached at jonathanhemingway@peachstatebasketball.com.