Posted
9 years 10 months ago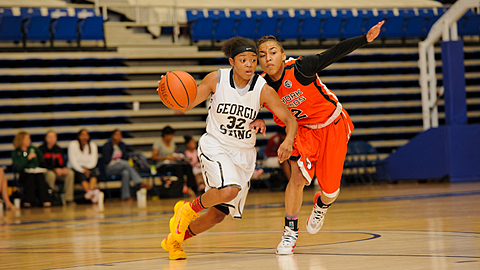 '14 Watch List guard Malia Kency of Grovetown, Ga. *Photo by Ty Freeman.
Tweet
AUGUSTA, Ga. – The Christenberry Fieldhouse and Patriot's Park courts were flush with talent and competitive action on Friday as the Peach State Basketball ELITE32 Summer Jam I kicked off.

Malia Kency (Grovetown, Ga.), Georgia Sting-2014
Kency, the 5-foot-6 point guard, is having an outstanding summer and has continued to improve every time we see her. She is a tenacious competitor that will give you 100 percent on both ends of the floor. Offensively, Kency is a triple threat in that she knocks down shots from the perimeter, gets to the basket off the dribble and creates easy scoring opportunities for her teammates. All of the hard work that she has put in definitely showed today as she scored 19 points against a very good NYC Gauchos team. If she continues to perform at this high level, a trip to the championship is sure to come.
AROUND THE RIM
♦ Breonn Hughey from Washington, D.C., has the gift of speed and quickness. The class of 2014 point guard handles the ball like it's on a string and has one of the best crossovers out there. Hughey is tough player to defend one-on-one and with that causes problems for most defenses.
♦ One of the most fearless shooters that we has seen is class of 2014 guard Nora Berry. She had a very good showing today against the Central Florida Blazers. Berry made back-to-back baskets from beyond the arc and added a few more three's during the course of the game. She will be a versatile asset to any team at the next level.
♦ Jewel Triggs of Thibodeaux, La., is a coach's dream when it comes to doing what it takes to win. She is developing into creative scorer both inside and out. Look for good things in the future for this rising junior player. Follow @StephenPeckPSB

Peck is the owner of Dream In Motion Athletics and is a national evaluator for the JumpOffPlus.com National Scouting Report. He also serves as a on-floor skills coach at the Elite Basketball Academy events. He can be reached at StephenPeck@peachstatebasketball.com.