Summer Championships Stock Report
Posted
2 years 10 months ago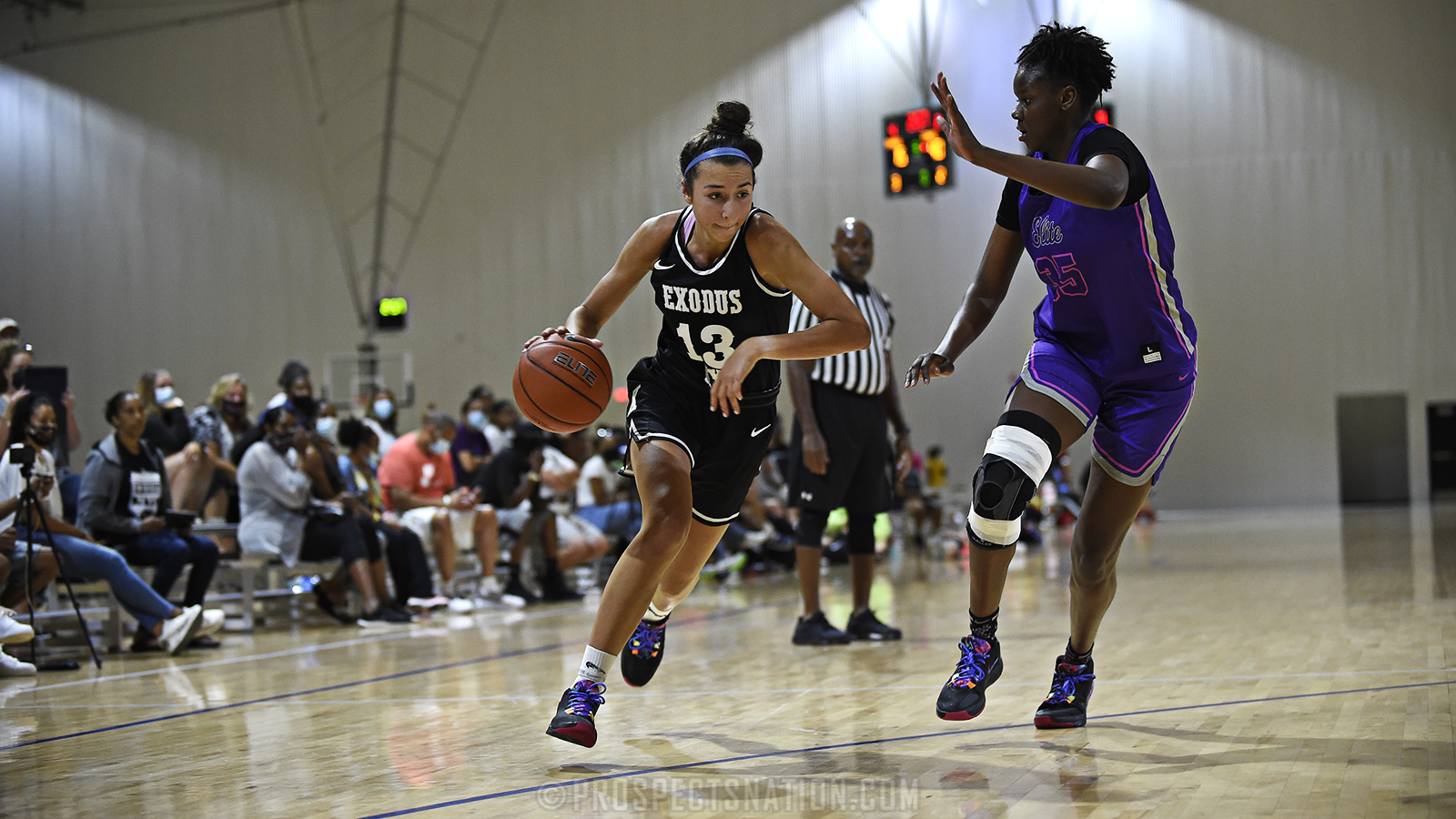 Both Caroline Ducharme (left) and Jillian Hollingshead did work to improve their already high stock in the 2021 class. *Photo by Chris Hansen.
EMERSON, Georgia – The Brandon Clay Scouting Summer Championships tipped off with several marquee matchups in a shootout style schedule. Here are the notes from the games across the pristine LakePoint Sports facility.
Caroline Lau of Westport, Connecticut, is playing on loaded Exodus team full of players with their college tickets already punched. But Lau has a quiet confidence about her game. She has shown terrific production on both sides of the ball here and should be more than ready to help fill the void when the Exodus 2021 prospects move on to the collegiate level. In arguably the game of the biggest game of the summer, Exodus let Lau run point in the fourth quarter with a talented Team Curry from North Carolina scratching and clawing their way back into the game. Lau had a five minute run where she held the team together, made plays with the pass and scored the ball.
Class of 2021 post prospect Jillian Hollingshead of Team Elite Hubbard should trend upwards in the national rankings this fall. The 6-foot-5 post from Powder Springs, Georgia, is a multi-tool prospect who is currently on a trajectory to be on WNBA draft boards in future years. Hollingshead patrolled the paint and showed range to the 3-point arc this week.
The nice thing about watching Hollingshead Saturday was that she was matched up with Northwestern commit Caileigh Walsh of Sparta, New Jersey. The Exodus NYC interior player is a rare size and talent to really compete with Hollingshead. The two play different styles in the post so it was an absolutely fantastic back and forth seeing how each would counter each other.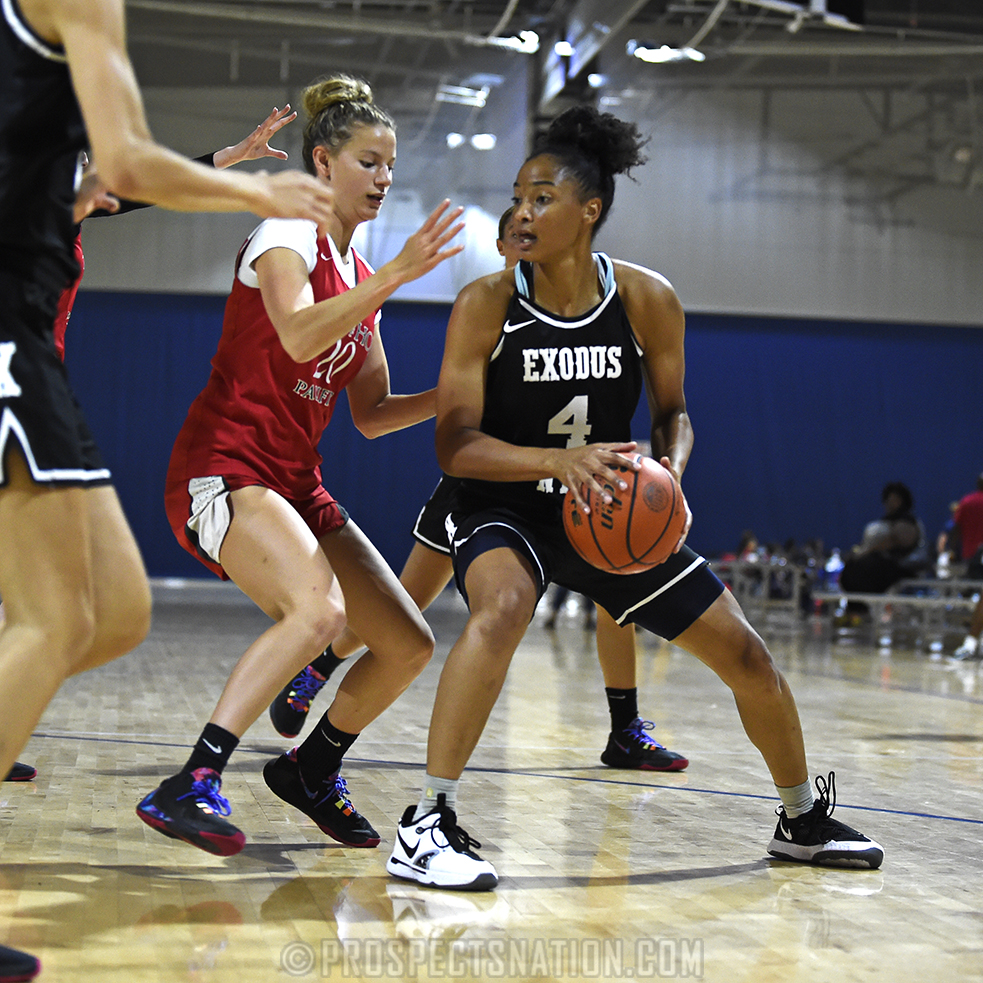 UCLA commit Dominique Darius showed she is a
premier two-way player. *Photo by Chris Hansen.Class of 2021 UCLA commit Dominique Darius of Exodus NYC fulfills a need in the game that many prospects cannot readily fill. She brings a physical brand of basketball to the perimeter. Her size and athleticism will make her a lock down perimeter defender. The 6-0 combo guard from Rochelle, New York, also has an offensive skill set that will be a nice compliment in Inglewood.
Class of 2022 guard Chae Harris of Team Elite Hubbard is the next name to pop up in the Peach State. She is an athletic wing that has a knack for scoring the ball. She scored 11 in a match-up versus Exodus NYC this afternoon, which included three 3-pointers. Expect to hear the Snellville, Georgia prospect's name mentioned in the recruiting news this fall.
With 2021 standout guard Kayla McPherson still recovering from an injury, Team Elite looked to the future at the guard position. A pair of 2022's were forced to step up into bigger rolls in the aforementioned Chae Harris and Kaliegh Addie. Addie got to run the show for stretches of the game in the half court which complements her strength pushing things in transition.
Class of 2023 wing-forward Liv Fuller of the Tampa Thunder Phenoms should be a prospect of interest in future years. At 5-10, the Clearwater, Florida, native brings the type of versatility that is needed in the game. She affects the game with her length and apt to score the ball in a variety of ways.
Class of 2021 wing Kassidy Jones of Team Dupree is the ultimate team player. She compliments play-making guards by knocking down open shots. On the defensive end the Lakeland, Florida, native provides perimeter versatility that is essential in switching defenses.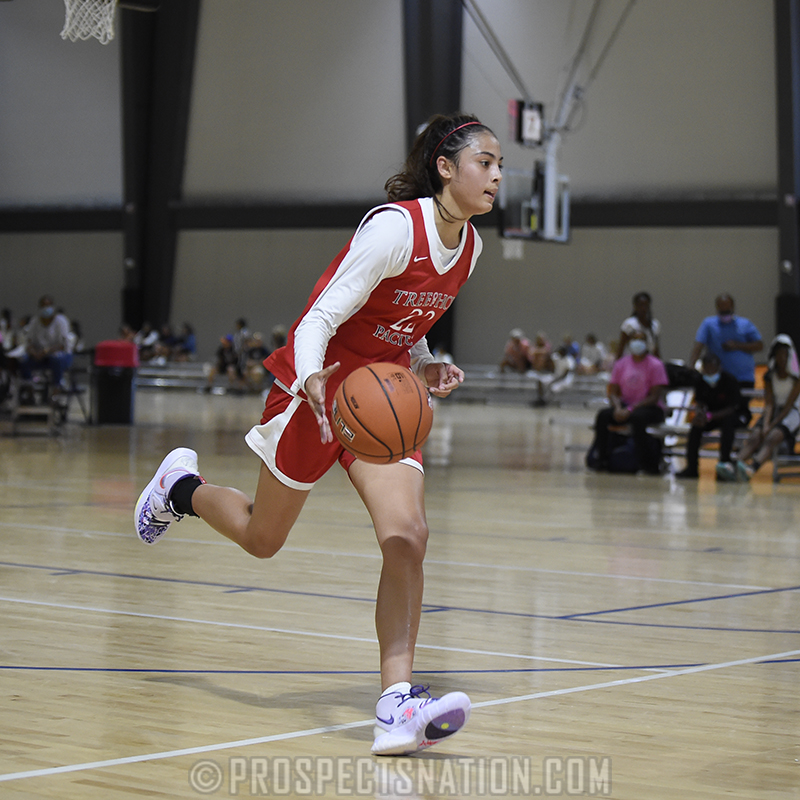 Katie Fiso showed why so many schools know her
name before her first high school seaosn. *Photo
by Chris Hansen.The west coast has a bright future based on the young talent representing for the TOH Pacific squad that made the trip to Georgia. Watching Katie Fiso, a 2024 prospect from Seattle, Washington, get heads up matchups with the talented backcourts from Team Elite and and Exodus. Coach Mo Hines brought a young group from the Seattle area out several years ago to get them national matchups at a young age and that early experience netted a team competition ready with players like Dalayah Daniels, Jordyn Jenkins, Grace Sarver and Meghan Fiso all landing Power 5 scholarships.
Class of 2022 forward Drea Brumfield of Tree of Hope has the length to be a consistent factor in the frontcourt. She got her hand on several opposing shots against Team Elite Hubbard finishing with five blocks. Like Cooper, Brumfield already has multiple offers.
Add the play of Isabella Sullivan, Mackendra Konig, Jenna Villa, Ava Smith, Imbie Jones and the rest of the this young group from the Pacific Northwest and the trip across the country seems more than worth it.
Connecticut commit Caroline Ducharme of Milton, Mass., continues to prove she's one of the most skilled perimeter players in the class. She scored the ball in waves when she had to but really impressed with her passing skills and sense for the moment. On a star-studded team, finding ways to impact the game beyond scoring is what contributed hugely to Exodus beating two quality teams on Saturday.
Class of 2023 guard Loren Nelson of Hoopdreams showed promise this week. She has real upside as a two-way wing. She blocked shots out of the air in transition. Nelson also got to the rim to score with consistency.
USC-Upstate is getting a future star in Nevaeh Caldwell from Team Curry. The 5-8 point guard gave her verbal commitment to Upstate staff earlier this summer. At the BCS Summer Championships she showed an advanced offensive skill set that only seasoned college players normally have.
Exodus program director Thomas Davis values shooters in his program. He should be excited about class of 2022 guard Amyah Bray. She connected on five 3-pointers in a Saturday morning game en route to a game high 22 points. Her quick, accurate release gives her value in many situations.
Class of 2022 guard Talaysia Cooper's recruiting has been on fire as of late. Suiting up for Team Curry, Cooper came out against Exodus NYC looking to compete against some of the best guards in the nation. She did just that. Keep an eye out for her in our Rankings Expansion.
Class of 2022 guard Kenzie Campbell of Tennessee XTreme has blossomed into a primary scorer over the past couple of summers. Her work ethic coupled with her ability to shoot makes her one to watch.
Class of 2022 forward Drea Brumfield of Tree of Hope has the length to be a consistent factor in the frontcourt. She got her hand on several opposing shots against Team Elite Hubbard finishing with five blocks. Like Cooper, Brumfield already has multiple offers.
Class of 2021 forward Kendal Cheesman of Tampa Thunder was the focal point of their roster on both ends of the floor. She rebounded, defended and scored on the interior. The future Vanderbilt Commodore also got up quality looks from beyond the arc.
Keep an eye on Class of 2025 wing Ashlynn Bleisath of Georgia Flames. As she keeps training with and against elite competitors like Cheesman has, Bleisath's game will keep growing.

Brandon Clay serves as the Director of Scouting for ProspectsNation.com and owns The BrandonClayScouting.com Evaluation Report, which is read by more than 200 colleges and universities nationwide. He also serves as the Executive Skills Director for the Brandon Clay Scouting Academy Series.

Chris Hansen is managing editor of ProspectsNation.com and serves on the McDonald's All-American and Naismith Trophy selection committees. He was a co-founder of and the national director of scouting for ESPN HoopGurlz from 2005 until 2012 and is the director of the Check Me Out Showcase and ELITE is EARNED events. He can be reached at chris@eliteisearned.com.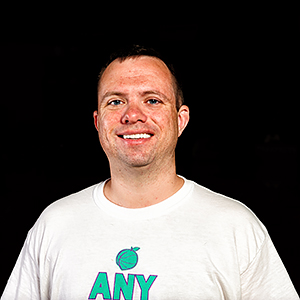 Hemingway is the Assistant Director of Scouting for the JumpOffPlus.com National Scouting Report. He can be reached at jonathanhemingway@peachstatebasketball.com.