Posted
7 years 1 month ago

Chennedy Carter is a big piece of the DFW T-Jack perimeter attack. *Photo by Chris Hansen.
DESOTO, Texas – It's a yearly occurrence for the start of our club basketball season to include a trip to DFW MarchFest in the Great Dallas Area. With the event being heavily supported by some of the top summer programs in the country, DFW MarchFest is an excellent opportunity to see some of the top prospects in the great state of Texas.

Simply put, Carter had another strong weekend in front of our staff. This winter she was elevated in the latest rankings update and her play this weekend was a perfect example as to why. At 5 feet 10 inches, Carter has elite size for a combo guard of her ability. What allows Carter to stand out the most is her combination of athleticism and strength. She has the ability to excel playing on or off the ball and when she is able to get out in transition and use her natural strength, Carter can be as lethal as any player in the class. Look for Carter to have a big summer as the four-star guard continues to display her pedigree on a national stage.
SPOTLIGHT PLAYERS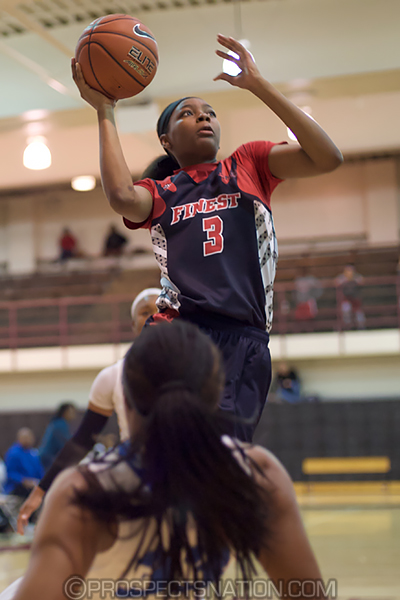 Nalyssa Smith of Converse, Texas.
*Photo by Chris Hansen.This was a statement weekend for class of 2018 forward Nalyssa Smith of San Antonio, Texas. Smith's game has grown exponentially since when we first had the chance to watch her a few years back. She is showing a full arsenal in the low post and is comfortable acting as a primary back the basket scorer. Her perimeter game has also progressed as she is showing a lethal mid-range jumper and the ability to put the ball on the floor for multiple dribbles. This was a statement weekend for Smith who is sure to stay in the discussion with some of the top 2018 prospects in the country.
Morris, a 5-6 junior, has solidified herself among the premier guards in her class. Morris was the starting point guard on the USA Basketball U16 national team last summer and should compete for that same role on the U17 team this summer. This weekend Morris played the role of playmaker. She distributed the ball well and pushed the tempo on a regular basis. Her ability to play fast but still make quality decisions was impressive.
AROUND THE RIM
Class of 2020 guard Myra Gordon of Texas United U15 showed a competitive edge playing against players as much as three years older than her. Gordon has good size and will ultimately be a name we mention a lot in the future.
Recent Louisville commit, Nyah Green, showed comfort playing in a loaded San Antonio's finest backcourt. Joining Green is class of 2017 guard Kiana Williams and class of 2018 guard Desiree Caldwell. The three together are as lethal a guard trio as there is in the country.
Class of 2018 post Charli Collier appears to be in elite shape. Collier, who is running with Cy-Fair EYBL this summer, has the ability to be as dominant as any post in the country. Her improved strength and conditioning will certainly aid her in these efforts.
Class of 2018 guard Paris Netherly of DFW Gold is a name to keep an eye on. At 5-11, Netherly has good size and is a capable playmaker with the ball in her hands.

Keil Moore is the Director of Scouting for the JumpOffPlus.com National Scouting Report and international scouting report. He serves on the Naismith Trophy Board of Selectors and has been a member of the women's basketball community for more than eight years as a trainer and evaluator. He can be reached at keil@prospectsnation.com.