Spring Roundtable: Players to Watch this Spring
Posted
10 months 5 days ago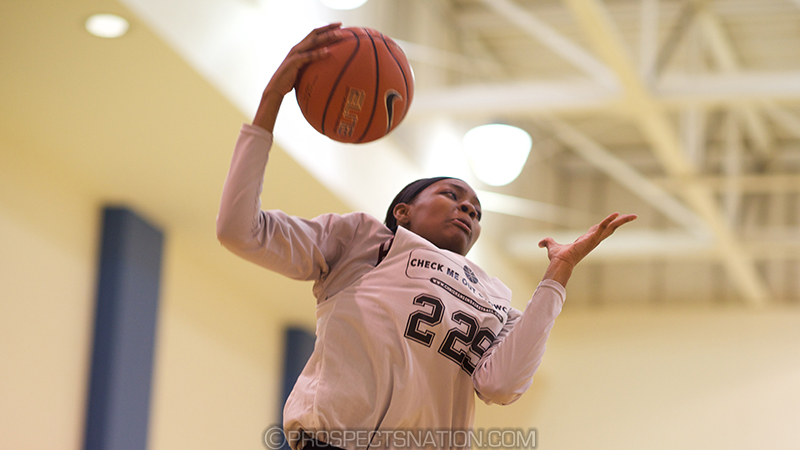 Nalyssa Smith grabs a board at Check Me Out Showcase. *Photo by Chris Hansen
The Spring travel season is right around the corner and hundreds of prospects will lace up and showcase their skills this weekend. This roundtable discussion from the ProspectsNation staff includes multiple players to keep your eye on not only this weekend, but throughout the Spring circuit.
Which 2018 prospect are you looking forward to seeing this Spring and why?
Nalyssa Smith
Smith has all the tools and had a breakout year in 2016. The 6-3 forward is explosive, skilled and a competitor. Now that she's regarded as one of the very best in the 2018 class I'm looking forward to seeing where her game goes next. Athletically there are only a handful of players comparable, those like Aquira DeCosta and Madison Williams. It's exciting to see if she'll be the next star out of the San Antonio area.
-- Chris Hansen
I am anxious to see De'Sha Benjamin of Augusta, Georgia, hit the floor this spring. We have tabbed Benjamin as one of the top prospects nationally in the class of 2018 and currently have her ranked No. 29. Her size and versatility have always been her calling card. Even as a freshman we saw her running the point guard position with Will Avery's Georgia Sting group. Lately, we noticed her ability to move off the ball and work off screens to get her jump shot. I know that she has been in the gym regularly with coach Avery and would like to see what tools she has added recently. We will see Benjamin and her Sting teammates at PSB Tip-Off Classic in April.
-- Jonathan Hemingway
With Taycee Wedin out for the summer with an ACL injury. I am going to say Xaria Wiggins of Salem, Virginia. Early in her prep career, we highlighted Wiggins as a potential impact college prospect. We even had her as an initial member of the ELITE 25 at the end of her sophomore season. Wiggins has been a bit inconsistent at times and is one of those players who seems to have a world of potential but needs to be more aggressive on a more consistent basis. Hopefully, this summer is the summer it all clicks. At 6-foot-1 Wiggins has the length and athletic ability to be one of the elite players in the class. If she can show growth in her offensive game and be a consistent on-ball defender she could rise towards the top of the class nationally.
-- Keil Moore
Mykasa Robinson was hurt last year, so I am looking forward to her comeback this summer and making some noise on the circuit.She has decommitted from Colorado and could be one of the best guards in the 2018 class.
-- Scott Johnson (West Virginia Thunder)
I'm anxious to see Aquira Decosta of Cal Stars. Even with Ionescu, and among players like McGwire, Moore, Tudor, and Westbrook – Decosta was the toughest matchup for us when we played them twice the year they won Nike Nationals. Now that all those players have graduated, I can't wait to see her step into her own. Without Sabrina and Evina, Decosta will be in a featured role. She is already unstoppable.
--Danny Reigo (Spiece Lady Gym Rats)
Very tough to narrow down just one 2018 prospect since there are several players whose ceilings are so high it will be exciting to watch them extend their game. That's why I'll be excited to watch where Nalyssa Smith takes her game. She has so much more to go it's scary. I'm looking forward to watching this versatile and dynamic prospect decrease the gap from where she was last year and show us where she can go this year.
-- James Parker
Taylor Goforth of East Tennessee Air is a big guard that can play multiple positions. She has the ability to create off the dribble and is also tough when posting on the block. To top it all off, Goforth has a great midrange game.
-- Stephen Peck

Keil Moore is the Director of Scouting for the JumpOffPlus.com National Scouting Report and international scouting report. He serves on the Naismith Trophy Board of Selectors and has been a member of the women's basketball community for more than eight years as a trainer and evaluator. He can be reached at keil@prospectsnation.com.