Spotlight Focus: BCS Top 40
Posted
3 years 9 months ago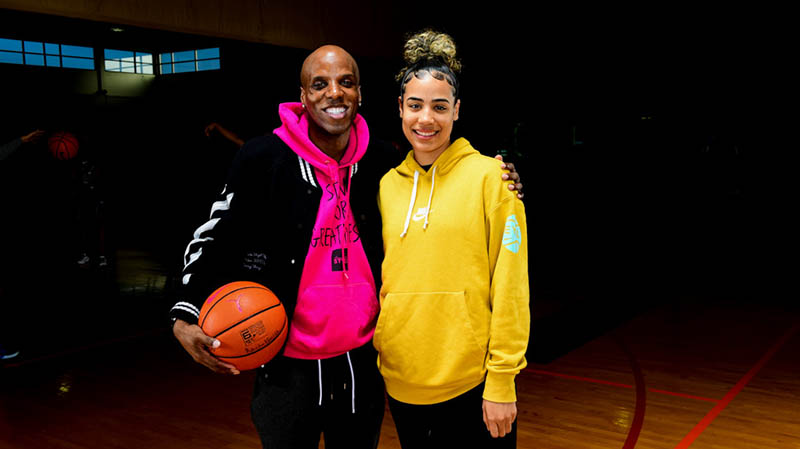 McDonald's All-American selection Madison Hayes with Brandon Clay at the BCS Top 40 Camp. *Photo by Ty Freeman.
ATLANTA, Georgia – The BrandonClayScouting.com Top 40 Training Academy has become arguably the nation's premier proving ground to start the club season. With campers representing eight different states, the 2020 edition was no different. My favorite part of the showcase is working with campers during our Spotlight Session Workout. Here's my takeaway from the session:
Kenzie Campbell – Notre Dame (Chattanooga, TN) – 2022
Campbell's disposition approach to the game reminds me a lot of former camper Georgia Stockton. She's a hard worker who is diligent in wanting to keep adding pieces to her game. Like Stockton did during her time with us, Campbell is filling out physically and starting to complete the plays it was evident she saw as a younger prospect.
Gabbi Cartagena – Jackson (Jackson, GA) – 2021
Cartagena's growth has been so impressive that Georgia College was on hand to watch her workout in this elite setting. She had a fantastic school season and has started to turn the corner with her consistency vocally. Keep an eye on her game this club season.
Aliyah Corpening – Freedom (Morganton, NC) – 2023
Corpening looks like the latest in a line of quality guards in the Morganton area dating back to current college assistant Ali Ford during her school days. Corpening can handle the ball and make the open shot as well. Continuing to build on her overall strength, speed will take her game up another notch.
Sania Feagin – Forest Park (Forest Park, GA) – 2021
Feagin keeps on getting better. Her ability to make the right play on either end was captivating. She's working on adding the 3-pointer to her game. If she starts to hit that consistently in-game, she could put herself in the discussion as the nation's top prospect going into the 2020-21 school season.
Madison Hayes – East Hamilton (Chattanooga, TN) – 2020
The McDonald's All-American came in ready to grow her game just like she did back in the fall during our Nashville Academy. Fresh off of winning Tennessee's Gatorade Player of the Year award, Hayes shot was much improved and given her overall talent, that added asset is only going to help her cause for early playing time in Starkville next season.
Raven Johnson – Westlake (GA) – 2021
Johnson was in the gym fresh off of winning yet another high school state championship. She has another gear mentally in terms of knowing how to handle a team, turn the energy up a notch in game. She didn't let a strained hamstring keep her away from starting the offseason in the gym surrounded by elite talent.
Mackendra Konig – Jackson (Mill Creek, WA) – 2022
Konig has been around our staff for almost a decade now. Her size, skill is rounding out just the way we projected. She is poised to be one of the best guards on the Left Coast if not nationally in her class. Konig's physicality and skill is a tough combination. Her sister, Ace, is a starting guard for NC State and just won the ACC Tournament MVP. The bloodline is there.
Keira Leffew – CAK (Knoxville, TN) – 2023
It's hard to find freshman with Leffew's length and shot making ability. She'll have to keep working on her overall strength as her frame fills out but the tools are there for her to be a major player on the East Tennessee secen for years to come.
Kayla McPherson – Madison County (Danielsville, GA) – 2021
Simply put, McPherson is the most dynamic guard in America. Her speed and explosiveness reminds me of Derrick Rose in his early high school days. McPherson bursts out of each step, each drill with an energy that can't be replicated. She's an improving jump shooter and is learning how to be more efficient with her steps too.
Amy Singh – Sequoyah (Canton, GA) – 2022
Singh's skill set was a pleasant surprise to start the day full of elite training. She is a capable shooter with good size. In that way, Singh brought a combo forward type of vibe to the session with the range to potentially pull out defenders to the 3-point line but the size to rebound, defend on the interior.
Rachel Smith – Great Crossing (Georgetown, KY) – 2022
Smith is improving literally with each eval. Her game has a sneaky confidence to it with a bounce to her step to match. She is shooting it well, handling the ball even better too. As Smith starts to talk more on the floor, her game will only keep going up.
Eliza Snyder – Mercer signee – Lakeview Academy (Flowery Branch, GA) – 2020
Snyder is absolutely fantastic. She has the range to shoot it out to 24 feet and the willingness to do it in-game. As she takes her conditioning to elite levels, don't be surprised to see that range stretch to 27 feet as a result. Snyder has all the tools to make an impact on the floor for Mercer next season.
Joelle Snyder – Lakeview Academy (Flowery Branch, GA) – 2022
Snyder looked like a different player here than she did back at the BCSAllAmerican Academy in August. She's still rounding her game out offensively and growing physically but has the understanding to be a consistent threat as a junior next season. Her growth on floor with her footwork base will be a major factor in how quickly she takes that next step.

Brandon Clay serves as the Director of Scouting for ProspectsNation.com and owns The BrandonClayScouting.com Evaluation Report, which is read by more than 200 colleges and universities nationwide. He also serves as the Executive Skills Director for the Brandon Clay Scouting Academy Series.