Posted
2 years 9 months ago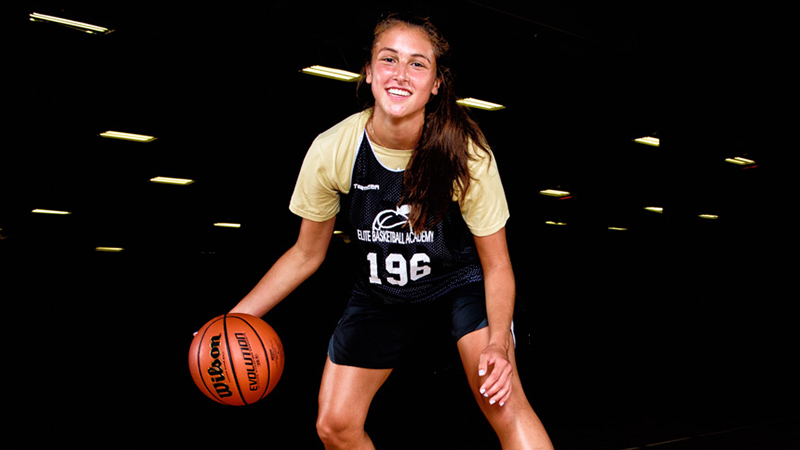 Kendal Cheesman, a Vanderbilt commit, was in Georgia for the BCS National Training Academy last weekend. *Photo by Ty Freeman.
ATLANTA, Georgia – The BrandonClayScouting.com National Training Academy has become arguably the nation's premier proving ground to officially start the summer months. With campers representing 12 different states, the 2020 edition was no different. My favorite part of the showcase is working with campers during our Spotlight Session Workout. Here's my takeaway from the session:
Kendal Cheesman – Plant (Tampa, FL) – 2021
Cheesman has blossomed into a leader on the floor during our sessions. She's attentive, vocal and always focused on improving her craft. Cheesman, a Vanderbilt commit, entered the Elite 75 national rankings with her play throughout the 2019 calendar year. Expect her to stay in that prestigious company with her work so far in 2020. She's now showcasing legitimate shooting range out beyond the 3-point line without sacrificing any of the intangibles that make her great.
Diana Collins – Brookwood (Snellville, GA) - 2023
Colliins is emerging into one of leaders of the new school in a strong 2023 class nationally. She can do a little of everything with her size at the guard spot. A high academic option, Collins is more than able to pick up and implement new pieces of teaching that are thrown her way during the training academies. Armed with a couple of new scholarship offers in the past month, her sky is the limit.
Lilly Davis – Mooresville (Mooresville, NC) - 2022
Davis has been an absolute joy to work with and watch develop. She is showing steady improvement with each session and has come a long way since we first got on the floor a couple of years back. Projection wise, Davis is working on the new school frontcourt skill set while showing the willingness to compete and train that college frontcourt players have possessed for decades.
Rian Forestier – Brandeis (San Antonio, TX) - 2024
Forestier was a first time addition to our Academy setting but looks to be a fixture for years to come. She'll train with us again in Austin, Texas this coming weekend. As a rising freshman, Forestier showed a unique blend of polish and upside at the same time. That coupled with her work ethic lead me to believe that she's got plenty of growing left to do both physically and skill wise. That should be a scary proposition for opposing school coaches the next four years.
Andrea Flores – Elizabethton (Johnson City, TN) - 2026
Flores is quickly making our training academies her second home. It's easy to forget that we had her training with kids as much as five years older than her this weekend. Flores more than held her own. There is not a concept or drill that we didn't feel comfortable with Flores being exposed to. She was also paired up with Harley Paynter, a 2,000 point scorer in high school already. Flores has the same type of potential that Paynter did when she first came.
Niveya Henley – Montverde Academy (Seattle, WA) - 2021
This was Henley's first time on the floor with us. She's soft spoken but a heavy hitter. In this age of hybrid forwards, the Butler commit has a smooth blend of power and skill in that regard. She is hard worker dialing in from the moment we hit the floor. Like the aforementioned Cheesman, Henley is one of those kids who can show the next generation how to put maximum effort into a workout.
Adison Howard – (Crossville, TN) - 2025
Howard has been to workout with our staff three times since October. It has been awesome to watch her growth both skill wise and physically since we started. Howard's ability to handle the rock and make shots for a middle school prospect is impressive. That said, we're training her like an elite high school kid already talking about footwork and such in our sessions. Here's Howard getting instruction during the Spotlight:
Brandon Clay #BCSTrainingAcademy:

Indianapolis
June 20-21

Our media team is the best.

Shoutout @upwardnow__ for this clip of me teaching @adisonhoward.

SIGN UP https://t.co/wLYYh339MA

COLLEGE RECRUITING PROFILE https://t.co/yZxP6OqN8t #SMPMemberpic.twitter.com/kWhQNCjFlV

— B r a n d o n C l a y (@BrandonClayPSB) June 7, 2020
Camryn Jones – Pace Academy (Atlanta, GA) - 2021
Jones game is flourishing before our eyes. She was in contact with a college that we thought would be a great potential fit just hours before the session started. That seemed to only enhance Jones drive and attention to detail over the weekend. As she keeps growing in her confidence to let the ball fly when she catches it, Jones will just keep getting better and better.
Abigail Long – Shawnee Mission East (Prairie Village, KS) - 2024
This was Long's first time in the gym with our training staff. She's a guard who picked up on the nuances that we were teaching quickly. Continuing to stay in the gym honing her craft will keep Long heading in the right direction from a skill development standpoint. There aren't a lot of kids in her age range who have displayed the ability to shoot the basketball the way she did during this session.
Kayla McPherson – Madison County (Danielsville, GA) - 2021
McPherson has completely bought in to the process of skill development and working with an almost reckless like abandon. Anytime we host an Academy in the Peach State, she is there regardless of the situation ready to work. For a player capable of going to essentially any college in America, McPherson's willingness to work as hard if not harder than any camper in the building sets a tone for the younger players and new faces to match upon arrival.
Courtney Ogden – Westminster (Atlanta, GA) - 2023
This was our first chance to work with Ogden in a while. She's filled out physically and kept building her game in the interim. Along with Collins, Ogden is a major headliner in the next group after McPherson in Georgia. Ogden's size and skill package give her a versatility that not many wing prospects around America can match regardless of graduating class. She too already has multiple scholarship offers.
Harley Paynter – Boyd County (Ashland, KY) - 2021
The aforementioned Paynter has been around our staff since her middle school days. She has grown into a potential Miss Basketball Candidate in 2020-21 with over 2,000 points scored so far at one of the state's premier high schools annually. Her willingness to work has never been in question and this setting only confirmed that. For as good of a shooter as Paynter already is, we were able to touch on some nuance points that should only aid her going forward.
Rachel Smith – Great Crossing (Georgetown, KY) - 2022
Smith's growth over the past two years is exactly what we envisioned when our Academy program took flight. Finding talented ball players like Smith and assisting with their growth on floor and subsequent recruitment is a win / win for everyone involved. Smith is much more assertive in game now with the confidence to attack any drill we throw her way during training sessions.
Makyah Thomas-Malone - Harding Academy (Memphis, TN) - 2023
Thomas-Malone is a dynamic wing prospect who has been on the floor with us multiple times over the past couple of years. She's always been a willing leader vocally setting the tone and tenor of our sessions with her energy. Thomas-Malone showed a growth and maturity skill wise that suggests her best days are still ahead of her. That's an exciting proposition to think about.

Brandon Clay serves as the Director of Scouting for ProspectsNation.com and owns The BrandonClayScouting.com Evaluation Report, which is read by more than 200 colleges and universities nationwide. He also serves as the Executive Skills Director for the Brandon Clay Scouting Academy Series.