Posted
2 years 7 months ago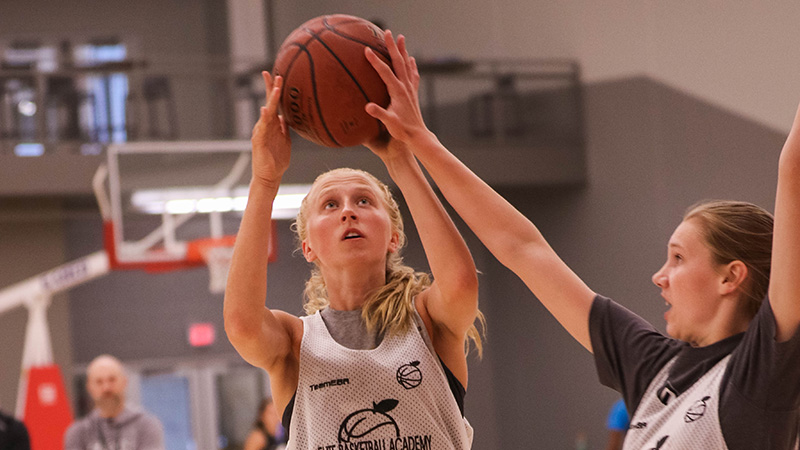 APPLETON, Wisconsin – The BrandonClayScouting.com National Training Academy has become the nation's premier proving ground to train with and compete against elite competition. With 85 campers representing the best that the Badger State has to offer, this edition was no different. Our favorite part of the showcase is working with campers during our Spotlight Session Workout. Here are the takeaways from the last session on Thursday night:
Arnold has all of the tools needed to be a prolific scorer at the next level. Her creativity off the bounce reminds of current NC State guard Kai Crutchfield's play this year for the ACC Champions. Arnold has the skill set and intelligence to be amongst the nation's elite on both ends of the floor. If Arnold will keep sharpening the iron on her outside shot, the sky is the limit. The door to our academies is always open.
In a trait that we've come to expect from coaches kids, Donarski is a tough cookie. She has the moxy and skill to be a quality next level guard as both a shot maker and distributor. The biggest positive to Donarski's game longterm is her ability to keep opposing defenses honest with her outside shot. She is an extremely capable option in that regard with a quick trigger to let it go. What she lacks in size, Donarski makes up for with her ability to make plays.
Hansford has legitimate length on the wing. A left-hand dominant shooter, Hansford showed range well out beyond the 3-point line. As her frame continues to fill out physically, her range could even go back another two to four feet as a result. Hansford is a smooth operator inside drills and competition. Learning how to dial into that energy and elevate her game to the next level vocally will help ensure her success at the college level.
Armed with a fantastic build, LaChappell is a shooter's shooter. She can attack off the bounce too and has multiple offers already for good reason. LaChappell's curiosity and willingness to ask questions of our staff was a major plus. She had former Oklahoma standout Mannie Manning working with her and took full advantage to learn more about how to prepare for greatness at the college level. As LaChappell keeps developing her scoring confidence, we're confident that there is still another level that she can tap into.
Lemke is a dynamic option in the backcourt. She's been on our staff's radar for years and has the eye of several colleges in the region already. Lemke's competitiveness, shot making and play creation combine with her toughness to make her a superb prospect. Lemke is working to understand every read with the subsequent when / why and decision that comes along with it. That skill will take a game up yet another notch.
Meulemans keeps getting better with every eval. She's grown four inches since our initial eval in the process becoming a premier recruit inside the region. Her progress and projection is very similar to classmate Raeven Boswell who just added a Texas Tech offer this week. Meulemans is a tireless worker developing her shot into a consistent outside weapon. If anything, she can be a little quicker to pull the trigger if she gets space.
Nickel is a worker at the forward spot. She has the range to pull defenses out to the 3-point line and the energy to be an effective option playing closer to the basket on both ends as well. As the game keeps requiring frontcourt players to be more versatile, Nickel fits the bill to a T. Her ability to take coaching and make adjustments was noteworthy.
Opichka fit right in with this elite group. She's a worker on both ends of the floor with the skill needed to stretch the defense. Her versatility on defense should allow her to guard two if not three positions based on matchups and style of play give Opichka a versatility that most players don't possess these days. Add that to her high IQ plus consistent activity level and she's a fantastic puzzle piece capable of impacting at the next level similar to PJ Tucker for the Houston Rockets.
A Milwaukee commit, Peppler is a true leader by example. She's capable of sticking the open jumper, distributing the ball and is a fantastic competitor. Though naturally reserved and quiet, Peppler continues to impress our staff with her willingness to improve and grow her game by leading more in this setting. If she'll continue to stretch her comfort level vocally at the point, her production should take another leap as a result.

Brandon Clay serves as the Director of Scouting for ProspectsNation.com and owns The BrandonClayScouting.com Evaluation Report, which is read by more than 200 colleges and universities nationwide. He also serves as the Executive Skills Director for the Brandon Clay Scouting Academy Series.