Posted
8 years 2 months ago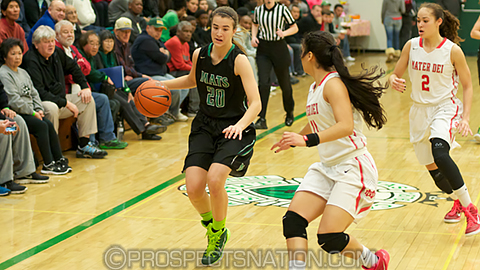 Sabrina Ionescu led her Miramonte squad in a Saturday night showdown with nationally ranked Mater Dei at the St. Mary's MLK Showcase. *Photo by Chris Hansen.
STOCKTON, Calif. – The St. Mary's MLK Showcase brought a series of great North versus South matchups to Moretti Gymnasium.

UCLA commit Kennedy Burke played a terrific ball game against a team in St. Mary's Stockton that swarms defensively for all 32 minutes of a game. She utilized her length and speed to make plays against the press. She shouldered the scoring load from the perimeter but in having to handle against pressure she was unable to take advantage of some of the mismatches her size poses.
Cal commit MaAne Mosley of Richmond, Calif., has continued to improve her ball skill. We saw her work at it this fall at Check Me Out NorCal and that focus clearly followed into the high school season. The ELITE 150 wing remains a force rebounding the basketball from any position and her strength and leaping ability allow her to score the ball on the drive in a variety of ways.
Laticia Smith of Gardena, Calif., was electric for Narbonne in its matchup with St. Mary's Berkeley. She's a powerful point guard who uses her body as well as any guard out west. The Seton Hall commit is physical on her drives into the paint and she has the lower body strength to elevate after initiating contact with her defender. She knows how to get to her kill spots which allowed her to score 18 points in the first three quarters of play on Saturday.

Sabrina Ionescu, the No. 7 prospect in the ELITE 60, is not going to surprise any opponents. Her talent is well documented and she is regularly the focus of face-guarding, hard denials and even junk defenses like box-and-one. But this 5-11 combo guard is one of the most competitive players in the country. She doesn't shy away from the challenge. She angles to get open and uses her length and array of change of speed moves to create. Her euro-step move is hard to guard because she has such good body control.
The post class in 2016 isn't super deep but that doesn't mean there aren't quality prospects as Mallory McGwire of Reno, Nev., demonstrated. She has a strong frame that will translate to the next level and good hands. She keeps her cool under pressure and often scores in spite of the double-teams at the high school level. She's mobile enough to be really good in the ball screen game and strong enough to bury a defender deep in the paint. Exposure to more competition of her size and strength will allow her to build on her game.
An ELITE 60 guard, Kat Tudor of Woodbridge, Calif., is finding her shooting groove again. The 5-10 sharpshooter had a tough month of December but has been rolling in the New Year. Throughout the blip in her shooting excellence what has also come to light is that she is more than a shooter. Her length pays dividends on defense and her deceptive speed shows in her ability to run in transition with super speedy backcourt mates like Micole Cayton.
Part of what makes Mater Dei so good is the number of ways they can beat you. Early in the matchup with Miramonte the Monarchs played the game inside-out, getting the ball in to Ally Rosenblum, the 6-3 UCLA commit, to free up the outside. She was poised and efficient with her touches in the paint against a smaller front line from the Matadors. She got three early buckets to set the tone in this matchup to punish the opposition for focusing on seniors Katie Lou Samuelson and Andee Velasco.
Vanden junior Kiana Moore of Fairfield, Calif., is a strong floor general for her team. She is a tenacious defender and her toughness on the court rubs off on her teammates. She penetrates to set her teammates up but can also finish in traffic. She is the engine that drives her team and her wing scorers benefit from her speed and ability to find them in transition.
Jaelyn Brown is one of the most sought after prospects in the junior class on the west coast. The powerful 6-1 junior at Vista Murietta has the strength and size to play inside and her ball skill has steadily improved to play on the perimeter. What was interesting in this matchup with Vanden is that Brown excelled in stretches of the game as a facilitator, allowing players like fellow junior Brittney Reed to lead the way scoring.

Courtesy Clark of Sacramento, Calif., is a player that has the ability to change the pace of a game. When she's locked in on both ends she can create tempo for her Sacramento High team. Her speed and length in the open court is a difference maker. Against Archbishop Mitty she blew past transition defenders off long rebounds and steals. The 5-8 sophomore did a good job of mixing up getting to the rim to score and drawing defenders to dish.
A new name that impressed on the opening day of the MLK Showcase was Mitty's Heleyna Hill. The 5-10 combo guard is a player with good physical tools but more importantly she is regularly in the right place at the right time on both ends of the floor. She finished the game with 26 points against an aggressive and quick defense. She finished with both hands and showed good body control under pressure. Follow @ChrisHansenPSB

Hansen is managing editor of ProspectsNation.com and a McDonald's All-American selection committee member. He was the national director of scouting for ESPN HoopGurlz from 2005 until 2012. He can be reached at chris@prospectsnation.com.