She's Ballin Showcase -- Upperclass
Posted
8 years 6 months ago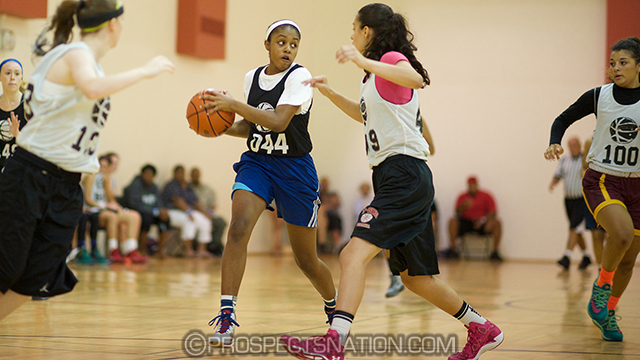 SAN ANTONIO – The She's Ballin Showcase is a regular stop to see some of the top competition in Texas and the Southwest region early in the spring season. With two of San Antonio's finest guards in Amber Ramirez and Kianna Williams in the state semifinal game this weekend it helped clear the way for new faces to shine at the George Gervin Academy gym on Saturday.
Lexi Gordon (Fort Worth, Texas), LD Bell – 2017
Gordon is a 6-0 wing with the perfect perimeter frame. She is athletic but her skill set is equally impressive. She showcased a smooth jumper, which she used off the catch, the jab and off the dribble. She can attack the paint as well. What was most impressive is the way she attacked any time the defender was not locked in.
Sophia Ramos (San Antonio, Texas), Incarnate Word – 2018
Ramos has a poised demeanor and smoothness about her game that actually fools the naked eye at times. The chill in her game makes you think she's not engaged but then she throws a no-look touch pass or slips into the lane off the dribble and makes a play and you realize she simply plays under control. The 5-8 guard has such a great feel for the game giving her a ton of potential to realize over the next three-plus years.
Desiree Caldwell (San Antonio, Texas), Johnson. – 2018
Caldwell is a terrific talent who is starting to figure out how to play this game as an elite guard, expectations and all. She is attacking with the patented Caldwell hesitation that her sister Recee first showed us. But where her older sister would stop and pop this youngster gets deep into the paint and has a knack for making tight passes past the help defense. Expect a big spring and summer from this ELITE 25 watch list prospect.
Gabrielle Connally (San Antonio, Texas), Brandeis – 2017
Connally is a 5-6 point guard who truly embodies the traditional definition of the position. She has elite quickness and has shift in her game, making her change of direction moves hard to defend. It was refreshing to see a player in a showcase setting standout for distributing the ball. Her eyes were always up in transition and her ability to create in both transition and the quarter court were noteworthy. If she can develop a consistent perimeter shot she'll be a real handful.
Mandy Karako (Lakeway, Texas), Lake Travis – 2016
Every year college coaches as scouts where all the shotmakers are. For most of Saturday afternoon this 5-11 guard was just that. She shot the ball on numerous stop and pop as well as kick out passes out to deep 3-point range. If she got her feet set there was a good chance the shot was going to fall. She's powered her way to the rim on some drives. She has solid ball skill and adequate quickness to make some plays.
Makayla Mabry (San Antonio, Texas), Alamo Heights – 2017
Mabry is no stranger to us and when she's aggressive and decisive offensively she is real problem. She has the length to post up in the low post but also has the face-up game to excel in the mid-post, short corner and high post. With her shooting range out to 3-point range she is a legitimate stretch 4-player.
Tiara Matthews (Sugar Land, Texas), Fort Bend Kempner – 2016
Matthews is a slightly under-height post player who has a strong frame and a terrific motor. She uses her body really well and for a player her size she has terrific agility. She took a steal at the top of the key the length of the floor, running past traditional perimeter players in the process. She has a nice face-up game and at the next level her ability to score from the forward position will be important.
Kianna Ray (Austin, Texas), Bowie – 2016 (TCU verbal)
Ray continues to impress with each outing. For a nationally ranked player, she doesn't come with a lot of the noise, she just goes out and gets the job done. She is one of the few players you can put on a special perimeter scorer and expect her to slow the kid down. She's smooth with the basketball and gets into the paint often. The Horned Frogs are getting a player who can contribute in a lot of ways.
Shaylee Gonzales (Gilbert, AZ), Mesquite – 2018
Fresh off her freshman year, Gonzales proved she plays the game as hard as anyone. She is a heady player who has just enough size and quickness to make the plays she sees. She showed good range but a crafty way about her. She outworked a lot of players who have bigger names and consistently found ways to score. This relentless backcourt sparkplug will be one to keep an eye on.
AROUND THE RIM
Churchill junior Maiya Green of San Antonio, Texas, was a speed demon with the ball and created havoc in transition. She pushes the ball but also sees the passing lanes.
When colleges begin looking hard for new names of posts in 2016, they will come across Ashley Knight of Austin, Texas. She has a college-ready frame and good hands. Her offensive skill set needs some polish but she has some upside.
Daly Sullivan of South Bend, Ind., is a fantastic point guard who can create off the dribble and score it effectively. Here she didn't force the action and had a solid day.
Another standout young point guard from the Lone Star State showing her potential this weekend was Angel Hastings of San Antonio, Texas. She has terrific physical gifts and uses them well at an early age considering she is just freshmen.

Hansen is managing editor of ProspectsNation.com and a McDonald's All-American selection committee member. He was the national director of scouting for ESPN HoopGurlz from 2005 until 2012. He can be reached at chris@prospectsnation.com.