Posted
4 years 11 months ago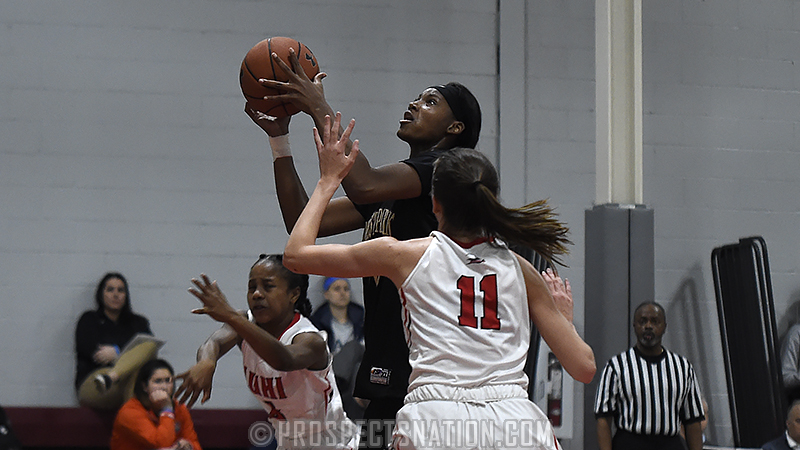 Sania Feagin showed she can score it inside and facing up at the 2018 She Got Game Classic. *Photo by Chris Hansen.
UPPERMARLBORO, Maryland – The high school season often sees the experience of seniors lead the way. But on this trip to the Atlantic Coast, the underclassmen were on point as well at the 2018 She Got Game Classic.
Sania Feagin (Ellenwood, Ga.), Forest Park HS – 2021
They say post players are the last to develop. If that's always true then Sania Feagin, the 6-foot-4 post for Forest Park, is going to be unstoppable in the future. On Saturday she was impactful on both ends of the floor. She scored the ball on the block, attacked off the dribble from the high post. She blocked shots, and dominated the glass to start her team's break. Her speed and explosiveness are almost unfair for a player her size. As she gets more experience, look for her to pick her spots more and find efficiency.
Mir McLean (Gwynn Oak, Md.), Roland Park – 2020
Rebounding is an art that McLean has mastered. And while your mind takes you to mental image of Teaira McGowan at Mississippi State, Mir is stands just 5 feet 11 inches. She has the rare combination of explosive leaping ability, great hands and perfect timing. Her smooth but explosive game impacts both ends of the floor. And while the immediate comparison to another successful 5-11 forward, Baylor's Nina Davis, may come to mind, their styles are completely different. The good news is schools across the country have gotten over her lack of height due to her talent and production which was on display here in D.C.
Jacee Busick (Kernersville, N.C.), R.B. Glenn – 2021
The 6-1 Busick is a tall wing that can really shoot the ball. She shot it, both from long range and in the mid-range, with great accuracy. Her passing in the half court and her ability to bother shots with her length are all strengths that showed here as well. She showed some ball skill to change directions, push the break and on one possession she drove from the right wing middle, dropped her hips and exploded between the legs back to the baseline to get to the rim and score. She also blocked a couple of shots simply by walling up. At the next level she projects more as a long wing than the combo forward she plays in high school.
CLAY'S AROUND THE RIM
Led by the aforementioned Feagin, Forest Park (GA) has established themselves as one of the country's premier teams this season. Steve Cole's roster is full of talented players who have made a mark during PSB tournaments and know how to battle until the win is secure.
Coach Henry Anglin's National Christian Academy roster is arguably as talented as any that he's had in recent memory. The key to Anglin's success is putting top flight players such as Class of 2019 wing Anissa Rivera in positions to be successful.

Chris Hansen is managing editor of ProspectsNation.com and serves on the McDonald's All-American and Naismith Trophy selection committees. He was a co-founder of and the national director of scouting for ESPN HoopGurlz from 2005 until 2012 and is the director of the Check Me Out Showcase and ELITE is EARNED events. He can be reached at chris@prospectsnation.com.