Scouts Take: USA U17 Team
Posted
9 years 3 months ago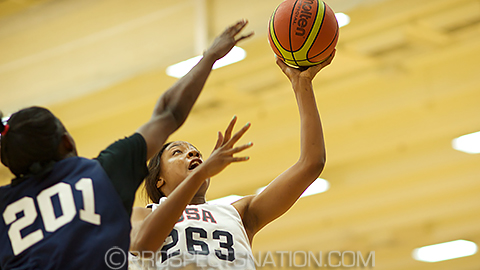 Kristine Anigwe, a Cal verbal commit, is one of six new players to the USA Basketball cadet team in 2014. *Photo by Chris Hansen.
Tweet
COLORADO SPRINGS, Colo. – With the team announced, it is time to look at the USA Basketball U17 national team more closely and how it will stack up in the Czech Republic this summer at the FIBA U17 World Championships.
Guards
Asia Durr of Douglassville, Ga., will lead the way from the perimeter for this year's U17 World Championship team. Durr, who played a lot of point guard on last year's team, has the ability to move off the ball with this group or continue as the lead playmaker.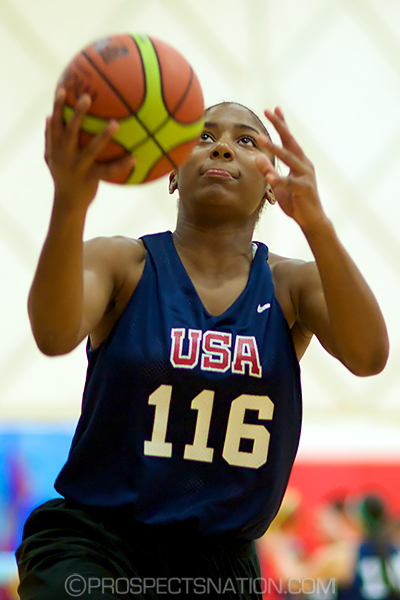 '15 ELITE 100 guard Te'a Cooper.
*Photo by Chris Hansen.
Joining Durr in the backcourt this year are a duo of newcomers at the point guard spot -- Te'a Cooper of Powder Springs, Ga., and Anna Wilson of Richmond, Va. Cooper will bring a dynamic presence to the team, as she is a kid who can score and create at a high level while Wilson, who is committed to Stanford, is more of a natural set up player who can get others involved. As the teams most natural wing player, Arike Ogunbowale of Milwaukee, Wisc., will be looked upon as a consistent perimeter scoring threat. Her size, strength, and ability to make plays off of the bounce will be much needed on this team.
Forwards
Two Connecticut verbal commitments highlight the forward positions for this year's USA U17 team as Dejanae Boykin of Springdale, Md., and Katie Lou Samuelson of Huntington Beach, Calif., return from last years U16 FIBA America's Championship team.
Boykin, who is a jack-of-all-trades skill-wise, will probably be asked to act as the team's best all-around defender, will use her passing and feel for the game on offensive end. She has the ability to stuff stat sheets next month in the Czech Republic beyond scoring.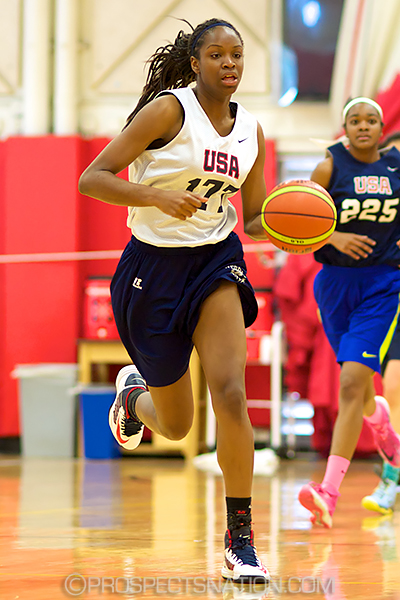 '15 ELITE 100 wing Kennedy Burke.
*Photo by Chris Hansen.
Samuelson, on the other hand, will pair with Durr as one of the favorites to lead the way offensively. Joining Boykin and Samuelson will be Natalie Chou of Plano, Texas, and Kennedy Burke of Northridge, Calif., both of whom could see a lot of time on the wing. Chou is a high level shot-maker who can make plays off the bounce. Burke is a slasher who should also give this team a quality perimeter defender as she has long limbs and good quickness.
Posts
In the post for this year's USA U17 team look for things to start with Lauren Cox of Flower Mound, Texas. Cox is the kind of offensive talent that needs to regularly be double-teamed on the blocks but she can also step out on the perimeter and make a jumper.
Joining Cox in the post is another returner from last year's team, Nancy Mulkey of Cypress, Texas. Mulkey's length will create problems on the defensive side of the ball and her improved offensive game may allow her to be a nice contributor offensively as well.
New to the team this year are Kristine Anigwe of Phoenix, Ariz., and Joyner Holmes of Cedar Hill, Texas. Both Anigwe and Holmes are posts that bring athleticism and energy to the floor. Their combination of length and athleticism will give opposing frontcourt players problems around the rim.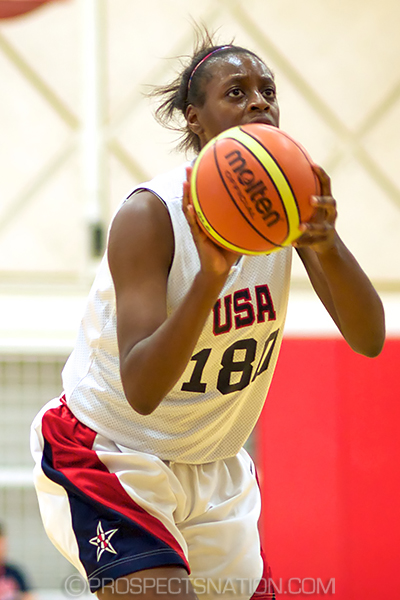 '16 ELITE 60 forward Joyner Holmes.
*Photo by Chris Hansen.
Strengths
The overall strength of this year's U17 World Championship team is the talent that leads the roster. Durr, Samuelson, and Cox have the ability to force double teams or at the very least draw a considerable amount of defensive attention. As the scorers that will pace this team, they should create a high volume of open looks for the rest of their teammates and with the size and athleticism of players such as Mulkey, Holmes and Anigwe grabbing offensive rebounds and cleaning up misses won't be much of an issue.
Area of Concern
Outside of Samuelson and Durr, the only knockdown 3-point shooter on this roster is Chou. Cooper, Ogunbowale and Burke can make open shots and will need to be consistent in this area as this USA team can expect to see a lot of zone defense given its size and one-on-one ability. Another possible speed bump for this team could be just the overall lack of experience on this roster. Six of the 12 players on this year's team were not on last year's U16 team.
Of the six new players -- Anigwe, Burke, Chou, Cooper, Holmes, and Wilson -- three are from the class of 2016, Chou, Holmes, and Wilson. Typically USA Basketball teams run about 9-to-11 deep as far as playing time is allotted. With a younger team and a fairly inexperienced group overall, some players will need to step up and give the group quality minutes throughout the tournament, especially against a much stiffer field of competition than the U16 group saw in Cancun last June. Follow @KeilMoorePSB

Moore is the Director of Scouting for the JumpOffPlus.com National Scouting Report and international scouting report. He has been a member if the women's basketball community for more than six years as a trainer and evaluator. He can be reached at keil@prospectsnation.com.