A Scout's Take: Durr's Options
Posted
7 years 3 weeks ago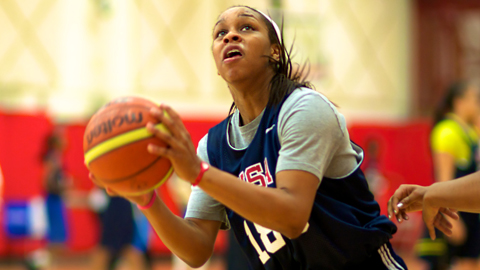 Asia Durr has proven she is an elite player both on and off the ball and will be a difference maker for one of her finalists. *Photo by Chris Hansen.
Tweet
This coming Tuesday, the No. 1 overall prospect in the class of 2015 Asia Durr of Douglasville, Ga., will announce her college decision. Durr, a 5-foot-10 combo guard, will pick from her five finalists Baylor, Duke, Louisville, Maryland and Notre Dame.
Until Durr officially makes a college decision much of the women's basketball world will be fixated on her potential decision and the supposed mark that Durr could leave on her program of choice. Over the past few years one of the major questions with Durr is what will her true college position be?
Early on in her prep career she seemed to be most comfortable playing off the ball and with her scoring prowess and playmaking ability projecting her as a dynamic scoring wing seemed to be the most likely spot for her. In the last 18 months, however, Durr has logged a lot of minutes as a point guard and grown into the position quite well. She has played the point for her high school team, her summer team and USA Basketball. Given that fact, her ability to handle the point and play on the wing will give her future college program a nice set of options for how to use her.
Here is a look at what Durr could mean for each program and the potential impact that she could have on each team.
Baylor
'15 Commitments: PG Alexandria Gulley (4-Star), P Justis Szczepanski-Beavers (4-Star), SG Alyssa Dry (3-Star)
What The Bears Have: Eight of the 13 players on Baylor's current roster are either freshmen or sophomores. Sophomore post Khadijah Cave and freshman Micayla Buckner give them size on the inside, while sophomore guard Iesha Small and freshman Kristy Wallace give them athleticism on the perimeter. Incoming transfer Alexis Jones (from Duke) will give them a playmaking combo guard to set the table while returning starter Nina Davis was freshman of the year in the Big 12.
What Durr Brings: Were Durr to pick Baylor, they would have the ability to pair Durr with Duke transfer Alexis Jones in the backcourt for two seasons. The combination of Durr and Jones would give Baylor one of, if not the, best backcourts in the country. Both Durr and Jones can play the point and play off the ball giving Baylor coach Kim Mulkey an abundance of flexibility in how she could potentially use the pair.
Duke
'15 Commitments: PG Kyra Lambert (No. 29), G Haley Gorecki (No. 46), W Faith Suggs (No. 47)
What The Blue Devils Have: One glance at Duke's current roster and you find a ton of depth and elite talent in the post and on the perimeter. The position that Duke is weakest at is easily point guard. With the departure of Chelsea Gray via graduation and the transfer of rising junior point guard Jones means that Duke will have an opening for Durr to come in and fill. With Durr at the point she could potentially fit nicely with a shooter like Rebecca Greenwell, a slashing wing such as Sierra Calhoun and an athletic forward Oderah Chidom.
What Durr Brings: Durr would seamlessly replace Jones for Duke. What Jones was able to give them as a creator off the bounce, Durr will be able to do while also having more natural point guard instincts. Durr's ability to share the basketball and control the tempo of a game while still scoring the ball is nothing short of special. With Durr at the point Duke will be in very good hands.
Louisville
'15 Commitments: G Taja Cole (No. 12), G Brianna Jones (No. 23), P Erin DeGrate (No. 36)
What The Cardinals Have: With five seniors graduating before Durr's arrival, Louisville is set to be a very young team during Durr's freshman year. The current freshman class has five players in it and the ACC school currently has three verbal commitments for the class of 2015.
What Durr Brings: Louisville has proven to be a place where talented guard play can thrive. Angel McCoughtry and Shoni Schimmel had banner careers playing under Jeff Walz and while both are special players, neither was a No. 1 overall recruit in their respective classes. Durr would have the potential to play four years with a large part of the core of her team in place. Next year Louisville could have as many as 11 players on the roster in the sophomore or freshman class. There would be early growing pains for this bunch but there would also be a high level of talent.
Maryland
'15 Commitments: F Kiah Gillespie (No. 14), F Brianna Fraser (No. 18)
What The Terps Have: Coming off a Final Four appearance, Maryland has a fairly young roster this season with just five upperclassman and one senior on the team for 2014-15. The current 2015 class for Maryland is comprised of two top-20 players with Gillespie and Fraser pledged to the Big Ten school. Adding Durr to a young collection of talent like this would give Maryland a formidable roster for years to come.
What Durr Brings: With multiple point guards on the roster, Maryland would be able to allow Durr to act as a primary scorer. Something she has proven to be more than capable of. With other offensive weapons in her class and a solid core of sophomores and juniors to learn from there would be a lot to be excited about in College Park.
Notre Dame
'15 Commitments: G Marina Mabrey (No. 7), G Ali Patberg (No. 16)
What The Irish Have: Next to Connecticut, Notre Dame has arguably the best collection of talent in all of college basketball. It's spread out evenly amongst its classes and there is depth and versatility at almost every position. In the 2015 class the Irish already have commitments from two talented prospects in Mabrey and Patberg and potentially adding Durr would give them three of the best 16 players in the class.
What Durr Brings: Durr would fit in well in Notre Dame's hybrid Princeton offense. She doesn't need the ball to be effective but can be lethal with it in her hands. The caliber of talent that would surround her at Notre Dame would make it tough for people to focus on her as she would be less likely to see a high volume of traps and double teams with the level of perimeter shooting and interior passing that Notre Dame has on its roster. Follow @KeilMoorePSB

Moore is the Director of Scouting for the JumpOffPlus.com National Scouting Report and international scouting report. He has been a member if the women's basketball community for more than six years as a trainer and evaluator. He can be reached at keil@prospectsnation.com.