Saturday At PSB Spring Showdown
Posted
7 years 4 months ago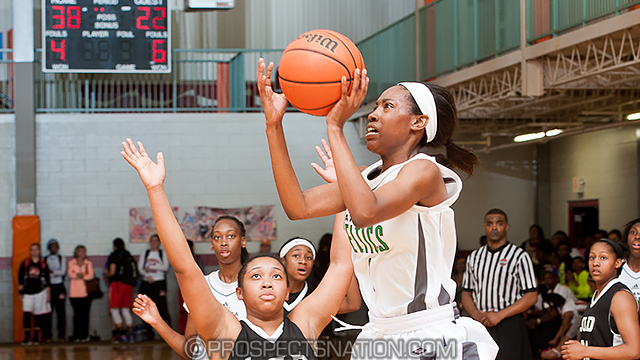 #ProspecsNationTV: Highlights of Tennessee Xtreme, ATL Lady Celtics, & Kaleigh Clemmons
SUWANEE, Ga., - The PSB Spring Showcase had all 72 teams play in bracket games on Saturday. Travel teams from Georgia and surrounding states received great competition, which served as a great measurement heading into the month of April. Here are the individuals that stood out on the second day of the tournament.
Class of 2017 forward A'Keria Medlock of Birmingham, Ala., had a productive day. She impressed with quickness off of the floor when rebounding in the lane. She also attacked the lane aggressively with the dribble-drive.
Tatyana Davis, the lefty point guard from Buckhead, Ga., turned heads opening bracket play. Her slashing style and knack for playmkaking helped the Atlanta Celtics into their bracket championship game.
The unofficial Team of the Day award goes to Traveler's Rest Elite. The young ladies from the Palmetto State played with unmatched intensity for 32 minutes of game play. Impressively, every single player who stepped on the court seemed to give supreme effort in their games today.
Class of 2019 point guard Vanessa Grimaldo of Cooper City, Fla., embodies the unselfish nature of the Erik Spoelstra Basketball Academy. The 5-foot-6 floor general led the way for the young ladies from the Sunshine State.
The consistent play of FBC forward Tatyana Wyatt of Columbus, Ga., is notable. She uses every bit of her 6-3 frame to affect the game in the paint. However, her versatility will be a valuable asset for coach Alfred Motton in upcoming months.
The Atlanta Lady Celtics picked up two big wins Saturday to advance to the championship game of the BrandonClayPSB bracket Sunday. Class of 2016 Ebony Hargrove of Eatonton, Ga., is a prospect that moves the needle for coach Russell Steede. The 6-0 wing forward created her own shot off the dribble while also hitting multiple jumpers from beyond arc.
A hot name emerging for Central Florida Elite is class of 2016 point guard Alexis Pitchford of Orlando, Fla. The 5-7 floor general is handling the ball with confidence and making plays with the dribble. We will track her progression this summer while playing with coach Cornell Rivers.
Coach Doug Bush has a sharpshooter in class of 2016 wing Katie Allen of Albertville, Ala. At 5-10 she has very good size to play on the wing, but it is her easy release that allows her to deliver daggers for the Southern Starz.
#PSBSpringShowdown: 16' Katie Allen @ALSoStarz with the high post flash & smooth jumpshot w/ @JLHemingwayPSB watching pic.twitter.com/taw6ZpoINE

— Kris Watkins (@KrisWatkinsPSB) March 28, 2015

Hemingway is the Assistant Director of Scouting for the JumpOffPlus.com National Scouting Report and the owner of CoachHemi.com. He can be reached at jonathanhemingway@peachstatebasketball.com.

Peck is the owner of Dream In Motion Athletics and is a national evaluator for the JumpOffPlus.com National Scouting Report. He also serves as a on-floor skills coach at the Elite Basketball Academy events. He can be reached at StephenPeck@peachstatebasketball.com.