Rockin' The Hardwood 2015
Posted
8 years 5 months ago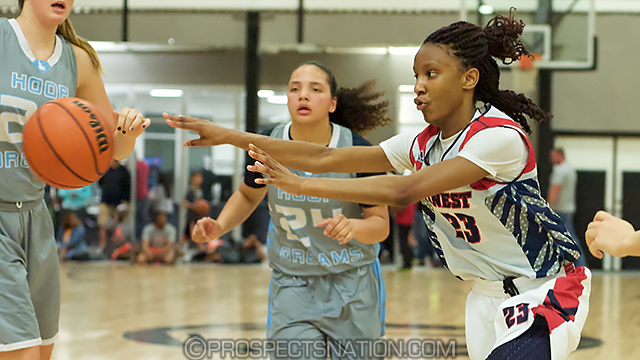 Kianna Williams was electric at the point for San Antonio's Finest this weekend.
SPRINGDALE, Ark. – The Rockin' The Hardwood event in Northwest Arkansas has grown into one of the best events in the region in the non-certified period. More than 130 hit the courts including a terrific grouping in the showcase division. Here are just a few of the standouts from the weekend in The Natural State.
Jada Ford (Wagoner, Okla.), Blue Star Oklahoma – 2016
Ford has terrific size on the perimeter as well as the athleticism to make the most of it. The 5-foot-10 shooting guard is strong with the ball and can extend to the goal to finish through contact as well as slow her pace and finish with the floater. She is also a more than capable shooter from 3-point range, hitting shots with a quick release both coming off screens and off the dribble.
Kiara Williams (Alexander, Ark.), Arkansas Mavericks Elite – 2016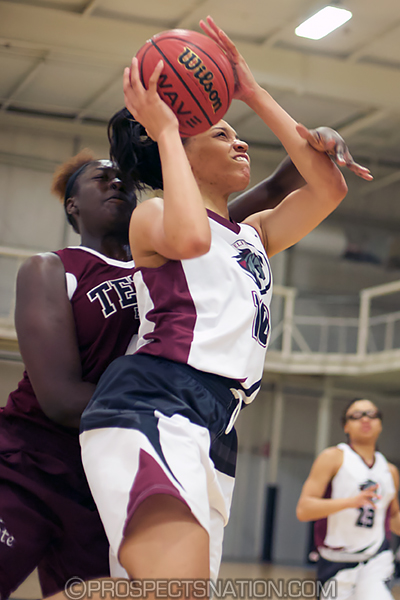 Williams is at her best playing in motion. She'll outrun and out maneuver most post players and she did a great job on the back side of the Mavericks press, coming up with countless steals and turning it into offense in transition. She showed solid footwork in the post as well, utilizing the stepthrough when defenders tried to body her up to take away her quickness. She's slightly undersized at 6-0 but her production speaks for itself.
Already committed to Texas Christian, Ray is showing she's far from settling on her game. She showed her trademark defensive tenacity that helped earn her countless offers but she is becoming more confident, and more importantly assertive, on the offensive end. She attacked in transition and in the halfcourt but her consistent shooting from 3-point range stood out as the biggest improvement.
With a glamorous national ranking and experience playing for the USA Basketball youth national team, expectations are high for Chou. And being the main attraction on a new club team, the 6-0 guard was up to the task. Her long strides and slick change of pace with the ball allows her to be a threat to score at any moment.
This Texas commit possesses incredible speed with and without the basketball. Her skill set fully enables her to be an elite player both on and off the ball. She can penetrate to score or set teammates up and she drives her team's energy with the way she plays. She is a kid that can lock in on the opposition's best scorer or play possum in the back of a zone and jump passing lanes.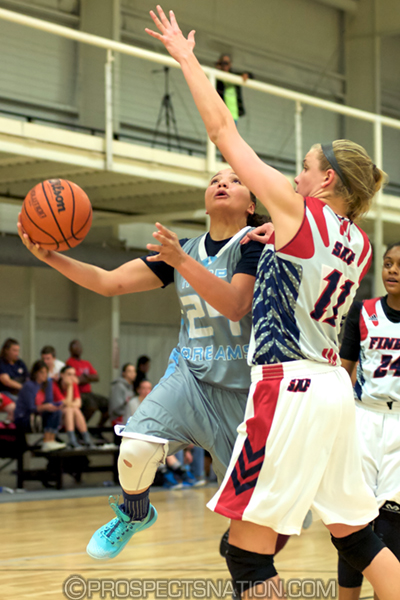 Slocum only knows one way to play the game and that is all out. She's a fierce competitor regardless of the scoreboard. She was relentless in her play up 15 in her final game and put on a show trying to bring her team back against Texas Elite Simmons. She made it a point of emphasis to get her teammates open shots and picked her spots to score. The No. 5 player in the ELITE 60 looked every bit of it this weekend.
Players who excel at making their teammates look good don't always get the credit they are do but Williams is hard to overlook. She is incredibly fast with the basketball and containing her off of the ball screen, even with a decent hedge is incredibly difficult. She has the rare gift of being able to change directions at full speed and in traffic, which leads to some wide open teammates when help commits to stopping her. Her scoring skills are starting to shine as well as she hit a huge floater in overtime to beat the Hoopdreams.
Christyn Williams (Little Rock, Ark.), Team Arkansas Banshees – 2018
Though she's just a freshman, this 5-10 guard was electric at times. She's still learning how explosive she really is as her natural athleticism couple with her sharp handle means she can go by people. She showed the ability to shoot from long range in addition to breaking defenders down. She's a high motor kid that competes on both ends of the court.
AROUND THE RIM
► For Oklahoma Swarm there was ample buzz about 2016 Oklahoma State commit Jaden Hobbs, and for good reason, she can shoot the lights out. But also impressing was the steady point guard play of Paige Serup.
► Idaho Hoopdreams guard Tori Williams made teams pay for doubling the post or paying too much attention to Slocum by ripping nets from three and scoring off the dribble as well. She'll be highly sought after in the 2017 class. Freshman forward Katleyn Murray also made the most of the team's four highly competitive matchups.
► Texas Elite combo guard Gabrielle Gregory had strong weekend. Her tough play on the ball and ability to get in the paint on offense helped her team roll.
► One of the most physically imposing teams in the field was Team Penny and part of that was the stout play from guard Brandi Beasley. From no-look passes to and-one finishes, Beasley was a force.
► Though the San Antonio Finest Blue team is already pretty young, their even younger Diamond team has some players to keep an eye on. One of them is super smooth point guard Kyra White. She's reminiscent of a slightly smaller Jordan Adams at the same age as she's is good with the ball in her hands and uses her length to pass over and around defenders.
► For those looking for a shotblocking and mobile post in the rising senior class, Team Penny's Tijuana Griggs may fit the bill. The 6-4 center blocked and bothered countless shots and showed good hands in the post on offense as well. And if you fancy a post with a bigger frame then the improvement of 6-4 Ashley Knight of Texas Elite Christian will most definitely pique your interest.
► San Antonio Finest guard Amber Ramirez continues to complement her status as one of the best shooters in the country with her ability to attack the closeout defender.
► Missouri Phenom frontcourt star Lauryn Miller is an athletic forward who can score it. However, it was the 6-2 prospects interior passing that was most impressive this weekend.

Hansen is managing editor of ProspectsNation.com and serves on the McDonald's All-American and Naismith Trophy selection committees. He was the national director of scouting for ESPN HoopGurlz from 2005 until 2012. He can be reached at chris@prospectsnation.com.