Posted
6 years 2 months ago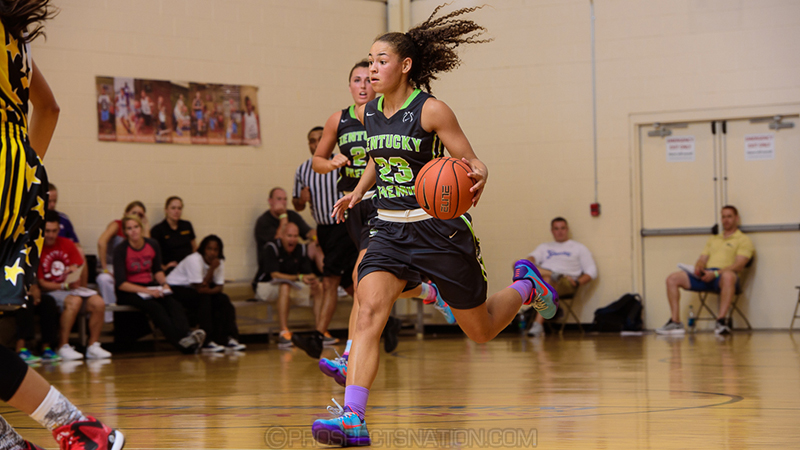 Mykasa Robinson of Kentucky Premier. *Photo by Ty Freeman.
It's still early in the J.R. Payne era at Colorado but in the second week of her first regular season at the helm, her Buffs program knocked off its first nationally ranked opponent in No. 15 Kentucky, then scored its first top 20 recruit commitment in No. 19 Mykasa Robinson of Catlettsburg, Kentucky.
Robinson, the 5-foot-7 point guard who is ranked seventh at the position in the class, is the first player from the 2018 class to commit to Colorado. She comes in on the heels of the Buffs 2017 signing class of No. 131 Aubrey Knight, a 6-1 forward from Ventura, California, and Annika Jank, a 6-3 post from Minneapolis, Minnesota.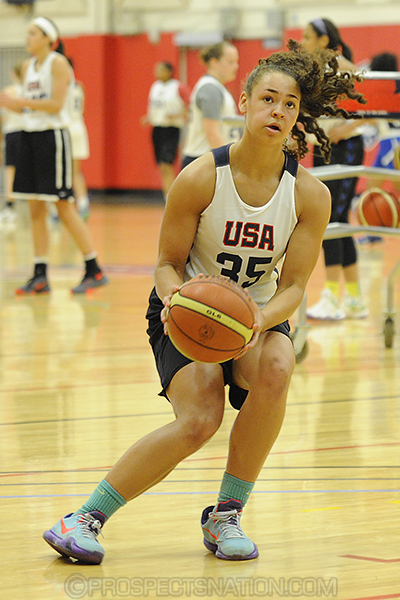 "With the addition of Robinson, Colorado is adding an elite talent that they can build around for the 2018 class," Keil Moore, ProspectsNation.com's director of scouting, said. "This is a strong start for coach Payne and her staff as they start to build their program in Boulder."
Robinson has been in a lot of battles with elite players early in her career, both on the camp circuit, through USA Basketball trials and with her Kentucky Premier club program. Those battles were halted this past summer in June when she tore her anterior cruciate ligament. Her skill set and frame are both positives for a full recovery from the injury.
"Robinson is both a high level defender and a high IQ player," Brandon Clay, ProspectsNation.com publisher, said. "She's a worker who will compete in every drill, practice. Robinson's presence will add a unique blend of athleticism and intelligence to the Pac-12 roster in the backcourt."
Robinson will likely play one year with her sister, Alexis, who is currently a sophomore. She will also play one season with star point guard Kennedy Leonard, who was Pac-12 All Freshman Team and an honorable mention All-Pac-12 selection a year ago. The duo of Leonard and the elder Robinson is averaging nearly 40 points per game through three games this year, giving Mykasa experience to draw from.

Chris Hansen is managing editor of ProspectsNation.com and serves on the McDonald's All-American and Naismith Trophy selection committees. He was a co-founder of and the national director of scouting for ESPN HoopGurlz from 2005 until 2012 and is the director of the Check Me Out Showcase. He can be reached at chris@prospectsnation.com.