Recap: Turkey Jamm '14 Seniors
Posted
10 years 3 days ago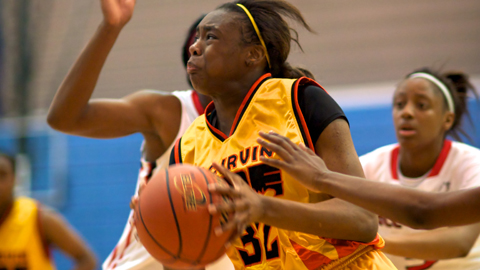 Jasmine Lumpkin brought the success of her summer over to high school senior season. *Photo by Haley Weit.
Tweet
MURFREESBORO - The Turkey Jamm has become the nation's premier post-Thanksgiving event. With 34 teams representing 11 different states, there was plenty of talent on hand for the nearly 50 colleges and universities who attended. The senior class featured a mixture of prospects who took the chance to shine in one of their final times on the big stage as prep players.
Breonn Hughey (Washington, D.C.), Capitol Christian – 2014
Hughey stole the show on Saturday afternoon, scoring multiple times late against Homewood Flossmoor (Ill.) in a matchup of ProspectsNation.com HS25 high school teams. A 5-foot-5 point guard, Hughey is not an imposing figure on the floor, but the left-hand dominant guard is fast with or without the basketball. The Towson signee is ranked as the No. 122 prospect in the ELITE 150. Her play on this day showed why she's a possible four-year starter at the point guard position when she arrives on the Towson campus this summer. The 2013 Elite Basketball Academy Super 64 camper has an innate ability to make others around her better through her performance.
Jasmine Lumpkin (Bolingbrook, Ill.), Joliet Catholic – 2014
One of the nation's premier athletes at the forward position, Lumpkin did not disappoint in this setting, making multiple plays around the rim on either side. The 5-11 prep also does a consistent job at the glass on the defensive end. A four-star prospect, her style of play is reminiscent of current Michigan State redshirt freshman Aerial Powers of Detroit, Mich. Lumpkin, the nation's No. 29 overall prospect in the ELITE 150, will join Powers in East Lansing next season to play for Suzy Merchant. One of Merchant's assistant coaches, Amaka Agugua, was in the building to see the future Spartan play.
Tia Wooten (Memphis, Tenn.), Memphis Central HS – 2014
Wooten missed time a year ago with a knee injury but has since rebounded to get back in the discussion amongst the Volunteer State's top guards in the senior class. A three-star prospect, Wooten is at her best in the open floor making plays in transition. With her future Tennessee State coach Larry Inman looking on, Wooten scored the ball in the half court as well especially in the midrange. Before her injury that midrange jumper was an area of her game that she needed to continue to develop. Follow @BrandonClayPSB
Clay is the owner of the JumpOffPlus.com International Scouting Report, PeachStateBasketball.com and ProspectsNation.com. He can be reached at brandon@prospectsnation.com.