Recap: Select 24 - Part II
Posted
1 year 2 months ago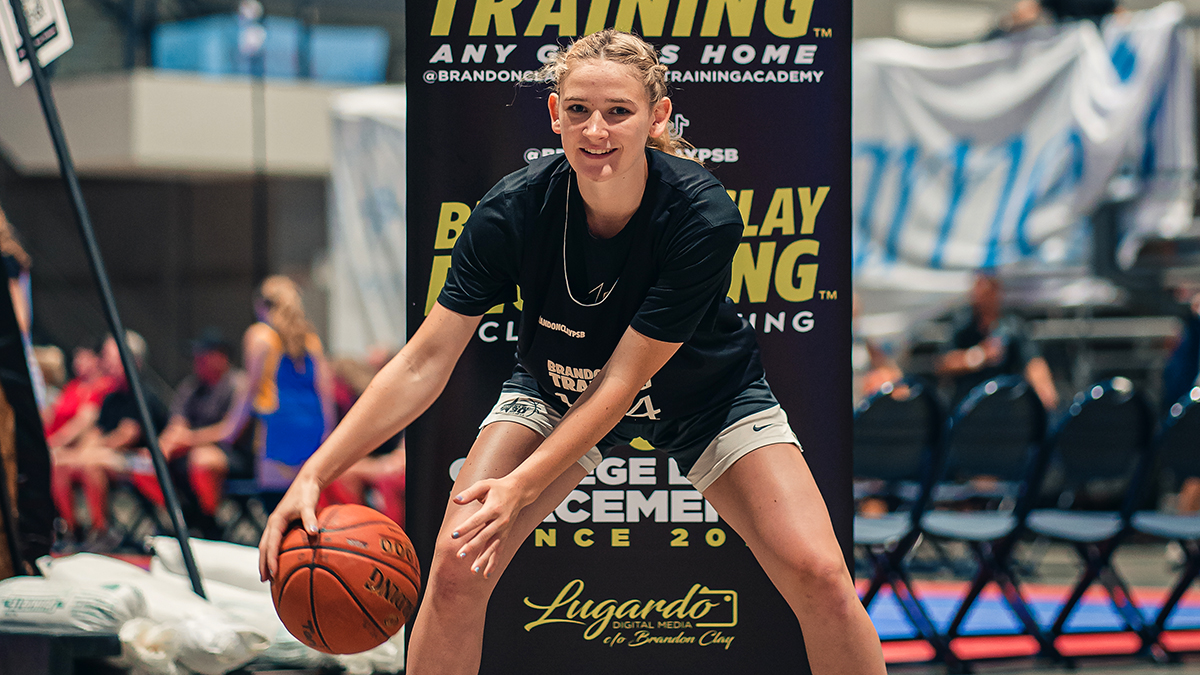 Tori Oehrlein of Brainerd, Minnesota, was in the Select 24 Workout at McCormick Place. *Photo by Anthony Lugardo.
CHICAGO, Illinois – The Brandon Clay National Select 24 Workout allowed some of the nation's elite prospects to take center stage in the middle of the first July evaluation period. We offered a shooting session to make sure players were sharp for the Nike Tournament of Champions held directly afterwards. Here is the second set takeaways from that workout:
Brandt is a regular at our training showcases and has the meanest shoe game of any kid I know. She's a real sharp shooter from the outside with range past the 3-point line already.
Carlson walked into McCormick Place on Saturday night with multiple offers already including Bradley and Illinois State. She left with my respect as one of the best guards in the Midwest Region. The sky is the limit. We'll see her in Indianapolis at the Brandon Clay Elite 100 Showcase on September 11-12.
Kelsey DuBois (Noblesville, Indiana), University High – 2023

Dubois recruiting has been on fire during June. A high academic frontcourt prospect, DuBois is getting looks from all over the Eastern Seaboard. She has the offensive prowess to get it with a really nice touch on her shots around the basket.
Our staff worked with Gage in Iowa last fall. She's got all the tools to be a kid to keep a close eye on the next 12 months. She already has an offer and is trending in the right direction with her outside shooting based on this eval.
Gracynn Gough (Charlotte, N.C.), Charlotte Catholic – 2024
Gough is a super sharp frontcourt prospect who made a name for herself here. She possesses the size, IQ and academic package to be attractive to schools all across the country. Gough has real upside over the next 12 months.
McKenna Johnson (Trevor, Wisconsin), Wilmot Union – 2024
Johnson is a strong guard who uses her lower body well to generate power in her jumper. She received an offer from Butler just before the eval period started and looked like a next level guard inside the workout.

In the multiple times that we've seen her, we know that King is a shooter with legitimate range. She's moving as well with and without the ball as our staff as seen which usually means she's getting more comfortable operating at high speeds of pace.
We just worked with Lockhart last month in Atlanta. Her ability to shoot the ball is going to go a long way in determining her future success. Lockhart is one to keep a close watch on the next 18-24 months as the physical tools are there for her to blossom.
Morgan Matthews (Pennington, N.J.), The Pennington – 2024
Matthews recruitment has been on fire as of late with multiple Ivy League offers before the evaluation period got kicked off. She's a smooth option on the perimeter with plenty of next level upside remaining. National Director of Skill Development, Sean Sticks Smith, is a huge advocate of Matthews game.
Tori Oehrlein (Brainerd, Minnesota), Crosby-Ironton – 2026
Oehrlein has fantastic upside for a prospect who has not spent a day in high school. She's got the length of a wing with legitimate guard skill. After the Workout, I watched Oehrlein go toe-to-toe with fellow classmate Kate Harpring in arguably the best individual matchup of the week at TOC.
Alyssa Staten (Statesboro, Georgia), Statesboro – 2024
Staten came in with multiple offers. Her size and willingness to pay attention to detail separates her from most. A couple of SEC schools added Staten on their radars during the Workout. If Staten will keep finding environments that encourage her to diversify her game, she'll see growth as a result.
Whitman was in the Midwest from California taking full advantage of the week by getting in the gym with us on Saturday night. She has the length and skill to watch her game blossom over the next 12 months as she adds strength.

Brandon Clay serves as the Director of Scouting for ProspectsNation.com and owns The BrandonClayScouting.com Evaluation Report, which is read by more than 200 colleges and universities nationwide. He also serves as the Executive Skills Director for the Brandon Clay Scouting Academy Series.