Recap: Rockin The Hardwood 5
Posted
3 years 10 months ago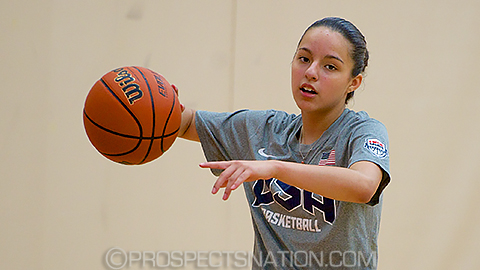 Amber Ramirez is one of the top guards in the 2016 class. *Photo by Glenn Nelson.
Tweet
FAYETTEVILLE, Ark., -- Rockin the Hardwood 5 was a soring evaluation tune-up event that saw over 100 teams from Arkansas and neighboring states compete and hone their skills against quality competition. Programs such as Arkansas Elite, the Arkansas Mavs, and Blue Star Oklahoma had multiple teams in the building. Here is a look at a couple of the standout performers from the event.
Aaliyah Wilson (Muskogee, Okla.), Blue Star Oklahoma – 2016
A 5-foot-9 guard, Wilson had a strong showing this weekend as she made an abundance of plays on both sides of the ball, making a statement about the type of summer she could potentially have. Wilson is a powerfully built prospect who plays the game with a relentless level of effort. She is regularly in attack mode looking to break defenders down off the bounce and get to the rim. Her energy and effort was also seen on the defensive side of the ball as she made plays to get her team key stops. Wilson is a talented 2016 prospect that should continue to make a name for herself nationally.
Amber Ramirez (San Antonio, Texas), San Antonio's Finest – 2016
Ramirez is one of the more talented prospects in the 2016 class. The 5-7 guard is an excellent perimeter shooter who can also make plays off the bounce and play in pick and roll situations. Ramirez had a nice showing this weekend as she knocked down a barrage of catch and shoot jumpers keeping defenses consistently running at her or denying her. Look for Ramirez to be a consistent threat on the summer circuit.
Jada Roper (Memphis, Tenn.), Team Penny – 2016
Roper is a class of 2016 combo guard who plays with good poise on the offensive side of the ball. She can score it at all three levels and when she draws a second defender she is a quality passer who can create scoring opportunities for others. At 5-9, Roper has very good size for a combo guard and should be able to give a college program great flexibility at the backcourt positions.
AROUND THE RIM
♦ San Antonio's Finest has added talent to its roster with 6-1 forward Caroline Hogue of Little Rock, Ark. She had a strong showing this weekend. Hogue is a big with a nice perimeter shooting stroke. Chelsea Dungee of Okmulgee, Okla., is also playing with San Antonio's Finest. Dungee, who is committed to Oklahoma, was on the U16 USA basketball team last year.
♦ Oklahoma Select 2017 has a very strong group. Its main cog, Ana Linasu is committed to Oklahoma and put on a show this weekend.
♦ The Tulsa Shock will be a tough out this summer on the circuit. They have a nice collection of talent and improved every game we saw them this weekend. Follow @KeilMoorePSB

Moore is the Director of Scouting for the JumpOffPlus.com National Scouting Report and international scouting report. He has been a member if the women's basketball community for more than six years as a trainer and evaluator. He can be reached at keil@prospectsnation.com.