Recap: Red's Super 64 Showcase
Posted
8 years 4 months ago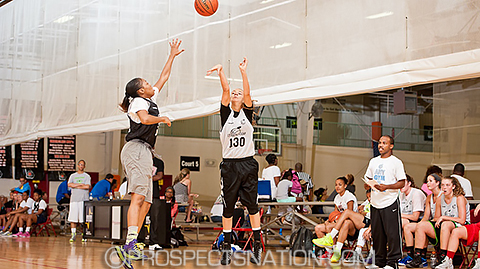 Taylor Wagner has been good on the EBA circuit and continued her strong play at Reds Super 64 Showcase. *Photo by Ty Freeman.
Tweet
LAKELAND, Fla., - The Tampa Thunder organization hosted a one day showcase at Florida Southern University that featured 80 of the better players in the region. The Red's Super 64 Showcase gave high school aged players an opportunity to showcase their skills in the three games on a Sunday afternoon. Here is a look at a few of the notable names from the event.

Stephanie Paul (Naples, Fla.), Florida Future – 2016
The 6-foot power forward combines power and skill both on the interior and on the perimeter. Paul possesses strong hands that allow her to snag rebounds off the rim. She also displayed nice footwork with her back to the basket and soft touch, which will allow her to be a go-to paint scorer during the high school season as a junior. Impressively, she also showed range on her jumper and open court ball-handling skills that are normally reserved for wing players. When you add up all of Paul's tangible gifts, she equates to a prospect that will be actively recruited by a number of schools in the region.
SPOTLIGHT PLAYERS
Asia Royster (Riverview, Fla.), Tampa Thunder – 2015
In a gym full of athleticism, Royster stood among the best at the showcase. At 5-10 she plays on the wing and possesses the length and lateral quickness to be able to guard all three perimeter positions. In this way she could earn the tag as a defensive specialist. However, her talents are not limited to one end of the floor. She displayed remarkable speed moving the ball from end to end. Royster excels in the transition game and does well at finishing at the rim.
Taylor Wagner (Naples, Fla.), Team Breakdown – 2016
We have identified Wagner as a shooting specialist at the Elite Basketball Academy Super 64 and Fab Five Camps in this calendar year. However, on this day Wagner showed a well balanced floor game as she shared the ball and defended effectively. She showed her floor vision very well at one point as she started the break with a nicely placed lead pass to a teammate that led to a fast break finish. Standing at 5-10, the three-star guard should see her recruitment spike going into her junior year of high school given her size and skill.
AROUND THE RIM
♦ Class of 2015 point guard Jessica Font of Orlando, Fla., is a proven floor general and she displayed those leadership characteristics again today. She is quick with the ball in her hands and possesses nice floor vision.
♦ Solid point guard play was a trend at the showcase. Class of 2015 prospects Cassie Ketchum of Orlando, Fla., and Camille Gardina of Sarasota, Fla., both made plays with the ball in their hands.
♦ Two of the better athletes that performed were class of 2015 guards Chelsea Johnson and Ashley Rodriguez both of Orlando, Fla. Johnson possessed one of the quickest first steps in the building, whereas Rodriguez has the length to be able to defend most perimeter players.
♦ Looking for size, two players that immediately come to mind are class of 2017 forwards Rachel Levy, a 6-2 prospect from Boca Raton, Fla., and 6-3 Madison Pack of Sarasota, Fla. Levy provides length and versatility on the court. Pack, on the other hand, is a skilled post who can play at either end of a high low set.
♦ Two young point guards who have made name for themselves are class of 2018 Audra Leipold of Wesley Chapel, Fla., and class of 2019 Mya Giusto of Naples, Fla. Both of these prospects can make plays with the ball while possessing very high IQ at an early age. Follow @JLHemingwayPSB

Hemingway is the Assistant Director of Scouting for the JumpOffPlus.com National Scouting Report. He can be reached at jonathanhemingway@peachstatebasketball.com.