Recap: PSB Best of Summer
Posted
9 years 5 months ago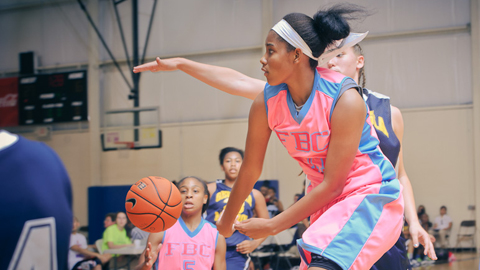 '16 Watch List guard Dominique Oden. *Photo by Ty Freeman.
Tweet
MARIETTA, Ga. – The second day of the Best of Summer Tournament provided solid exposure for the teams involved at All Tournament Players' Park. The premier match-up of the day pitted Georgia FBC versus Georgia Exposure, where a number of coaches lined the back wall of the gym to watch. Here is a look at several players who made names for themselves during the open period.

Dominique Oden (Atlanta, Ga.), FBC – 2016
Although Oden is an underclassmen playing amongst more seasoned players, an average observer would never know it. The 5-foot-8 guard plays with veteran poise even though she is just a rising high school sophomore. Oden is known for her expanded offensive skill set. She can play either guard position with equal effectiveness. Her ability to shoot, handle and defend make her a versatile player in the back court. What has been particularly impressive this summer for Oden is her court vision. She seems to enjoy finding the open player on the court and getting them an easy bucket. Put this guard down on the list of up and coming stars emerging out of the Atlanta area.
ProspectsNation.com Recruiting Analyst Jonathan Hemingway breaks down the Day Two activity at the PeachStateBasketball.com Best of Summer Tournament.
AROUND THE RIM
♦ The Georgia Blazers had a successful run at PSB tournaments this July. Much of that success can be attributed to the play of a pair of 2014 guards. We mentioned Alexia Manning of Columbus, Ga. In day one coverage and her ability to shoot the basketball. Her backcourt running mate A'Chanti Layfield of Albany, Ga., played a big role as well. Her ability to handle and knock down the open shot was clutch for Tim Marshall's team.
♦ At 6-2 and possessing a wing skill set, Tatum Ragsdale Buford, Ga., is an intriguing prospect. The 2016 small forward can shoot the ball from deep and she can shoot it consistently. She also showed the ability to attack the rim off of the two-dribble attack.
♦ College coaches were impressed with the length class of 2015 Ja'deshia Johnson of Hanines City, Fla., on day two. She is a great open court player who shows a high ceiling. Coach Kevin Lynum is working to develop her overall skill set.
♦ Another player who turned the heads of several recruiters was Class of 2015 guard D'Anrda Pringle of Lawrenceville, Ga. At 5-10 she has a nice combination of length and skill. Her ability to guard the basketball and handle in the half court will have many coaches taking a second look at her in July. Follow @JLHemingwayPSB

Hemingway is the Assistant Director of Scouting for the JumpOffPlus.com National Scouting Report. He can be reached at jonathanhemingway@peachstatebasketball.com.