Recap: Pre-Season Shootout Day 2
Posted
7 years 2 months ago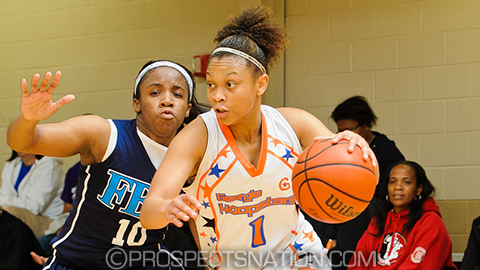 Georgia Hoopstars Black Elite was led in part by the strong play of Alexandra Frazier. *Photo by Ty Freeman.
Tweet
SUWANEE, Ga. –The Pre-Season Shootout provided players in the Southeast region to work on their game against some good talent prior to the NCAA-certified tournaments next weekend. There were many highlights over this weekend and we are positive that this will be a fun season of basketball.
TEAM OF THE DAY
Georgia Hoopstars Black Elite
When coach "JD" Davis comes to the court with his teams, you can expect his players to give what he expects. The Georgia Hoopstars performed well as they made their way to the championship game in the @BrandonClayPSB bracket. Alexandra Frazier of Lawrenceville, Ga., showed that hard work pays off. She has become consistent from beyond the arc and is playing more under control with the ability to make that mid-range jumper. Her tenacity is an asset and matched with the strong play of Tianna Swearinger of Greenwood, S.C., the frontcourt of this team is very soild. Swearinger has a quick first step and can get to the rim as well as being a strong rebounding point guard.
A few other pieces to this puzzle are Kaitlyn Duncan of Commerce, Ga., and Rhein Beaman of Ellenwood, Ga. Both of these players can contribute at the wing position. Duncan is a spot-up shooter with versatility and Beaman can beat you off the dribble. Makenna Pouengue of Lilburn, Ga., is another combo guard for this Hoopstars team that can make a splash with her outside shooting when she gets her feet set.
This team is anchored by two post players, 6-foot-1 Uche Ibebunjo of Snellville,Ga., and 6-3 Breanna Saunders. This team should play well this summer as they become familiar with each other.
PLAYER OF THE DAY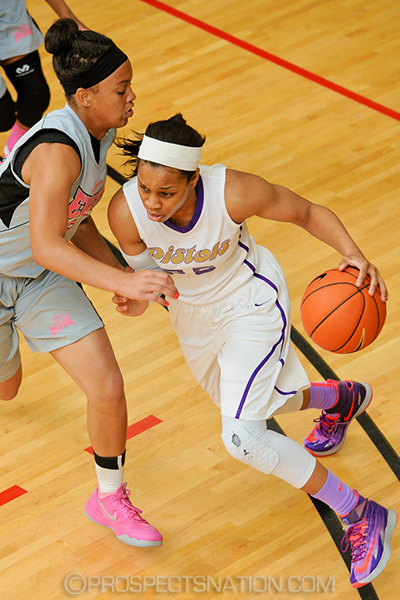 '15 No. 1 player Asia Durr.
*Photo by Ty Freeman.
Asia Durr (Douglasville, Ga.), Georgia Pistols -- 2015
It is always fascinating to watch players develop and bring their best to every game. Durr has shown that through the past few years. The lefty from Douglasville, makes an immediate impact when she steps on the floor. Durr has poise and the ability to make things happen on both ends of the floor. The Pre-Season Shootout was another opportunity for the No. 1 ranked prospect in the ELITE 60 to display her talents. This will be another summer of exciting basketball for the 5-10 guard for the Georgia Pistols. Follow @StephenPeckPSB

Peck is the owner of Dream In Motion Athletics and is a national evaluator for the JumpOffPlus.com National Scouting Report. He also serves as a on-floor skills coach at the Elite Basketball Academy events. He can be reached at StephenPeck@peachstatebasketball.com.