Recap: New Years Resolution
Posted
9 years 8 months ago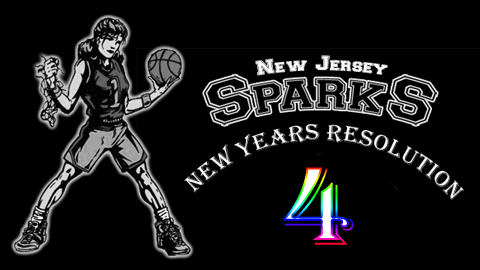 Tweet
PATTERSON, N.J. – Despite a wealth of injuries, there still was plenty of talent on display to make the New Jersey Sparks New Year's Resolution a terrific start the 2014 calendar year of basketball.
Auteaonna Gilmore (Fort Washington, Md.), Capital Christian – 2014
Next season Gilmore will suit up for Old Dominion coach Karen Barefoot and her staff, but this year the 5-foot-6 point guard is running the show for her Capital Christian High School team. Gilmore is an explosive lead guard who thrives when playing off the bounce and attacking the rim. As a very capable passer she does a good job finding open teammates and putting pressure on the defense. Gilmore looks to have spent some time in the weight room since last season and it is certainly paying off. One of the things she did very well this weekend was finishing around the rim and through contact. Gilmore is a quality talent at the point guard position who should find a way to be impactful during her time at ODU.
Mei-Lyn Bautista (Whitestone, N.Y.), St. Mary's – 2015
A 5-6 point guard, Bautista had a very positive showing this weekend as she showed all of the intangibles you want from the point guard position while also scoring the ball and pacing her team offensively. Bautista is the definition of a pure point guard as she is comfortable handling the ball and running the show for the duration of the game. She is a high assist type lead guard who knows where and when to get her teammates the ball. In a match up with a very good Montclair team, led by Louisville signee Myisha Hines-Allen, Bautista's vocal leadership was clear from start to finish. What was even more impressive was her ability to make shots and contribute offensively while still directing traffic and keeping everyone involved.
Kiah Gillespie (Meriden, Conn.), Capital Prep – 2015
As far as talent goes, there aren't many people in the class of 2015 that can compete with this 6-2 forward. With an abundance of length, the ability to elevate, and good agility, Gillespie has all the physical tools to make an impact at the next level. The next major step for the talented prospect will be putting all of her tools together and polishing her game to the point she can take advantage of all of her potential. If Gillespie can become a dual threat, inside and outside type of combo forward, she will be a very difficult match up at the next level. The ability to make shots, attack off the bounce, and play with her back to the basket effectively would make her quite the catch for any program. If she doesn't add that kind of polish to her game her energy level will dictate her playing time.
Aryn McClure (New York, N.Y.), Archbishop Molloy – 2015
It's hard not to like what this 5-11 wing did this weekend. McClure went out and played with intensity on both sides of the ball, showing that she was a willing rebounder and defender with a solid mid-range jumper. McClure has long, rangy arms and her length is certainly a tool that she uses to her advantage regularly. Because of her size and mobility she was able to create problems for the opposing team defensively and create turnovers. Offensively she is a work in progress right now but gets good elevation on her mid-range jumper and has the quickness to attack the rim and make something positive happen. She will have to improve her ballhandling and work on changing direction off the bounce, but McClure has the ability to be a solid two-way player if she does the work.
Kellie Crouch (New Brunswick, N.J.), St. John Vianney – 2016
St. John Vianney is one of the top girl's high school basketball programs in the state of New Jersey. The school consistently puts quality teams together and this season is no different with Crouch, a 5-7 combo guard, being a big reason why. St. John Vianney will be able to compete night in and night out this season. Crouch is a skilled guard who plays the game with a little edge to her. She is good with the ball in her hands and willing to play and attack off the bounce when needed. One of the things that helps Crouch standout is her competitiveness which is not hard to see when she is on the floor. She plays the game giving multiple efforts on either side of the ball and while she might not be the most physically gifted prospect you will find she manages to make things happen. Follow @KeilMoorePSB

Moore is the Director of Scouting for the JumpOffPlus.com National Scouting Report and international scouting report. He has been a member if the women's basketball community for more than six years as a trainer and evaluator. He can be reached at keil@prospectsnation.com.