Recap: Midwest Showdown II
Posted
9 years 3 months ago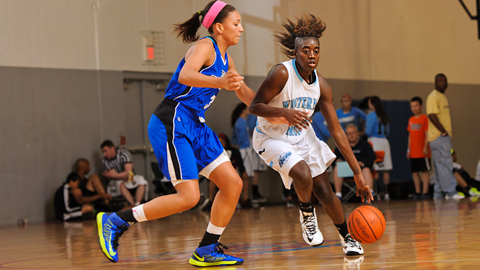 '14 guard Yacine Diop of Pittsburgh, Pa., is ranked 57th in the ELITE 100. *Photo by Ty Freeman.
MASON, Ohio - The Midwest Showdown is as good as any event on the club circuit. Tournament director and All Ohio-Black coach, Jay Bee Bethea, walked away with his first championship trophy with a win over Spiece Gym Rats. Here is a look at several prospects who used the Midwest Showdown as a springboard to start the summer season.

Yacine Diop (Pittsburgh, Pa.) - Western PA Bruins – 2014
It had been almost a year since we last saw Diop, an ELITE 100 prospect, in action. She moved to Pittsburgh, Pa., and changed club teams in the process, joining the Western PA Bruins. A class of 2014 wing, Diop's ability to affect the game around the rim has not changed. The four-star shooting guard is currently the No. 57 prospect nationally.
Diop controlled the interior with her athleticism on both ends of the floor, making multiple plays on the offensive end around the basket to finish. On the other end, she is more than capable of snatching the defensive rebound to take the basketball coast-to-coast for a transition layup. She'll have to continue to improve her shooting range and consistency to be an impact offensively on day one at the collegiate level. There is no question that this showing provided a glimpse into the type of athlete that her future college choice will be getting.
AROUND THE RIM
♦ Sydney Hall of Indianapolis, Ind., has been impressive this spring. Much like her Spiece Gym Rats backcourt mates, Darby Maggard and Tiara Murphy, Hall can create shots off of the catch or high screen and roll. A four-star class of 2015 prospect, Hall will be at the Elite Basketball Academy Super 64 Camp next weekend.
♦ Rolanda Hayes of Rockledge, Fla., is a combo guard with the ability to score the basketball in bunches. The class of 2014 prospect played some on and off of the basketball here this weekend. Hayes changed roles based on time and score as she facilitated the Central Florida Elite offense then scored when need be. Look for her to do that at the next level as well.
♦ Midwest Elite Platinum is loaded led by two ELITE 100 class of 2014 prospects in No. 45 Gabbi Ortiz of Racine, Wisc., and No. 81 Kortney Dunbar of Edwardsville, Ill. Ortiz is a dominant point guard who showed that she can run an offense and get into the paint off of dribble penetration. Most of Ortiz kick outs went to Dunbar who has established herself as one of the premier shooters nationally. Keep an eye on them this summer. Follow @BrandonClayPSB
Clay is the owner of Peach State Basketball, the JumpOffPlus.com National Scouting Report and serves as Executive Camp Director for the Elite Basketball Academy. He can be reached at brandon@prospectsnation.com.