Recap: Midwest Showdown 2015
Posted
7 years 8 months ago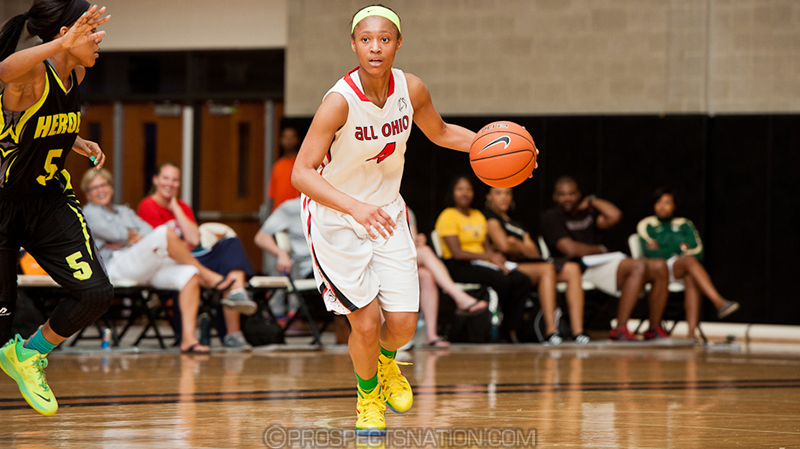 Cierra Hooks is a combo-guard from Dayton on the verge of a breakout summer for All-Ohio Black. *Photo by Ty Freeman.
MASON, Ohio -- The Midwest Showdown is a staple event for many travel programs to compete and gain exposure over the Memorial Day weekend. This year's edition featured 150 teams from the Midwest and as far away as Texas and Canada. Games were broadcasted daily on The SUVtv and multiple scouting services attended the three-day event. Here is a look back at some of the notable performers at the event ran by the All Ohio Basketball Club.
Breanna Cera (Mukwonago, Wisc.), Midwest Elite – 2016

The Iowa-bound shooting guard displayed her unique skill set this weekend. At 5 feet 9 she is a backcourt player who uses her combination of length and skill to be an offensive force. Although she played almost exclusively as a wing, she does have the ball handling capability to run the offense as a point guard. Where she will make the biggest impact at the next level will be with her ability to attack the lane off of the dribble. Her quick first step and body control allows her to score or get to the free-throw line consistently. The four-star guard is an ELITE 150 watch list player when our rankings expand later this year.
Mardrekia Cook (Muskegon, Mich.), Michigan Crossover – 2016
We got our first look at Cook at the LBI Best of Michigan High School Showcase in 2013. At that time the 6-0 forward had a developing skill set, but her athleticism was notable. Fast forward to the present and Cook has since committed to Michigan State and polished out her skills to be a fulltime wing. She proved that her 3-point jumper is consistent while she also has the ball skill to create in the midrange. With this viewing, Cook solidifies herself as a wing who belongs in the conversation of the ELITE 100.
Kysre Gondrezick (Benton Harbor, Mich.), Michigan Crossover – 2016
When talking about the top scoring guards nationally, the 5-9 Michigan native will be in the conversation of most scouts. Gondrezick again showed her ability to get her own shot off of the dribble this weekend. Her in-and-out dribble move freezes defenders and gives her space to score in the midrange. Currently ranked No. 41 in her class, she showed an array of skills that will instantly translate to the next level. Although she specializes in scoring the ball, Gondrezick is a guard who is game for ball handling duties as well. She showed she could keep her head up and find teammates while running in transition or set the half court offense.
Cierra Hooks (Dayton, Ohio), All Ohio Black – 2017
A player who is making a name for herself on the national scene is the combo guard who plays for Jay-Bee Bethea's program. After spending a summer playing on the EYBL circuit as a freshman, the 5-7 combo guard is stepping up as a key contributor this year. The left-handed guard specializes in slashing and creating plays off the bounce. However, it is her superb athleticism that has her in the conversation of the ELITE 60 nationally. She compares favorably to class of 2016 guard Zutoyra Cook who is Georgia Tech commit. Hooks, like Cook, can defend either back court position while bringing an offensive scoring punch at the same time.
Desiree Oliver (Verona, Penn.) Western PA Bruins – 2017
Oliver is a high-energy guard who makes an impact on both ends of the floor. The 5-8 point guard is skilled enough to create her own shot with the dribble. Her explosive first step gets defenders on their heels and from there she is able to move quickly downhill to make a play. That quickness is not just limited to the offensive end as she consistently gets deflections and steals while hounding opposing ballhandlers. Her performance is consistent with what we have seen in past evaluations at the EBA Super 64 Camp in 2013 and most recently at the PSB Tip-Off Classic this April.

Hemingway is the Assistant Director of Scouting for the JumpOffPlus.com National Scouting Report, is on the Naismith Trophy Board of Selectors and owns CoachHemi.com, the go-to source for coaches for X's and O's. He is the floor director of #TeamEBA camps, a site director for #TeamPSB tournaments and can be reached at jonathanhemingway@peachstatebasketball.com.