Recap: Midwest Showdown 2014 I
Posted
9 years 6 months ago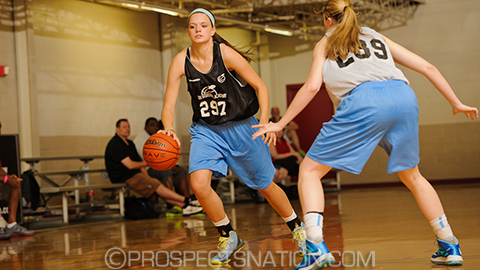 Darby Foresman is part of one of the most talented rosters on the club circuit this summer with the Indy Gym Rats. *Photo by Ty Freeman.
Tweet
MASON, OHIO - While the majority of America spends Memorial Day with family and friends at cookouts and get-togethers, a number of female basketball players and their families made basketball a priority and travelled to the Midwest Showdown. The annual tournament has become a staple event for many travel teams to get top notch competition as well as exposure to national scouting services and media outlets. Here is a look back at this year's standouts.
TEAM OF THE DAY
Indy Gym Rats Silver
Last year, coach Danny Riego decided to play his young Gym Rats team in the older division at the Midwest Showdown. It ran into the buzz saw that was All Ohio led by No. 1 player in 2014 Kelsey Mitchell in the championship game. This year is a different story as the Indiana-based team is positioning themselves to be one of the nation's best team after winning the championship convincingly last weekend. The class of 2015 backcourt tandem of 5-foot-4 Darby Maggard of Larwill, Ind., and 5-7 Tiara Murphy (Purdue verbal) of South Bend, Ind., could be the most skilled in the country. Darby Foresman of Indianapolis, Ind., a 6-3 post in the class of 2016, gives the Gym Rats skill and length on the frontline. She recently gave her verbal pledge to Indiana University. Another Purdue commit, 5-9 Lamina Cooper of Indianapolis, Ind., is a versatile forward option on both of ends of the floor. And Michigan State pledge Victoria Gaines of Merrillville, Ind., stands at 6-2 and is a powerful rebounding presence for Riego.
Those five players, plus solid reserve play from IUPUI commit and 5-6 guard Sydney Hall of Fishers, Ind., as well as 5-9 guard Peyton Fallis of McCordsville, Ind., put them in the discussion for top of travel team honors nationwide. However, they were missing two big players with class of 2015 Duke commit Faith Suggs of Plainfield, Ill., and class of 2016 Kentucky commit Lindsey Corsaro of Indianapolis, Ind., who were in Colorado Springs, Colo., at the USA Basketball U17 national team trials. Once the Gym Rats roster fills out in July, coach Riego will have the firepower to win a lot of games this summer.
PLAYER OF THE DAY
Haley Gorecki (Palatine, Ill.), Midwest Elite – 2015
On this weekend the 5-11 point guard showed why she earned the No. 31 ranking in the ELITE 100. Although Midwest Elite team was without No. 17 Teniya Page of Chicago Heights, Ill., and class of 2016 No. 4 prospect Tori McCoy of Champaign, Ill., Gorecki proved that she could run a team and create plays as a lead guard. The Illinois native is fantastic at making plays off of the dribble and possesses exceptional vision with the pass. She is particularly effective with her counter-moves and uses her body to leverage herself to the rim. She recently gave her verbal commitment to coach Joanne P. McCallie and Duke University. We project that Gorecki will have the opportunity to contribute early in her career at Cameron Indoor.
AROUND THE RIM
♦ Two class of 2017 ELITE 25 watch list prospects squared off on Monday morning. Anastasia Hayes of Murfreesboro, Tenn., and Taya Robinson of Richmond, Va., are two talented point guards. Both have the ability to drive and score it in the lane.
♦ Class of 2015 wing Regan Wentland of Greenland, Ind., appears to have grown a few inches to a legitimate 6-2 and has wing skills to match. She figures to be an intriguing college prospect.
♦ The WPA Bruins graduated three ELITE 150 prospects last year. This year class of 2017 point guard Desiree Oliver of Verona, Penn., is emerging as the next talented prospect in the program. We first saw her exceptional mid-range game a year ago at EBA Super 64 Camp.
♦ Kentucky Premier has a loaded lineup as usual. Class of 2015 Alexis Brewer of Buffalo, Ky., is a versatile perimeter player who does a little bit of everything that her team needs. While Nora Kiesler of Floyds Knob, Ind., patrols the paint at 6-5 and provides a legitimate presence on both ends. Follow @JLHemingwayPSB

Hemingway is the Assistant Director of Scouting for the JumpOffPlus.com National Scouting Report. He can be reached at jonathanhemingway@peachstatebasketball.com.