Recap: May Day Challenge II
Posted
8 years 8 months ago
Tweet
SUWANEE, Ga. - The PeachStateBasketball.com May Day Challenge has become the nation's premier event the opening weekend of May. With over 1,000 players participating from Arkansas to Illinois, there was no shortage of talent for both the college coaches and evaluators on hand to take notes on. Here's a look several standouts from the event.

Ayanna Mitchell (Salem, Ga.) – Georgia Pistols - 2015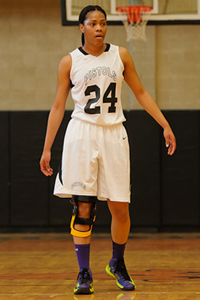 '15 watch list forward Ayanna Mitchell.
*Photo by Ty Freeman.
Mitchell has made her way back to the hardwood after a knee injury a year ago. The class of 2015 power forward doesn't appear to have missed a beat. This weekend, Mitchell made her presence felt in every facet of the game as the Georgia Pistols Martin played their way to the ChrisHansenPSB division championship.
A four-star prospect, Mitchell rebounded the basketball, finished plays in the lane with contact and controlled the interior. She did all of that while displaying her ability to get up and down the floor in transition, consistently beating her defender for transition layups. Going forward, look for Mitchell to round out her offensive skill set by adding a smooth face-up jump shot to her arsenal.
AROUND THE RIM
♦ Amber Richardson of Garner, N.C., has continued to emerge as one of the more athletic perimeter prospects in the class of 2015. At 5-10, the four-star guard can play both on and off the ball, providing the Carolina All Stars with a shot creator off of dribble penetration.
♦ Coaches needing length in their 2016 recruiting classes should add Jasmine Bond of Murfreesboro, Tenn., to the list of potential recruits. Bond has a long, wiry frame with the skill to change shots on the interior. While leading Tennessee Team Pride to a championship in the EliteBasketballAcademy division, Bond also showed that in time she'll be a consistent threat on the offensive end as well. Follow @BrandonClayPSB
Clay is the owner of Peach State Basketball, the JumpOffPlus.com National Scouting Report and serves as Executive Camp Director for the Elite Basketball Academy. He can be reached at brandon@prospectsnation.com.