Recap: Keil Moore Showcase '14
Posted
7 years 10 months ago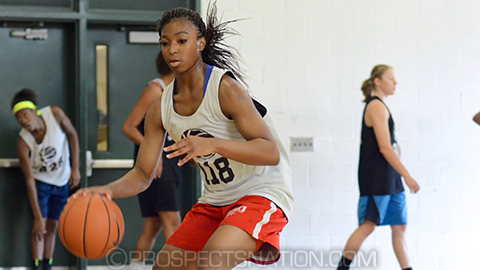 Genesis Parker was impressive on Sunday at the Keil Moore Basketball Fall Showcase. *Photo by Chris Hansen.
BRYN MAWR, Pa., and UPPER MARLBORO, Md. – The Keil Moore Basketball Fall Showcase brought a wealth of players with the talent for the next level together for a weekend of competition and exposure. Here's a look at some of the standouts. (More: What We Learned-KMShowcase 2014)

This was Rutgers commit Aliyah Jeune's fourth time at this particular event. Juene, of West Ampton, N.J., has continued to develop her game and showed an increased sense of awareness and willingness to bring energy to the floor. The 6-foot-1 guard is an immensely talented prospect with the ability to create her own shot and score the ball in one-on-one situations. As she prepares for the next level, a focus on taking quality shots and becoming efficient with her touches could allow her to have a productive college career.
Mariah Martinez of Annandale, N.J., brought an abundance of energy to the floor with her play this weekend. Martinez has the ability to play both forward spots and her willingness to defend allows her to match-up well playing on the perimeter or around the rim. At 5-10, Martinez also has the ability to make the mid-range jumper both off the catch and off the bounce.

One player who made a number of highlight plays this weekend was Genesis Parker of Bristow, Va. Parker, a 5-6 combo guard, has the ability to create her own shot in one-on-one situations and is confident in her ability to elevate and shoot the perimeter jumper. At this stage in her development, Parker is still learning when to be aggressive and when to let the game come to her. Learning to find this balance while also keeping some of her aggressive nature will put her in a position to succeed.
Class of 2016 guard Chanise Ray of Alexandria, Va., is a quality perimeter shooter with a high basketball IQ. Ray, who stands 5-7, shot the ball with a high level of confidence this weekend and forced defenses to come out and guard her on the perimeter. Ray has the ability to play either wing position and is a willing defender.
True post play is hard to find on the recruiting circuit and at 6-3, Solfilia Nwafang of Upper Marlboro, Md., fits the mold. Nwafang is a mobile post who is in the process of developing a position-specific skill set. She has elite size for the post positions and as she continues to build on her foundation for the game and learn how to use her body she will find ways to make positive impacts on the game.

If you want a player who brings shooting, playmaking, and a high level of basketball IQ to the floor, Sydney Wagner of Philadelphia, Pa., is a good option. Wagner plays with a good amount of poise when the ball is in her hands. This weekend she showed she can set teammates up and handle the ball when under pressure. Another area where Wagner can be effective is catching the ball with enough room and rhythm to shoot a jumper as she is an accurate three-point shooter.
When you talk about upside, Jaala Henry of Riverdale, Md., has it. At 6-4 she has an abundance of length and the ability to be an effective two-way post player as she continues to develop. Right now, Henry is a more than capable rim protector who is still learning how to be effective on the offensive end. More than any player at camp we saw Henry get better hour-by-hour as her confidence grew and comfort level settled. Look for Henry to be a highly sought after name in the 2017 class.

One of the youngest players in the building, Alana Swift of Philadelphia, Pa., managed to hold her own and show well playing against some of the best players in the region. Swift projects as a scoring point guard right now as she has the ability to run a team in addition to the skill set to create her own shot and play in one-on-one situations. Swift has a nice feel for the game for a player not even in high school yet and as we continue to evaluate and get to know the players in the 2019 class, Swift's name will be one we remember for years to come.
Excellanxt Greer of Waldorf, Md., is a young prospect who has a nice understanding of how to play the game. Greer is a talented point guard with a nice overall foundation for the game. As a young prospect, Greer shows a nice balance of playmaking, scoring, and control that usually takes players multiple years of high school to develop. Follow @KeilMoorePSB

Moore is the Director of Scouting for the JumpOffPlus.com National Scouting Report and international scouting report. He has been a member if the women's basketball community for more than six years as a trainer and evaluator. He can be reached at keil@prospectsnation.com.