Recap: Hilton Tip-Off Classic
Posted
9 years 3 months ago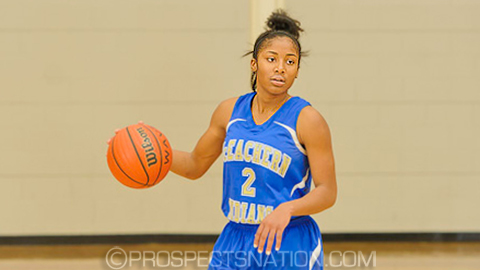 Te'a Cooper started her junior season with a strong outing against Norcross. *Photo by Ty Freeman.
Tweet
NORCROSS, Ga. – The high school season began in the State of Georgia with several of the top teams meeting to compete in the year's edition of the Hilton Tip-Off Classic. Last year the Peach State boasted 13 players that were ranked in the ELITE 100 in the senior class. Although that talent has graduated and is now contributing at the college level, there is no shortage of ELITE talent in the state. Here are a few of the standouts from this season's early season competition.
Te'a Cooper (Powder Springs, Ga.), McEachern – 2015
Cooper is a high profile point guard whose talent has been well documented in years past and, because of that, her abilities may be taken for granted at times. In this early season test versus Norcross High School, Cooper reminded us all why ProspectsNation.com has her slotted as the top ranked point guard in the country. In the second half of highly contested game, the 5-foot-8 guard had a direct hand in nearly every one of her team's baskets. She finished plays in the lane while also setting up her teammates with assists as she drew the defense to her. Not to be overlooked is the effort that Cooper brings to the floor as she dove after loose balls and even scooped multiple offensive rebounds. It is hard to argue that another point guard in her class makes as much of impact on a nightly basis on both ends of the floor.
Brianna Cummings (Atlanta, Ga.), Greater Atlanta Christian School – 2014
A player that embodies the idea of consistent improvement is Cummings, who is a 5-10 swing forward. We have been fortunate to watch the growth and development of Cummings from the time she entered high school until the present, where she is signed to play at George Washington next season. The lengthy forward began as an active interior presence as a rising freshman, but we have seen her develop into a perimeter slasher at numerous Elite Basketball Academy camps. Her confidence on the court spoke volumes in this early season test versus Milton. She had full command of the game and led her team to a decisive victory.
Ayanna Mitchell (Conyers, Ga.), Salem High School – 2015
While a knee injury kept the 6-1 power forward out of high school season last year, Mitchell has bounced back nicely with few effects. Currently ranked No. 39 in the ELITE 60, she has earned a reputation for being a workhorse forward who brings toughness and grit to the lane. Mitchell appears to be expanding that skill set as she hit multiple face-up jumpers including one from beyond the arc in a game against Columbia High School. Her motor continues to run at a high clip and she embraces a leadership role for her prep team. Look for Mitchell to lead her squad to a state tournament berth this post season. Follow @JLHemingwayPSB

Hemingway is the Assistant Director of Scouting for the JumpOffPlus.com National Scouting Report. He can be reached at jonathanhemingway@peachstatebasketball.com.